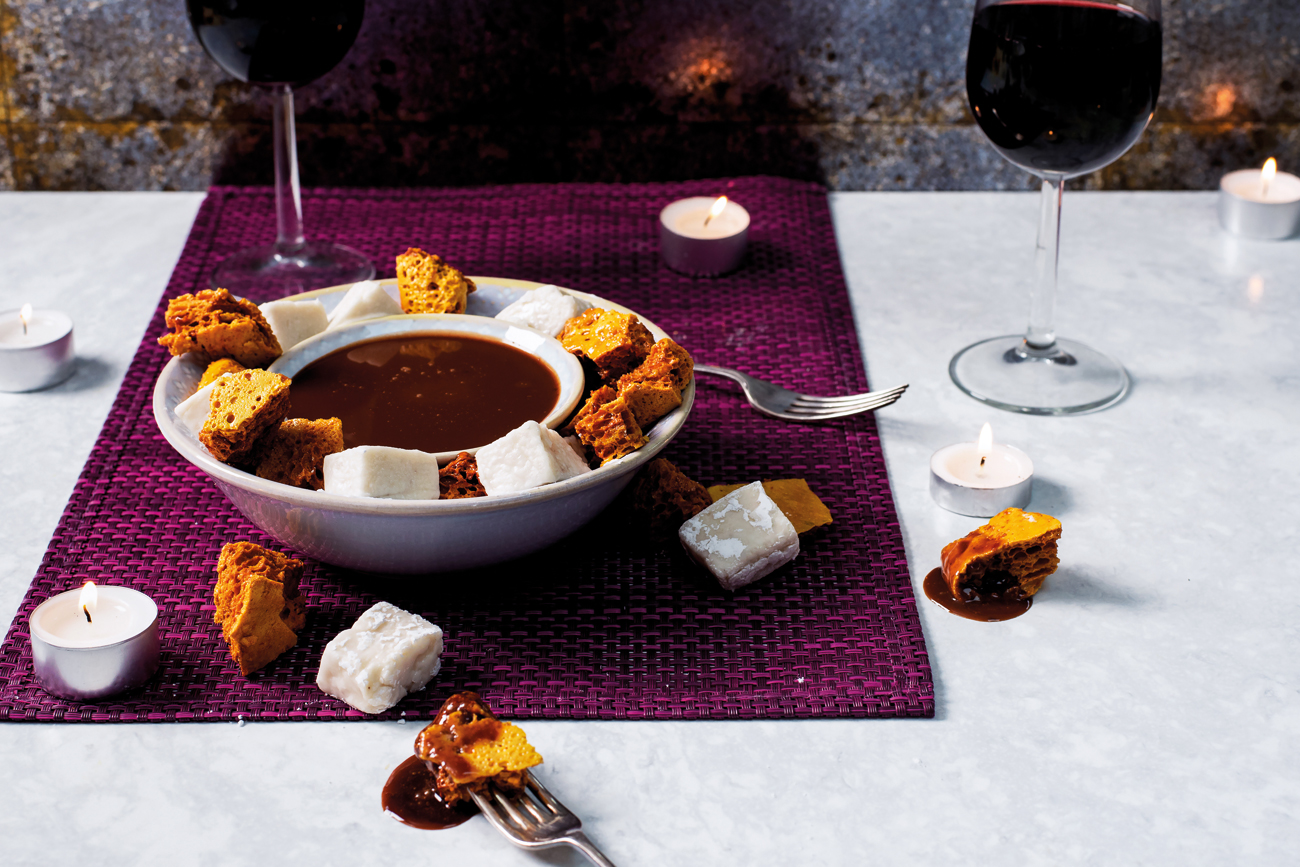 Chocolate Caramel Fondue with Honeycomb and Marshmallows
SERVES 2
The perfect ending to a Valentines meal – this dish is great for sharing and is super indulgent! The honeycomb has a delicious crunch, while the marshmallows are soft and creamy, offering a contrast of textures. Fresh fruits, such as strawberries, would make a great addition to this dish.
1 tsp bicarbonate of soda
For the chocolate caramel fondue:
100ml (scant ½ cup) water

125g (generous ½ cup) granulated sugar
120g (½ cup) granulated sugar

½ x 400ml (13.5 fl oz) tin coconut milk

50g (½ cup) dark chocolate
To make the honeycomb, in a large pan over a medium heat add the sugar and golden syrup and mix until the sugar has dissolved. Then turn up the heat and boil the mixture until caramelised and golden.

Add the bicarbonate of soda to the pan and stir until mixture becomes foamy; quickly and carefully scrape the mixture onto a lined tray. Allow the honeycomb to cool and set for 1 hour. Once set break into pieces.

For the marshmallows, to a pan over a medium heat, add the water, sugar, agar, agave syrup and vanilla extract; bring to the boil and cook until the liquid is syrupy.

Using an electric whisk, mix together the aquafaba and cream of tartar until soft peaks form. Then, whilst still whisking, slowly pour in the sugar syrup. Once the mixture is fully incorporated, transfer to a lined baking tray and place in the fridge to set.

In a tray, mix together the icing sugar and cornflour. Remove the marshmallow from the fridge and cut into cubes, then roll in the cornflour mixture.

Finally, to make the fondue, to a large saucepan over a medium-high heat, add the sugar, water and butter and bring to the boil. Once the mixture starts to caramelise and turn a golden brown, add the coconut milk and whisk (careful as mixture will spit). Once fully incorporated, add the dark chocolate and mix until melted. Serve all three elements together, along with your favourite fruit.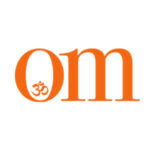 First published in November 2009, OM Yoga magazine has become the most popular yoga title in the UK. Available from all major supermarkets, independents and newsstands across the UK. Also available on all digital platforms.