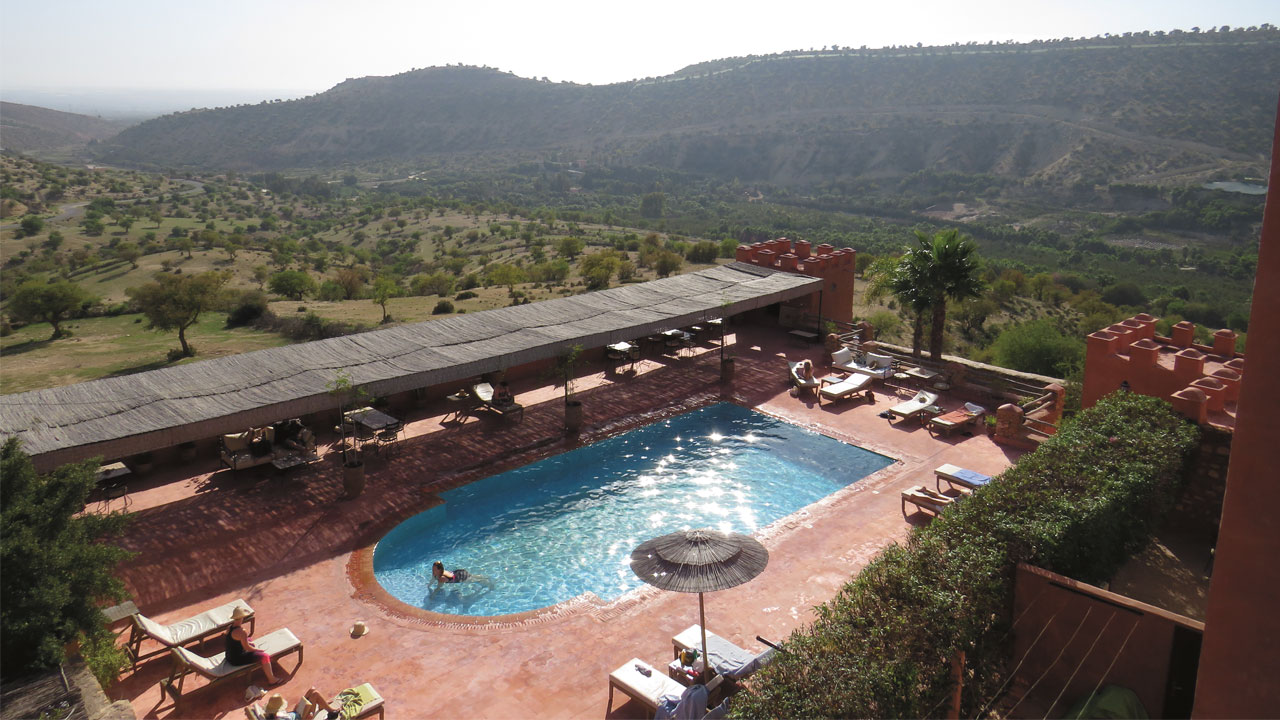 Hazel Lubbock finds an eco oasis in Morocco
The beachside city of Agadir bathes unashamedly in year round sunshine. On the south-western coast of Morocco, it's a short, relatively cheap flight from the UK. The downside: it's full of package holiday resorts. Bear with it, though, because in the nearby foothills of the Anti-Atlas Mountains, there's a wonderful little oasis of calm.
Set high on a hill, Atlas Kasbah overlooks a spectacular argan-studded landscape, just 20 minutes from the crowded coast. In Arabic, 'kasbah' means 'fortified city', and with its impressive towers and ramparts, it certainly lives up to its name. You could, in fact, be forgiven for thinking this was an ancient fortress, but it's only a few years old. And while this lovely little ecolodge blushes pink under the Moroccan sun, it's proudly eco-friendly.
Owners Hassan and Hélène Aboutayeb built the 11-bedroom lodge from scratch in natural materials (tadelakt, mud brick walls), with sustainability at its core. It's not just about reusing towels. Solar panels provide energy and hot water, the pool is salt-treated, cleaning products are organic, and the permaculture gardens employ a clever irrigation system.
The Berber staff, sweet as dates, are from nearby villages, where many of them were doing back-breaking work before joining the ecolodge. Through staffing, buying supplies locally and empowering Berber women at the neighbouring argan oil cooperative, Atlas Kasbah is supporting around 50 families – and setting an example for responsible tourism in Morocco.
Nutritious breakfasts of Berber eggs (scrambled, with tomatoes and herbs), fresh bread, local cheese, lashings of treacle-thick honey, and homemade beetroot jam are served on the terrace overlooking the mountains. The smell of spiced coffee hangs in the air. All around us are the fruits of nature: moringa trees dangle their precious bounty over us, while oranges ripen on the trees behind. Shiny olives drop from their branches, tempting us to catch them as they fall. At dinner, they're a plump and inviting prelude to flavourful tagines served with handmade couscous.
From the root
But I'm not here for the food – I'm here for the yoga. Our retreat is hosted by Back to Nature Yoga Retreats founder and curator, Jo Fox, who fizzes with creativity and energy, and her zen assistant Faith Johnstone.
Fox runs eco conscious retreats presenting guests with the opportunity to begin or enhance their yoga practice making way for a deeper connection to themselves and the universe, encouraged and inspired by the calming influences of natural surrounds.
In the sun-dappled shala, with beautiful arched windows framing the alley below, our retreat begins with a contemplative quote:
"One goes to the forest, to the foot of a tree, or an empty room, sits down cross-legged in Lotus position, holds ones body straight and
establishes mindfulness in front of oneself. Breathing in, one is aware of breathing in, breathing out, one is aware of breathing out." The Buddha, Sati-Patthana Sutra
Yoga philosophy isn't something often covered in drop-in classes, but here our group of 16 is introduced to the eight limbs of yoga. We discuss the importance of getting away from desperately trying to contort ourselves into the posture, and instead focus on a balanced approach. Fox highlights the yamas, asking us to be kind to ourselves and each other, and to be truthful in our practice.
Embracing styles of hatha, yin and ashtanga yoga, we work our way up the seven chakras, starting each two-hour session with a seven-minute
seated meditation. We begin with a gentle grounding class, with some satisfying supine twists and mountain poses, to ease us in (our group
is of varying experience). We move through some tension-clearing hip-openers, fire up our core with alignment-focused planks, open our hearts
(both literally and figuratively) and get upside down. To round things off, a workshop on headstands has us confronting our fears, and being true
to ourselves to find where each of us is in the pose. I'm still tilting my hips into place, with my toes firmly on the floor, and I'm fine with that.
For every energetic class, there's a restorative yin session, where we work into the deeper layers of our fascia, and indeed, our minds. The yoga extends beyond the mat, too. We discuss home practice and classes we love in London around the pool and meditate among lavender in the organic garden. In the quiet of night, we stargaze on the rooftop, peering into the universe through crystal-ball-clear skies.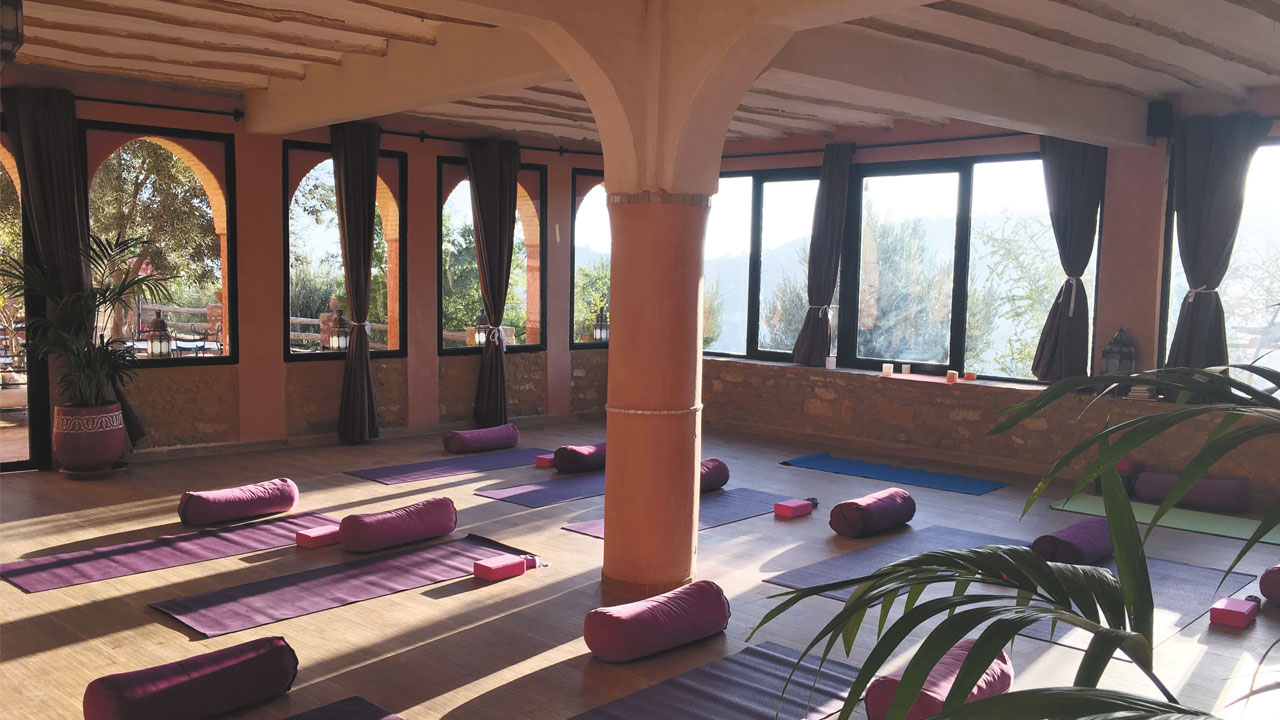 Reaching for the mountains
It would be very easy to spend every minute here, stretched out by the pool, scrubbed with olive oil soap in the hamman or taking shade with
a book in the courtyard. Instead, I spend my last day on an adventure with some of my fellow yogis.
From Kasbah, we walk through an abandoned village, where we find camels mindlessly munching on the prickly pears growing haphazardly
around broken walls. Crossing the long-dried riverbed, our journey takes a steep turn, up the dusty, spiky and unforgiving hillside. It didn't look so vertical from the poolside at Kasbah.
The path disappears just past an argan plantation, but we continue on, scrambling as we go. A shepherd lies among the bushes, smiling and chuckling at us. Finding our own switchbacks, and with scratches, bumps and grazes, we make it to the ridge an hour later, welcomed by an astonishing view right out to sea. As we snake our way back down the mountainside, cursing our knees and holding hands to stay stable, I feel a sense of achievement for completing the hike, and an even brighter feeling of togetherness.
Time for tea
There's more to tea than simple hydration: it's an important part of Moroccan culture. Every house has its own tea salon, where guests are invited in to share tea and catch up. It's where relationships are formed and blossom.
Here is no different. In this southern region of Morocco, our hosts explain, mint tea is drunk with green tea and a teeth-shattering serving of sugar, providing a precious jolt of energy. We curl up on low-slung cushions, soaking up the sounds and smells of the tea salon.
The tea salon becomes my place for reflection, and I realise I have been practicing aspects of all eight limbs of yoga this weekend, not just the asana. And right now, there seems no better place to contemplate one of the niyamas – samtosa, or contentment.
Back to Nature Yoga Retreats (backtonature.yoga) offers a three-night stay at Atlas Kasbah (atlaskasbah.com) from £485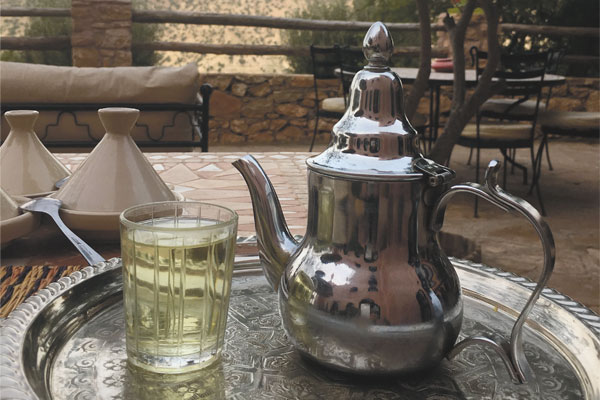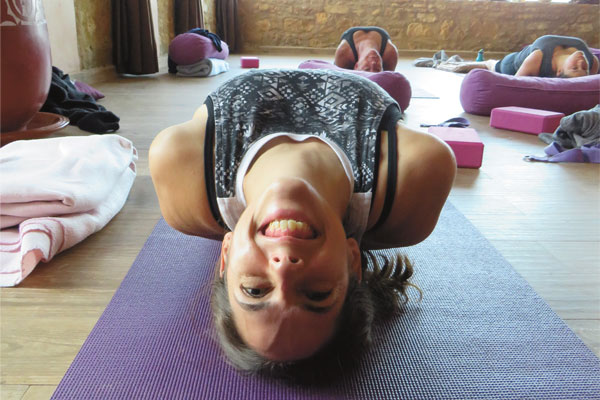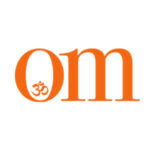 First published in November 2009, OM Yoga magazine has become the most popular yoga title in the UK. Available from all major supermarkets, independents and newsstands across the UK. Also available on all digital platforms.