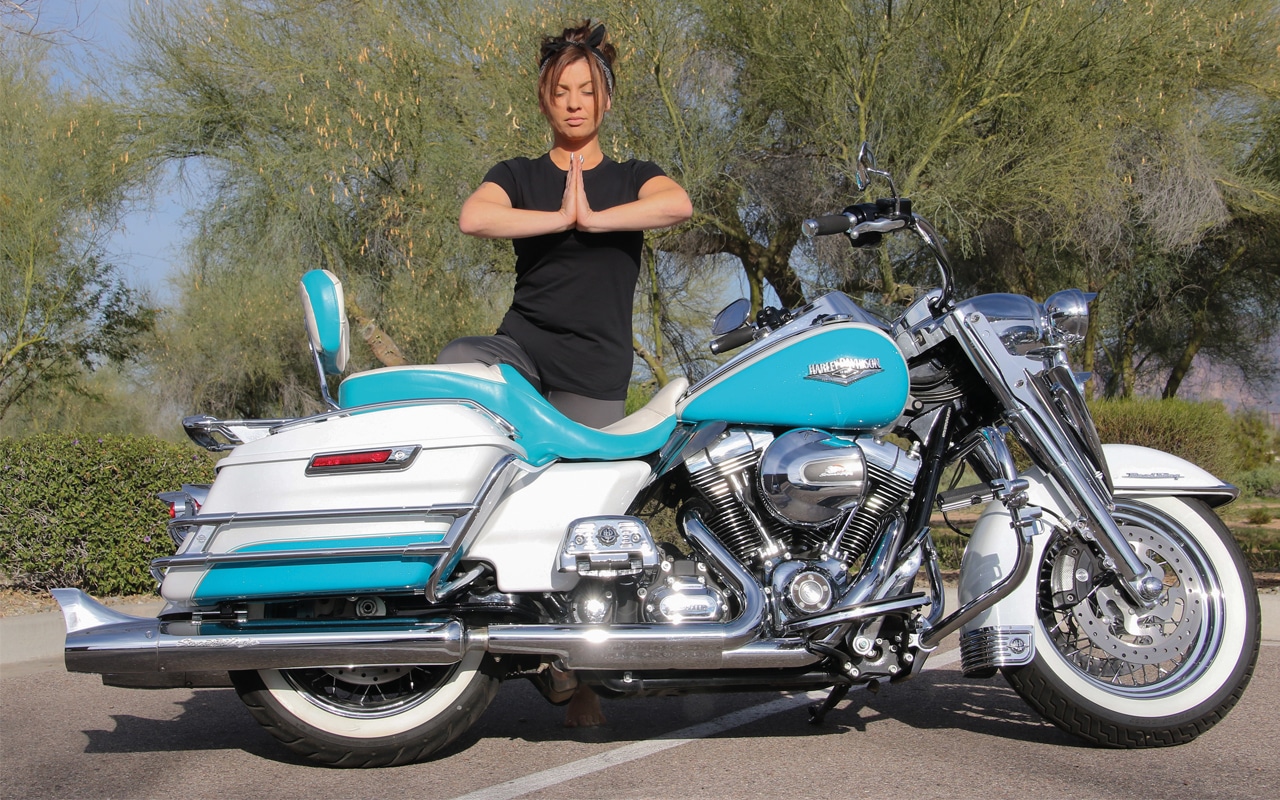 Yoga for bikers: how yoga is helping Harley riders and other bikers to find their Zen on and off the highway. By Greg Ormson
With a twist of the wrist, a throttle opens its throat and roars. I'm in the wind, as riders like to say. They also say riding makes them feel free. When pressed to define freedom, they might describe it like being on retreat, or taking a ride just to think about things; other times to escape a situation or move forward in space and time.
But no one really jumps on a motorcycle and takes a ride to enter the quiet because the rumble of a motorcycle is not quiet. A loud set of pipes for many bikers is a source of pride, but for all bikers, the loud sound from their motorcycle is a safety feature. If they can't see us, riders think, at least they'll hear us.
Taking our place on a low-slung leather seat is almost a sitting posture, and from that stable position, riders enjoy what the road presents. On a motorcycle, odours and sounds from the highway are acute and so is the danger. A biker becomes familiar with stress immediately, but we also sense that biking does something to our bodies and brains.
Motorcyclists move forward; martial artists focus on downward movement and the competitor most rooted is often the winner. Ballet artists create sustained magic with their thrilling mirage of lilting, upward movement. Yoga includes all this: we move forward in space, we ascend and also root down. But unlike the others, yoga self-work moves deliberately inward; it's the posture and practice leading to integration of that which the deeper self is yearning to let free.
In my training to become an alcohol and other drug abuse counsellor, my teacher once said, "We drink to feel good and we drink more to feel better." It seemed like a simple statement overflowing with truth force. We ride or do yoga to feel good, and we do more to feel better. He also said, "Nobody ever gets better until they get rid of that which is making them ill." Yoga's inner work aims for this cleansing exchange.
My teaching community consists of bikers who bike to feel good and bike lots to feel better. It's not an obvious yoga community, but it's mine. Yoga and Leather: yoga for bikers, came together three years ago when I spoke to the events coordinator at Superstition Harley Davidson in Apache Junction, Arizona, asking her if I could start a class - yoga for bikers - in the dealership.
I pitched yoga as something good for bikers and focused on three categories: safety, therapeutic, and practical benefits. We knew it would be a difficult sell, but I believed over time we could encourage motorcyclists to try something many had never tried.
We scheduled the first class at the dealership on the second floor outdoor deck, called the eagle's nest with an inspiring view facing north to the Goldfield Mountains of eastern Phoenix. It's the only dealership in the US to hold classes within the building designed for motorcyclists. Most of my community would not attend a typical yoga studio, and many of them had not been in a gym for 40 years or more.
Five people came to the first yoga for bikers class, two from a fitness facility where I taught yoga for a year. The others had never done yoga and didn't have yoga mats. They wore the rider's costume: blue jeans, black boots and matching leather jackets. Their artificial knees, ageing bones, and bad backs were screaming at them after walking the flight of stairs to the eagle's nest. They talked a lot and seemed nervous at the prospect of trying something that must have seemed risky.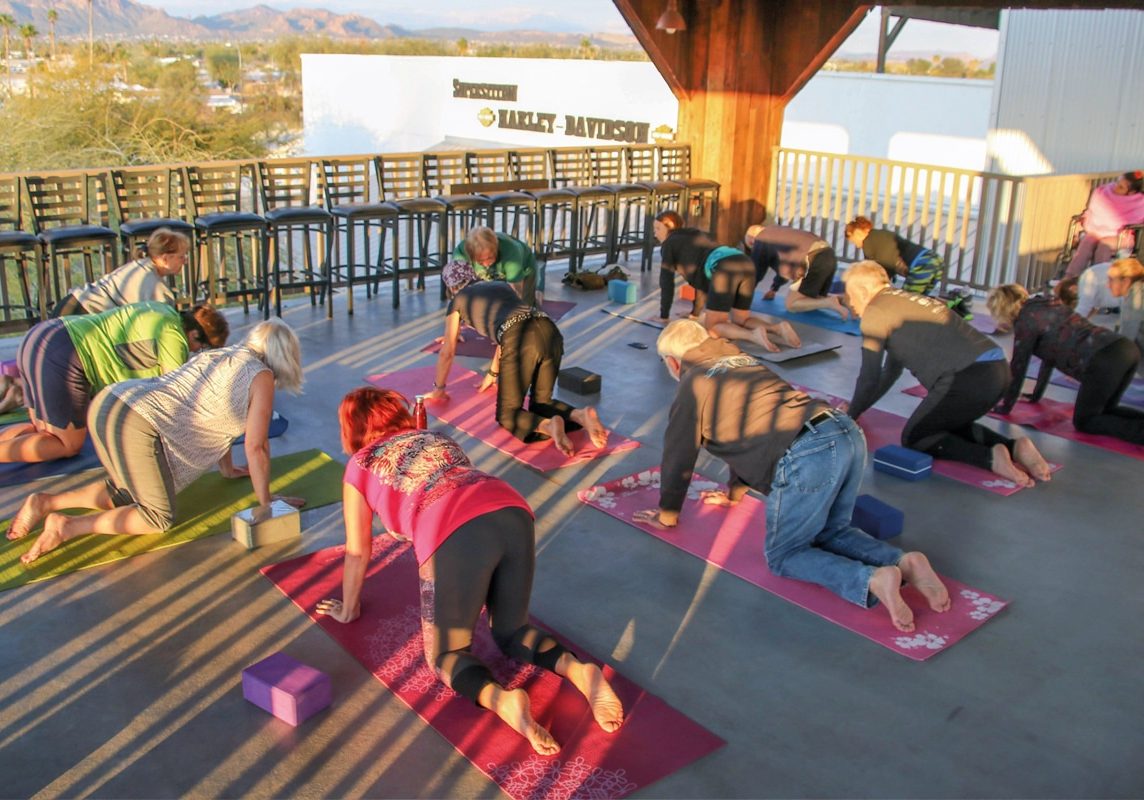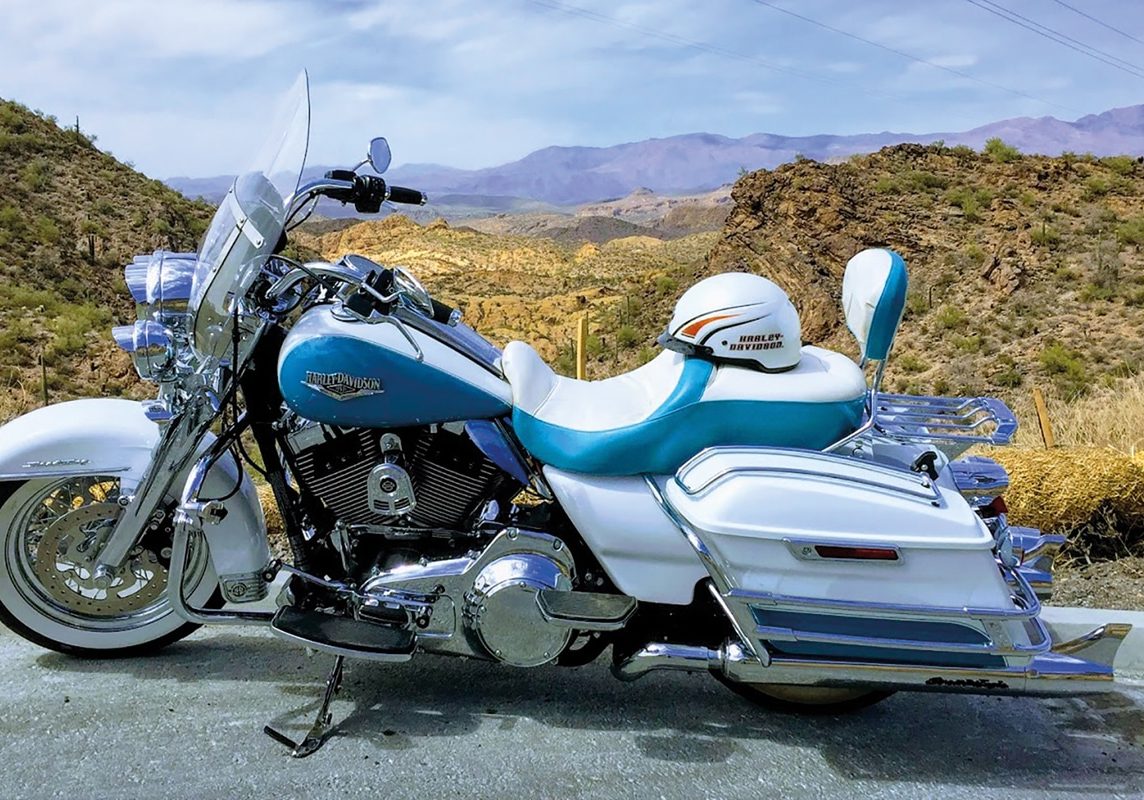 Many years ago, I fell from a roof in the American Midwest. I suffered with a painful back which affected my life and motorcycling. And when I moved to Hawaii eight years ago, I was on the floor in pain, unable to help my partner set up a television stand.
Then it dawned on me that nearly everywhere in Hawaii I saw large banners hanging off building storefronts offering yoga. I'd never done yoga, but thought, what have I got to lose? I found a class and attended it the next day. When a person at the yoga studio asked what brought me to yoga, I said a bad back. Since that day, eight years ago, I've heard the same thing from hundreds of people.
At that time, I had just completed training to serve as a certified Motorcycle Safety Foundation rider/coach for the state. As a motorcycle instructor, I demonstrated tight back-to-back U-turns on the figure eight track a hundred times for new riders. I knew the techniques and gave my instructions: keep the wheels rolling, keep your eyes up looking to the far point of your turn. Through the turn, maintain a light touch on the clutch through the friction zone, keep your feet squarely on the pedals, and counterbalance your weight.
Having learned the importance of breath and meditation from both yoga practice, and private instruction in apnea, free diving, or the art of going below the surface by holding ones breath, I had been practicing breath holds and paying attention to breathing patterns in myself and others.
I noticed some people held their breath when practicing the figure eight moves and I realised nobody had ever talked about breathing during my motorcycle training. For many bikers, the tight U-turn is difficult and a U-turn in traffic on a narrow road filled with obstacles can be stressful.
Then one day in Hawaii I made a wrong turn and was coming to the end of a dead end just as school was letting out. The narrow road was alive with obstacles and crowded by sharp lava rocks on both sides. The moment was chaotic: people opening car doors, children running across the street, distracted drivers, and rotting, slippery mangoes at the road's edges.
Upping the ante, I had a pillion rider with me and there was no option but to pull a difficult, narrow U-turn on my 400 kilogram motorcycle.
As I approached the dead end, I felt my stress increase. But I had been doing yoga nearly every day and had practiced putting my body at ease in the midst of stress. Executing the turn easily, I accelerated away from the commotion and it dawned on me that if yoga riding improved my riding skill and my ability to keep calm in the saddle, it could help other riders.
Application of yoga in stress
I believe the primary therapeutic in yoga is learning to be at ease in the midst of stress. On a regular basis, I remind my community that we mobilise Prana, embody asana, focus the monkey mind, and surrender our cares. I teach this through a practical and effective breath-centric focus.
This is my mantra to riders: breathe into a soft full breath when you ride and stay at ease in the saddle as you enter moments of stress. The breath mechanism moves yogis and riders inward to receive yoga's therapeutic benefits.
Riders know that motorcycling feels good but may not have considered why it is so.
The University of California Los Angeles (UCLA) conducted a neurobiological study, funded by Harley Davidson, with the goal of quantifying motorcyclists' brain's activity. They collected data on brain wave patterns, sensory impact, biochemical adrenaline and cortisol levels; they also recorded heart rate, blood pressure, resilience to distractions, and other factors.
After cleaning up the 'co-varying' data caused by road noise, vibrations, tensing muscles, and blinking, "The results revealed altered levels of adrenaline, cortisol, and heart rate; neural signatures most often associated with meditation; and a calming 'aftereffect' that lasts a short time after riding. Levels of cortisol – produced by the body in stressful situations – dropped during the riding portion of the experiment."
Yoga for bikers - the benefits
• Increased strength and muscle tone through weight bearing and power postures. Bikers prepare to handle large bikes and long tours by building strength for long days on the road.
• Improved balance by practicing one-leg standing postures. Along with breathing, balance work leads to body awareness and ease in tight U-turns or stressful riding in heavy traffic.
• Increased mental focus and coordination, clarity of thought developed by balance and silence in yoga practice. The yoga gift of concentration and calm can mean the difference between life and death on the bike.
• Improved sleep after a hard yoga practice. It's dangerous to doze on two wheels. Good sleep rejuvenates the rider for attentive motorcycling and touring.
• Improved posture by focus on creating space and bodily awareness, especially work with back flexibility. Bikers benefit with improved back and neck comfort on rides.
• Improved flexibility by bending and stretching.
• Improved adaptability to stress by postures that place stress on the body and learning to breathe and experience ease in the midst of stress. This teaches riders to stay at ease in the saddle on the road.
• Core strength, mental concentration, and overall mind-body performance through yoga helps riders develop safer, stronger, and better habits.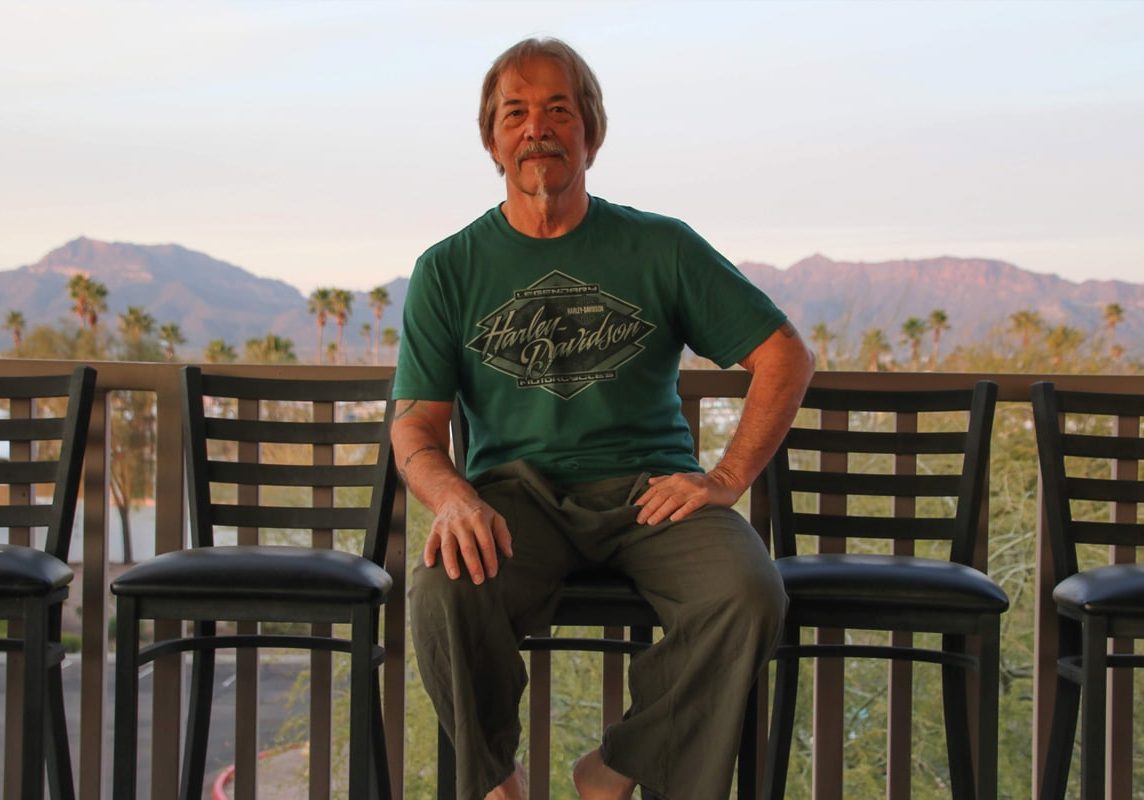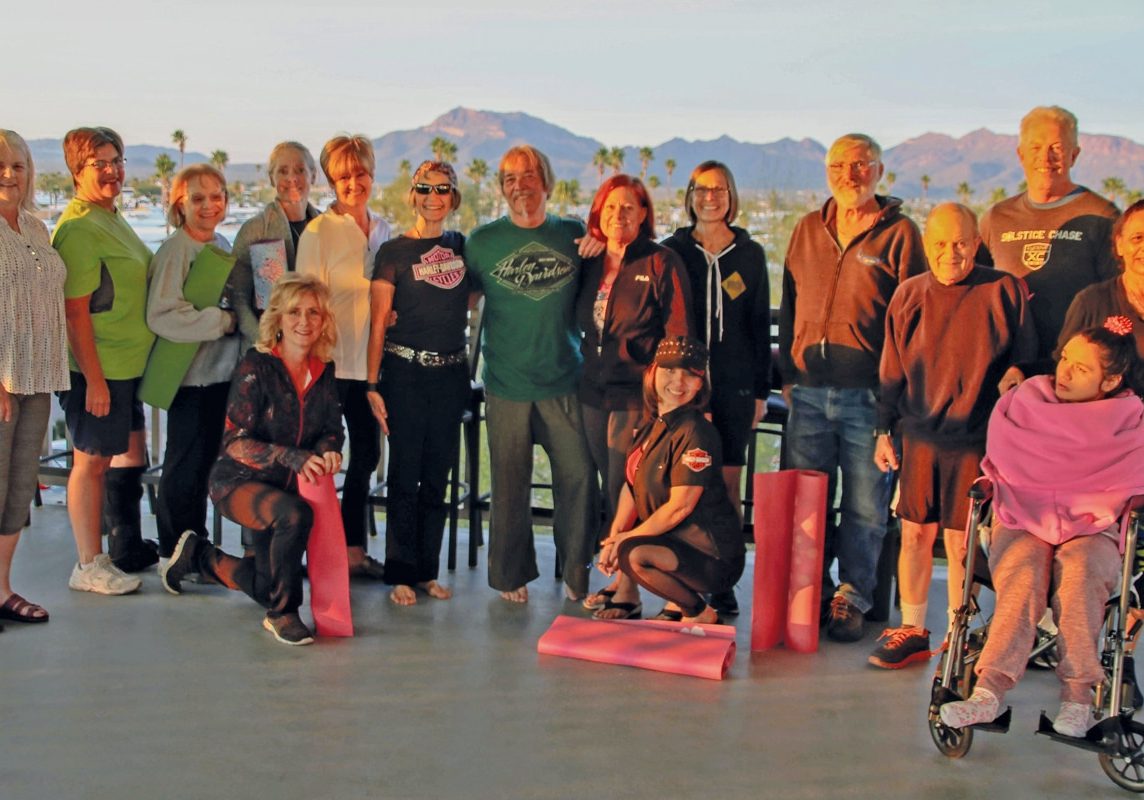 It's taken three years, but yoga participation in my community is growing. The bikers arrive to the eagles nest, an apt description for the birth of something new, curious and without previous experience. They walk in, blue jeans rigid and unbending as Levi Strauss' first canvas pants made for California miners during the 19th Century American gold rush.
I ask them to breathe in and reach for the metal bars surrounding the eagles' nest. Then we bend into shallow squats and exhale; just like that, bikers are doing yoga. Many are surprised yoga is accessible to them because it doesn't seem possible looking at yoga from the outside in.
The motorcycle dealership is an unusual context for yoga. We can't dim the lights; we deal with temperatures that vary with the sun and not the thermostat, and during class, we're perched above the rumble of loud Harley Davidsons rolling in and out for service.
When the afternoon session moves to its close, the sales staff fire up 75 motorcycles. They're sale bikes on display and lined up around the building. The engines warm before employees ride them inside for the night.
The trembling, liquid strings of my sitar are drowned out by the mighty roar of Harley Davidsons. I imagine the sound as the roar of Sambasana (Lion's Breath), an unmistakable signal that it's time to bring my yogis up from Savasana and salute them with a heartfelt Namaste.
Unusual, maybe, but I love the challenge of opening boundaries in order to stay fluid in mind and body. "It doesn't bother me at all and I find it soothing," one student said when I asked if the loud bikes interrupted her during Savasana.
It's the way they roll as bikers and courageous experimenters. Another first-time yogi said to me after class, "It's all about the breathing," and another, "I actually think about breathing when I'm on the bike now."
My motorcycle trainer once said, "We went for ice cream this weekend on our bikes and took a 160 kilometre journey to do it." Bikers take the long way home. Yogis also take the long journey laden with many a winding turn.
Our life and yoga journeys travel a long and winding road bringing us home during every yoga class. Deep inside the self, it's both the most familiar and the least discovered country. Yogis and bikers embark upon discovery when they unfold the yoga mat or throw a leg over the saddle to feel wind in the face.
We journey forward, upward, downward, and inward to who knows where, balanced by stillness found in surrender and focus. The only advice to all yogis and bikers is: enjoy your long and winding road and ride on!
Photos and video by Randy Anagnostis (anagnostis.com), courtesy of Anagnostis and Superstition Harley Davidson, Apache Junction, Arizona.
See Gregory Ormson's video of Yoga and Leather: Yoga for Bikers on YouTube at: https://www.youtube.com/watch?v=opNRRVg8O_M
This year, Yoga and Leather features a 'stretch ride', taking place once a month leaving the dealership and riding to a nearby river, lake, mountain, park, or desert setting where participants breathe and meditate for 20 minutes. Then, yoga teacher Gregory Ormson will offer a demonstration and riders practice how to use their motorcycle as a prop when stopping for a rest. The stretches incorporate asana therapies targeted for motorcycle riders: neck, back, shoulders, and hips. The stretch ride incorporates yoga principles and appeals to riders because, more than anything, bikers love to ride. In addition to the stretch ride, Ormson offers a few safety tips. "It's easy to fall into a rut in both yoga and riding; and a rut is nothing but a grave with the ends knocked out," he says. "Safety tips may keep us alive but yoga will keep us fresh and aware."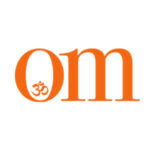 First published in November 2009, OM Yoga magazine has become the most popular yoga title in the UK. Available from all major supermarkets, independents and newsstands across the UK. Also available on all digital platforms.