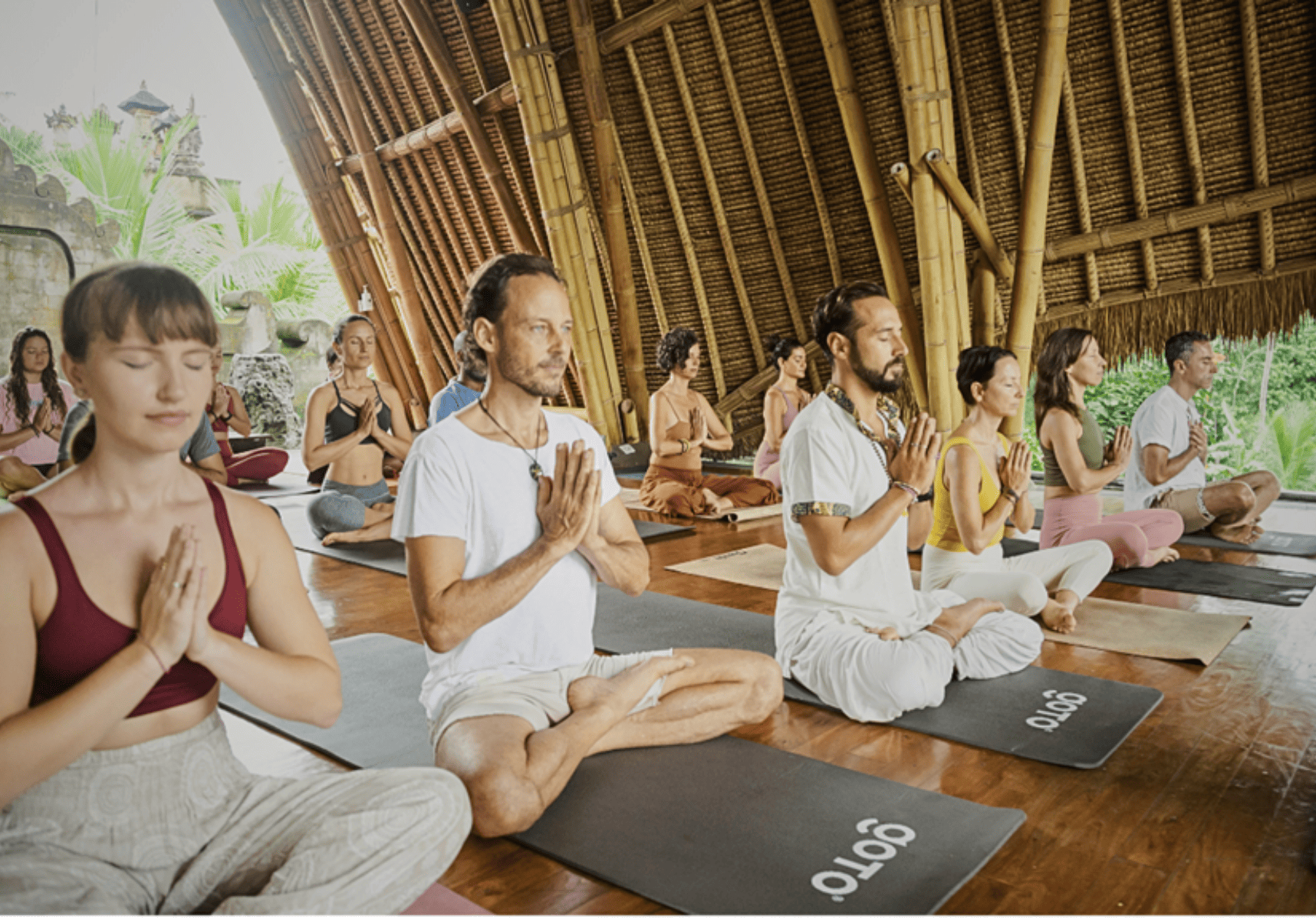 Could it be the most authentic Yoga Teacher Training in the world?
Yoga New Vision: Bridging Ancient Traditions and Modern Science in the Ultimate Yoga Teacher Training Experience
Yoga, as a practice to achieve a healthy body, a peaceful mind, and a loving-kind spirit, exploded in the last decade. An ancient Indian practice that originated ages ago through the wisdom of the sages has captured the world with its ability to heal and transform this new age.
The world has finally woken up to all the benefits of yoga and making it part of their lives either to bring a peaceful impact in their minds or bring about a positive change in their bodies.
With the rise in the global acceptance of yoga, the world is recognizing the importance of yoga trainers and their value in their lives; in the gyms, fitness centers, resorts, retreats, offices, or residential community halls, everyone is seeking a trained, experienced and authentic yoga trainer.
While being a yoga trainer has become a much sought-after career, because of which an uplifting rise in the number of yoga teacher training centers has also made choosing the right one a challenging task.
As yoga becomes widespread, it has a downside too. With the high demand, teacher training standards are being compromised. Certifications are now available at lower prices. While yoga's growth seems optimistic, there's a worrying disconnection from its authentic ancient traditions.
Now, a vital question arises - how do we strike a balance between meeting the surging demand for yoga and preserving the authenticity of ancient Indian traditions? In response to this challenge, Yoga New Vision was born with a mission to keep the essence of yoga alive while meeting the needs of 21st-century practitioners.
Deep Kumar, Program Director and Master teacher of Yoga New Vision from India Says that,  At a time when the world seems divided between choosing modern yoga practices or authentic traditional YTT,  YNV Teacher Training is a perfectly balanced middle path – of providing a combination of both ancient Indian yogic knowledge blended with western, science-backed modules.
Yoga New Vision School shines brightly amidst the sea of options in the industry. recently awarded as the Most Authentic Yoga Course in Ubud, Bali by global-gallivanting.com, their popularity has soared, with every training being sold out since its inception.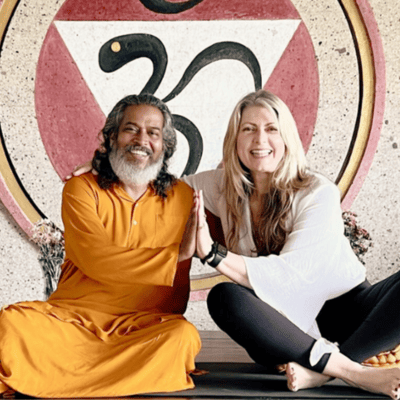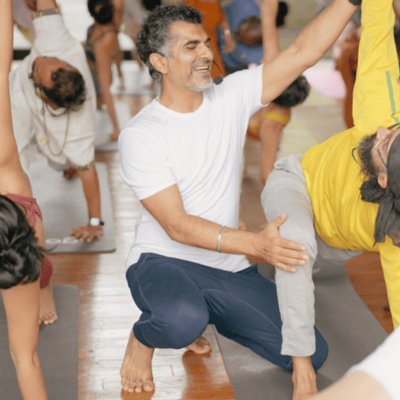 About the Yoga New Vision Teacher Training
This training is designed to get you rooted in the tradition as well as give you all the tools you need to shine as a teacher.
Talking about the school and its vision, Sadhana Om, Creative Director and Bhakti Yoga Teacher from India, says, "We create a space where individuals feel seen, heard, and empowered to reach their fullest potential. Our heartful dedication lies in the growth of our students, and our program is carefully crafted to cater to their unique needs on physical, mental, and spiritual levels."
A Unique experience with Real Indian Masters
Nestled in the beautiful surroundings of Bali, Yoga New Vision's TTC offers a unique experience. This is the only training in Bali where monks, swamis, doctors, and physiotherapists from India come together under one roof to impart this ancient knowledge.
"Our teachers come from diverse backgrounds and ancient lineages with their hearts open to all beliefs and backgrounds. Creating unity in diversity. This approach provides a well-rounded and inclusive experience, allowing students to learn in an environment that is comfortable, familiar, and not bound to any single tradition.", as highlighted by Devi, local Balinese operational manager at YNV.
This training is focused on promoting personal growth as well as teaching mindset in students giving them a clear understanding of Yoga Asana, Body Alignment, Anatomy, Pranayama, Chakras, The eight limbs of yoga, Mantras, and the five layers of the body.
The course is enriched with regular meditation and asana practice and gives a profound experience that can truly transform people.
"The teachers infuse sessions with occasional dance and music, adding a delightful touch of joy and rhythm with other activities to make the learning fun and interesting."; says Ayesha, former YNV 200hrs student.
Yoga Teacher Training With a Difference
Yoga asana is an excellent way to care for the body, but sometimes, meditation and yoga philosophy can be overlooked. While a healthy body is essential, a healthy mind is equally crucial. However, many training revolve around postures only. In this training, on the other hand, there is equal emphasis on the physical and spiritual aspects, including a deep understanding of yoga philosophy and meditation with Yoga Asanas, bringing balance to both body and mind.
"Studying yoga philosophy and meditation is vital in life, as it helps you understand and know your true self. It brings self-awareness, compassion, and harmony within and around you," emphasizes Swami Atma, Philosophy and Meditation Teacher at YNV, and a Monk from Rishikesh, Capital of Yoga, India"
"We not only bring about a difference in the student's lives but also do it differently, We personally take care of each student especially when it comes to any back pain, knee pain or any other injury at our trainings, guiding our students towards healing with the help of yoga" Says Anurag Acharya, Anatomy teacher at YNV, A renowned physiotherapist and YogaTeacher from Ujjain, the city of Shiva, India.
Pristine Bali Resorts for Yoga Haven
Yoga means a union; it unites yourself with your higher self. It unites body and mind. We need a supportive atmosphere for this, And what better place can be than Bali – the land of the Gods! Known for its stunning natural beauty, rich history and culture, and warm and welcoming community, Bali embraces you with open arms and lets you explore yourself in the lap of nature.
"We prioritize student's comfort during the training. Looking after all details so that they enjoy the full experience, a lot of love and heart goes into choosing spacious yoga shalas, comfortable rooms, and preparing nutritious food. So, when students join us, they can fully immerse themselves in the experience and focus on the learning journey without any distractions." says Sadhana Om.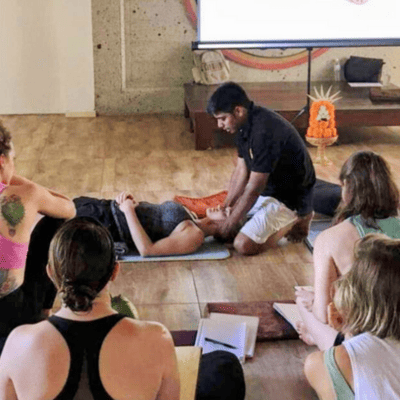 In the training, students discover that yoga encourages them to enjoy the gifts of life with gratitude. Instead of denying, they learn to appreciate the richness of life with mindfulness.
Yogic Diet that Nourishes the Body, Mind & Soul
The Yogic diet is the perfect complement to yoga practices. A yogic diet is a well-balanced diet in which all the different principles of a diet, such as proteins, carbohydrates, fats, vitamins, minerals etc, exist in proper proportions.
If you can follow the proper yogic diet along with yoga practices, you will soon notice that eating according to the yogic way will improve your health and make you feel good, fit, and cleaner.
"We provide the Yogic Diet, made of the purest and most nourishing foods, grown in local Balinese farms, wholesome meals that include breakfast, lunch, and dinner, all tailored to support student's practice and well-being. These meals are thoughtfully planned, considering the optimal timings to complement all yoga sessions," says Devi Balinese, who takes care of the quality of food and comfort of students at YNV.
Budget-friendly for a Rich Experience in Bali,
Wellness should be accessible to all and thoughtfully designed to ensure everyone gets the most out of their investment in their yoga journey.
A perfect blend of serenity and savings!
The training offers 3 different packages:
Non-Accommodation Package for budget travellers who take training and can arrange their food and accommodation.
Shared and Private room Package inclusive of Food and accommodations.
Training includes All study material, classes, activities, and Certification.
Free access to online courses for revision and continuous study.
Free access to online private classes to support regular practice.
Retreat Style Yoga Training
The Training welcomes people from all levels of practice who can enjoy and fully immerse in this enriching experience.
During their break time, At their own expense and leisure, Students can use high-quality rejuvenation and healing treatments at the resort, such as:
Facials & Spas
Lymphatic Massage
Deep Tissue Sports Massage / Balinese healing Massage
Rejuvenating Hot Bath
Relaxation Therapy
"Immerse yourself in Bali's rich and holistic experience, pamper yourself with spa and massage treatments. Let us welcome you for an unforgettable retreat style Yoga Training that nurtures your entire being,"; says Kadek, Resort and Spa Manager at YNV Venues
Recognizing, This is the right time for your growth.
Take a deep breath, be present, and connect with this moment.
As you ponder this life-changing decision, listen to your heart, and let your courage lead you toward the path of transformation.
We know it's a big and life-changing decision, and it's normal to feel unprepared and unsure. But trust that your inner guidance is taking you towards the right thing and the right place.
"Change is inevitable, but transformation is by conscious choice." Heather Ash Amara,
"The YTT with YNV, was an enriching journey. I would recommend it to anyone who wants to improve their own yoga practice and experience personal growth as well as those who wish to teach yoga." shares Katharina Brade, a former student of YNV.
"I simply can not imagine what it would be like to miss this experience. As a physiotherapist, I am so amazed by everything new I learned. It's true; a beautiful merge of Eastern wisdom and Western science has been brought to me. Yoga new vision inspired me to use this to help others,"; says ​​Negin Alai Nasab, another former student of YNV.
Upcoming Training:
1-22 September, 2023
10-31 January, 2024
3 - 24 March, 2024
16th June - 7th July, 2024
25th July - 15th August, 2024
3-30th September 2024 - 300hrs
5-26th November 2024
Click here to find out more - https://yoganewvision.com/yoga-teacher-training-bali/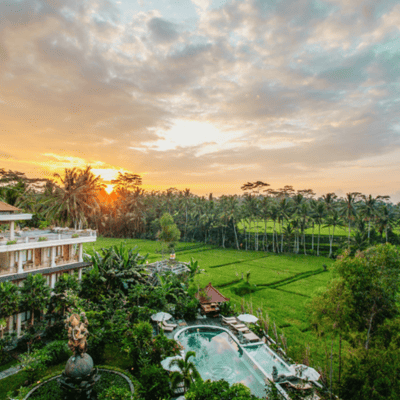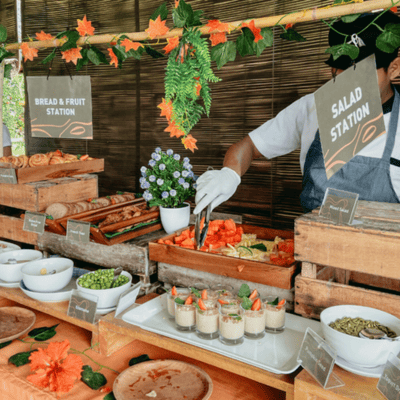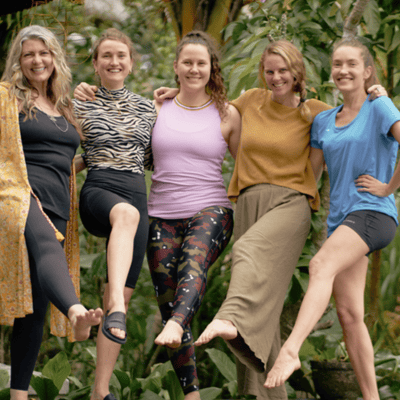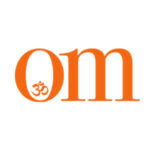 First published in November 2009, OM Yoga magazine has become the most popular yoga title in the UK. Available from all major supermarkets, independents and newsstands across the UK. Also available on all digital platforms.
If You Enjoyed This, Then You May Also Like...