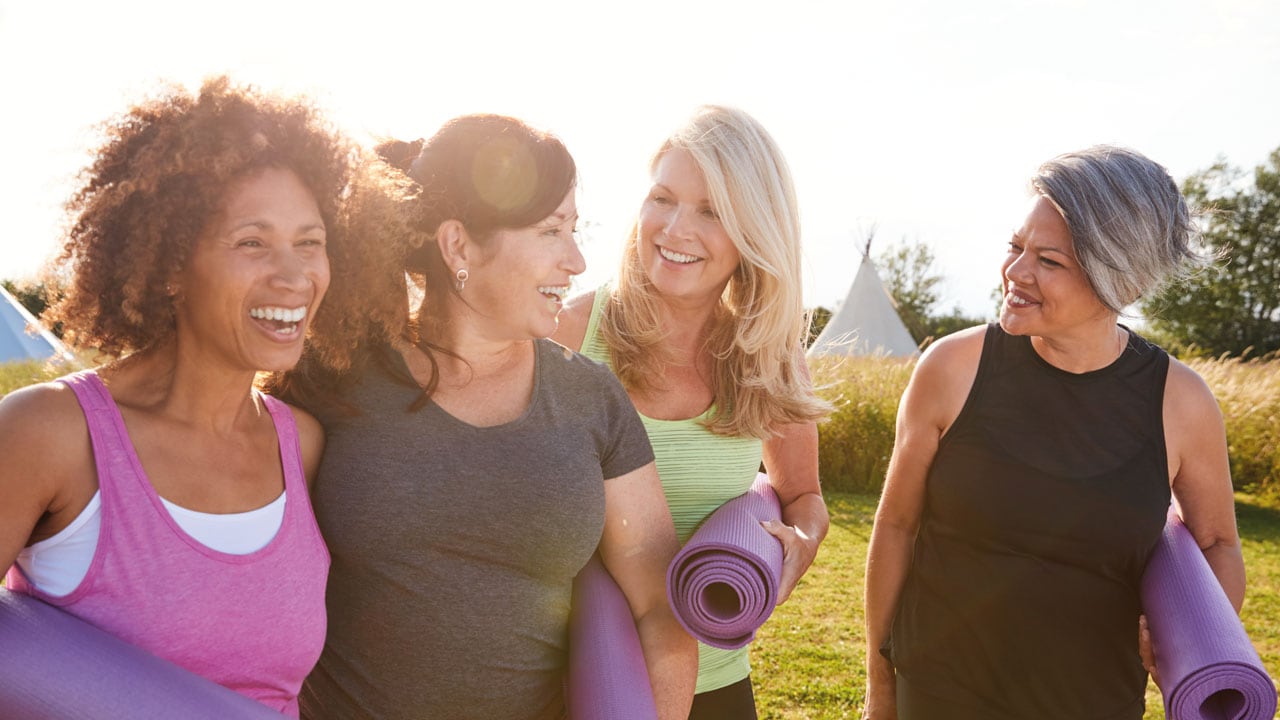 Yoga, ageing and the menopause
Menopause is a unique journey for every woman but yoga can play a role no matter how you navigate this challenging time of life. By Claudia Brown
As women, we are taught about our periods and pregnancy, but not about our menopause. Times are changing. But navigating this time of life is likely to be different for each and every woman.
Menopause is actually a hormone deficiency syndrome. I've had a thyroid condition since I was 26 and have taken thyroxine every day since my diagnosis. Never once was I told to 'battle through' my symptoms by a healthcare professional, or that it was, 'just what happens to women so get on with it.' My body was not functioning properly because one of my glands was not producing enough of the hormone needed for my system to function so I was given the hormone in a tablet to replace it.
I replace my declining hormones linked to perimenopause with Oestrogel, a mirena coil which contains slow release progesterone. I also use a testosterone gel called Testogel… yes, you can get it on the NHS if you have a GP who knows about menopause or you are referred to an NHS Menopause Clinic (but there are only 29 such NHS clinics in the UK). This gold standard treatment plan has made a massive positive difference to my quality of life as well as improving my unpleasant perimenopausal symptoms. Not only that, I know I am better protected against osteoporosis and cardiovascular disease as I age — the under-reported and not widely known benefits of taking hormone replacement therapy (HRT).
The average age of menopause is 51 — that one day when you haven't had a period or a year — but your perimenopause can be for seven or more years before that. So the average woman could be having debilitating perimenopausal symptoms from the age of 44, often mistaken for stress-related issues. Post-menopausal symptoms can carry on for another seven or so years. What merry hell is this? And, of course, every woman's menopause experience is different.
Mostly, GPs are not taught about menopause at medical school. Yes that's correct. GPs are not taught about what happens to 13 million women in the UK who are either peri or post-menopausal, with one in four women experiencing severe debilitating symptoms.
This has led menopause expert Diane Danzebrink to launch the Make Menopause Matter campaign. This has already seen menopause added to the national curriculum in schools (because up until September 2020, menopause was not part of our secondary school education.)
The role of yoga
So where does yoga fit in? I have researched widely on this subject, for personal and professional reasons. I have organised yoga workshops for Dr Louise Newson at her Menopause & Wellbeing Centre in Stratford-upon-Avon, which I have developed into a menopause 1-2-1 private tuition package.
What I know is this: Yoga is exercise without exhaustion, and it is clever exercise. It boosts endorphins, builds strength by stealth, gets the heart pumping, strengthens bones, eases aching joints and muscles, improves circulation and the immune system, soothes an overactive anxious mind and allows you to ease into a relaxed state, switching on our parasympathetic nervous system. It is a rich and varied practice and enables you to do what works for your body on any given day.
It is also slap bang in the middle of what I call The Golden Triangle (and I'm not talking about your vagina…but more of that later!).
During my research, it became apparent that there was a lot of crossover and repetition on advice and guidance on the trifecta of 'wellbeing' and reducing stress whatever your age, 'menopause', and the 'ageing' process in general, irrespective of gender or health condition. What is a common suggestion for all three – yoga! But not just yoga (or the movement practice of your choice.) All the things we already know about – diet and nutrition, hydration, sleep, and good old rest and relaxation — can contribute to improving your health and wellbeing as you age.
Stress and menopause
As I've already said, the symptoms of stress and menopause or perimenopause are very similar which is why so many women are incorrectly offered anti-depressants instead of HRT. If you check out the 34 recognised symptoms of menopause you will see why this confusion can occur.
Another cruel blow is that stress will exacerbate menopausal symptoms. Cortisol levels (nicknamed the stress hormone) can rise if our levels of oestrogen fluctuate and continue to drop. Too much cortisol over a long period of time can cause all manner of health problems.
But what will help alleviate stress – yoga, of course!
The physical movement, the breathwork and the meditation, options of yin yoga and yoga nidra, the choice is vast, and enjoyable. Yoga will work for you whatever your symptoms as they can be varied when your cycle is erratic and your hormone spikes and dips and are giving you more mood swings than a room full of teenagers.
The pelvic floor
Yet another reason to have a regular yoga practice during the perimenopause onwards is because of the benefits for your pelvic floor.
Amanda Thebe, a personal trainer and author of the brilliant, witty and honest book 'Menopocalypse – How I Learned to Thrive During Menopause and How You Can Too' offers the following perfect verbal cue to engage and exercise your pelvic floor: "Sitting upright, take a deep breath into your belly, as in box breathing, and relax your body completely, then on the exhale, imagine gently pulling a tissue out of its box with your vagina for a count of four."
I've also been lucky enough to do some yoga sessions with specialist women's health yoga teacher Lucy Holtom of Living Your Yoga based in Kenilworth.
She has taken me through some specially-designed sequences for the pelvic floor that she has worked through with a pelvic floor physiotherapist. This is what she has to say: "Most of us don't really think about looking after our pelvic floor until we realise we've lost control of it. Often, we're walking around knowing that something is fundamentally different about our 'nether' region. Sometimes this can happen suddenly after experiences such as childbirth or a hysterectomy."
Along with support from your doctor, midwife or a pelvic floor physiotherapist, there are numerous brilliant yoga and Pilates teachers who can help you regain some of that pelvic muscle power in a weekly class or 1:1 session.
Pelvic floor practices create an opportunity for you to get connected, explore, and feel into the sensations of your pelvic organs. It can be a great relief for women to really understand the geography of their pelvic floor. It's a muscle, a big and important muscle that needs to be exercised as much as your six pack, if not a little more.
In yoga, there's also a lot of talk about the 'mula bandha'. This means root lock. If you draw your vagina walls together and up towards the cervix and hold, that's your 'root' and your hold is creating the 'lock'. For most of us, we grit our teeth and stop breathing when we do this. This adds tension to the rest of our bodies.
When practiced with yoga techniques, using the breath and with awareness of the whole body, the mula bandha helps us to work with engaging, toning and releasing the vaginal walls. We practice with the shoulders and jaw soft, and maybe with a cheeky satisfying smile as we reconnect with 'elevating' sensations once again.
Once we rediscover our pelvic floor, we can use our practices daily to maintain and tone, and subtly adjusting our posture in the process to aid further support.
Along with this, not only will you be able to sneeze, cackle and run without dread, but you'll experience heightened sexual pleasure, as will your partner!
So the moral of the story is: do yoga.
Claudia Brown is yoga teacher and writer. She has launched a six-week immersion, 'The Ultimate Wellness Experience for Menopause' offering evidence-based yoga and mindfulness solutions to improve menopausal wellbeing, featuring guest speakers and interactive sensory experiences. Find out more at: yogabyclaudia.com
This free app, developed and launched by renowned menopause expert, Dr Louise Newson allows you to track your symptoms, access personalised expert content, share stories and lots more. The app is already being used by over 50,000 people all over the world and was only launched in July 2020. It can help you understand more about your menopause and see expert content that's tailored around you, based on your symptoms and health background. Keep an eye on your symptoms and health by recording your symptoms, moods, periods, nutrition, exercise and meditation. You can also track any changes and patterns over time and download everything in a health report too. Join a community where you'll have access to treatment reviews (HRT & alternatives), experiments to help relieve symptoms, and a safe place to share stories and learn from others' experiences.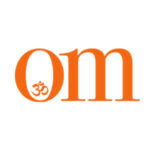 First published in November 2009, OM Yoga magazine has become the most popular yoga title in the UK. Available from all major supermarkets, independents and newsstands across the UK. Also available on all digital platforms.