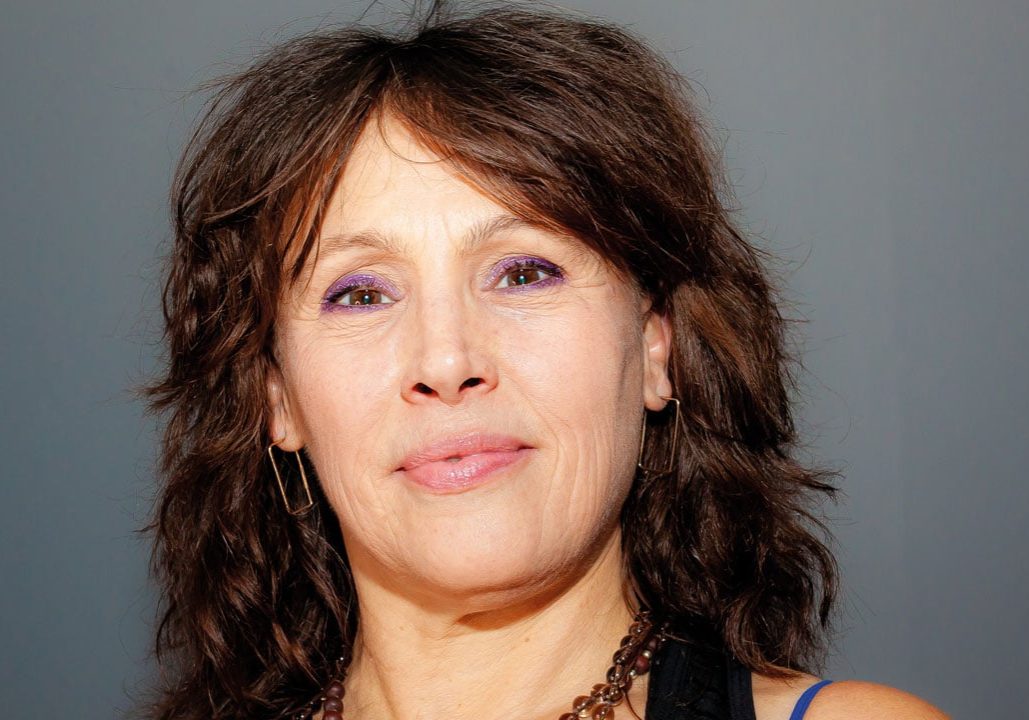 Tips for students and teachers accessing online yoga classes. By Belinda Emberson
The world of community-based yoga changed dramatically last year. The local yogi hiring space in church halls, gyms, leisure and community centres had the rug ripped out from under them as venues closed and lockdowns began.
Eager to keep classes going, to support students and each other, online communities developed all over the world.
A close yoga teacher friend and I set up a Facebook group called The Online Yoga Teacher Support Network. Originally aimed at local teachers helping each other, within three days we had over 300 teachers joining from all over the globe – all ready to support each other moving online and the group has continued to grow.
We've learned a lot. So, what are the pros and cons of online yoga for teachers and students?
PROS
It's inclusive – anyone with online access can join a class, whenever is convenient.
Yoga in the comfort of your home. This can allow students to focus on their own practice with no distractions, no noisy person next to them snoring during relaxation, no having to travel, saving both time and the environment. No latecomers disrupting the class.
Being able to access teachers previously inaccessible due to time or geographical location.
CONS
Being zoom-bombed by others demanding attention. Oh, and don't forget next door's teenage son starting his electric guitar/drum practice during the relaxation period. Or even worse, losing connection, whether that's poor internet or a computer automated update.
Being so close in a posture, but not quite there and not being able to access adjustments via a little discreet teaching point from your tutor.
Practice space can be limited and mean moving furniture and having to adjust the laptop.
As we progress with uncertainty, one thing is for sure, the online yoga community will continue and grow rapidly.
If you've yet to start teaching online but now think it's for you, do feel free to join our network. Here's some guidance on setting up classes online from your home, from our fabulous community.
FOR TEACHERS:
Connect your laptop to your TV with an HDMI cable to bring students up onto a bigger screen.
Have your device on gallery view, then all your participants will be in squares all over your TV screen. You can go and check on them when in posture and give verbal cues.
Students need to be on speaker view, so it stays on you. They need to be muted once started. There is a chat button that waves a hand if they need you.
Arrange yours and your students' laptops so you can see as much of them as possible and don't have to keep moving them.
Ask them to make sure they have plenty of room to take arms and legs out.
Check they've got props if you're going to use them, like a dressing gown belt for a yoga belt.
No music – it distorts.
Ask students to wear appropriate yoga clothing.
Add on an extra 15 minutes for set up, so everyone can make sure they're in the right place and comfy. Create an information sheet to send out to all participants before they sign up; make sure your phone number is on it so they can update you with any health concerns.
If you are going to buy/use specialist equipment, my start-up recommendation would be a decent laptop, an LED ring light and an HMDI cable.
Laugh: you may feel out of your comfort zone but once you have done it, it'll get easier.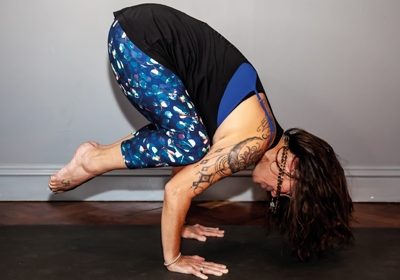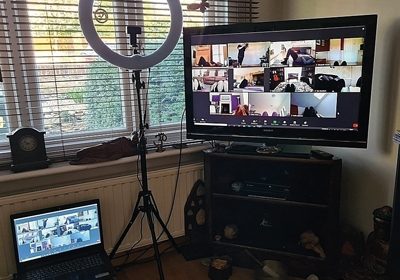 FOR STUDENTS:
Most online meetings can be accessed via computers, laptops, tablets and smart phones. Download the app for quick, easy access.
Any device needs to be a reasonable distance away from you so you can see and be seen and do not have to keep adjusting it. You may be able to link to your TV.
Ensure your screen is on speaker view and your audio is turned on. Ensure your appliance has its power supply nearby.
Make sure you have room to take arms and legs out. Ensure you have makeshift props, for example, a book makes a good block.
Wear appropriate yoga clothing.
Log in 15 mins before the session to set up so you can make sure you're in the right place/comfy/can see.
Enjoy.
Whatever your experience, online yoga has been a lifeline for both teachers and students alike. It has allowed us to navigate the most challenging of times our generation has experienced. Not only has it helped to keep our communities going, growing, and thriving, but it has provided a resource to help us continue our own personal growth. It has enabled us to stay stronger, fitter, and calmer as our enforced seclusion has allowed us to look deeper within ourselves, to find courage, hope and a sense of connection.
Belinda Emberson is the current BWY Foundation Course Officer , an experienced teacher trainer running BWYQ Diploma Courses and runs classes both online and in her home town of Gravesend. Visit: yogaingravesend.co.uk or bwy.org.uk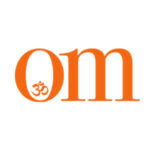 First published in November 2009, OM Yoga magazine has become the most popular yoga title in the UK. Available from all major supermarkets, independents and newsstands across the UK. Also available on all digital platforms.