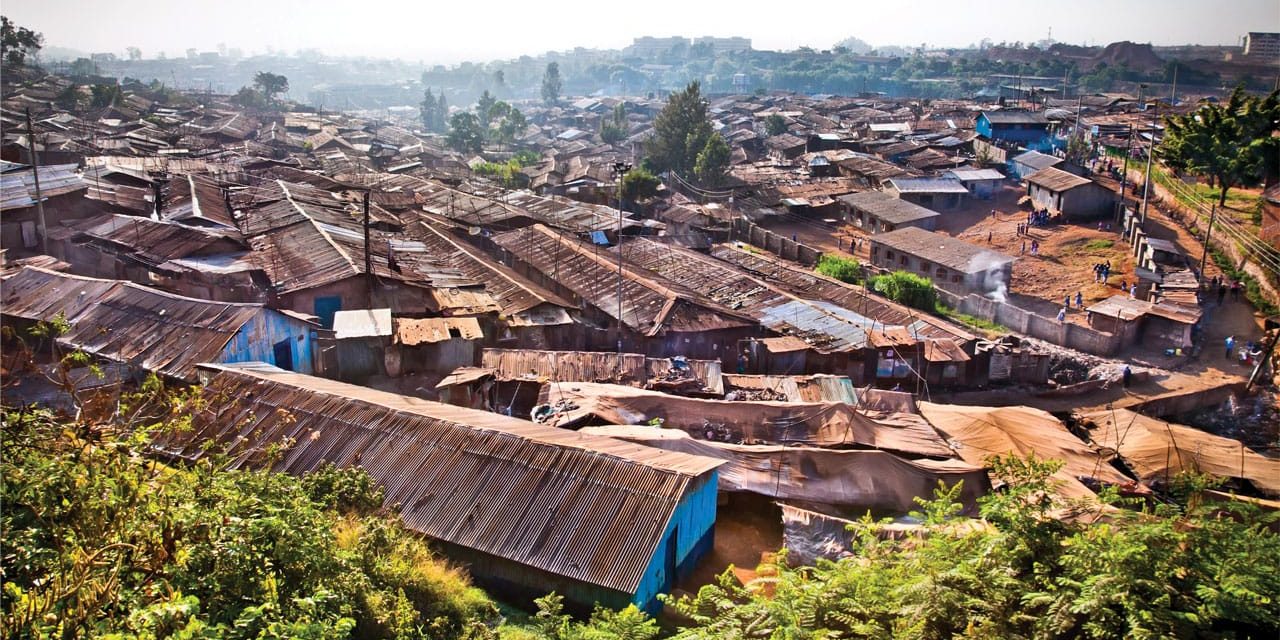 Kenyan yoga coach, Dickens Omondi Odhiambo, who grew up in the slums of Kibera, wins award for social good after inspiring others in his native Nairobi
Dickens Omondi Odhiambo, from Kenya, was last year announced as a winner at the Beyond Sport Global Awards. In fact, he was named as a winner of the 'Courageous Use Of Sport Award' for his work with the Africa Yoga Project (AYP).
This pioneering project strives to create employability opportunities for marginalised youth across Africa and to help local communities whilst doing so. It turns participants into certified yoga teachers and spreads the yoga word far and wide across the continent.
Dickens, 23, was recognised in the awards for his passion for driving social change in his community.
This award is given to individuals who have shown dedication and courage in using sport to improve their communities that have stood up against injustice and discrimination – often at great personal risk.
Born and raised in Kibera, the largest urban slum in Africa, and a part of the Kenyan capital Nairobi, Dickens did not have time to rest, let alone play during his childhood.
Along with his two brothers, he was forced to join his mother in the streets to hawk groceries, denying him much of his time to study; these experiences exposed him to numerous risks.
"I did not have time to play as a kid," he tells OM. "I would leave school, drop my bag and rush to town to sell groundnuts, and I would be back home at 10pm in the night. I did not get a chance to be a child, I feel like I was exposed to adulthood so early."
Shining example
During his time in education, Dickens struggled to raise money for his school fees, and spent the final year of his education outside of school, only going back to sit his exams. His final grades were adversely impacted by the economic struggles his family faced, slimming his chances of accessing higher education or decent work.
But his passion and positive attitude now sees him as a third-year employability academy enrollee at the AYP — and he constantly reminds yoga students, pose-by-pose, to enjoy the noble practice with a smile.
Now his achievements on the yoga mat, and crucially in coaching others, are being duly recognised.
The Beyond Sport Global Awards celebrate, support, raise awareness and provide funding for ways sport is being used in support of the United Nations Sustainable Development Goals.
Dickens has worked with numerous youth groups in initiatives around sports and arts, and has been involved in countless community ventures as a volunteer with a number of local and international community-based and non-profit organisations as a peer educator, coach, trainer and a mentor.
He has used sports to transform the lives of many youngsters in Kibera where he now teaches.
Winning the Beyond Sport Global Award opens up more opportunities, he says.
"Winning the award would gear up our organisation-based programmes and even introduce more ideas in line with our mission to help sustain the wellbeing of our sports leaders and community as a whole."
Despite the numerous challenges, he is an outstanding wellbeing community leader who has demonstrated striking resilience — a young man determined to re-write his story.
"Neither my past nor the many challenges I have faced will stop me from being who I want to be. I will work tirelessly to exploit my full potential."
OM caught up with Dickens Omondi Odhiambo to ask him more about his amazing yoga journey.
OM: How did you first get into yoga?
Dickens: I found yoga back in February 2017 when I was dancing for SHOFCO theatre group in Kibera. James Mweu, an AYP graduate, was recruiting youths from Kibera for a yoga teacher training which was scheduled to happen in April 2017.
After just 30-minutes with James, I developed an interest in yoga — I found it amazing for improving flexibility, stability and power, especially for a performing artist which I was then. James then informed us about the yoga teacher training scholarship and I applied, hoping for a better outcome by being a yoga practitioner and a teacher and possibly in creating a career out of it. I realised that through yoga I could become a better person than who I was before.
I can now confidently teach Baptiste Power Yoga, although through my time with AYP I have been privileged to practice other styles such as Yin, Ashtanga, Vinyasa and Afrikan yoga.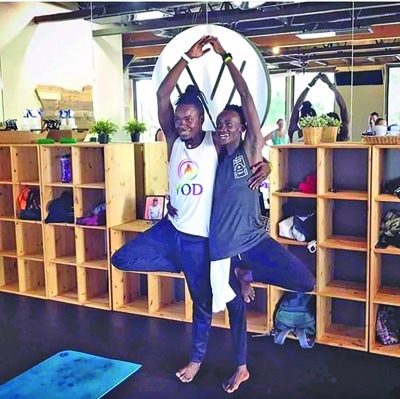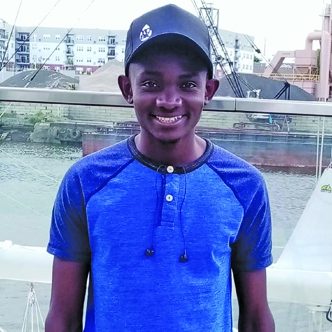 OM: What improvements has yoga brought?
Dickens: Through yoga, I have created a global community with whom we share a common goal (yoga) and connection. Community and friendship is what I lacked most of all when growing up as a kid, since I had no time to make friends and thought I wasn't good enough and no one could recognise my potential. Through yoga I have learnt to accept myself. Growing up in Kibera wasn't an easy journey. I worried a lot about my physique because I was skinny and lacked confidence to interact and mingle even with my mates, as expected of kids in their childhood. From the practice and teaching of yoga I now feel more confident and trust in my esteem; I'm no longer worried by my physique since I long accepted my body and am also working towards making it better through my regular practice.
I have also improved my immune system through regular practice. Just like any other physical activity, I believe yoga can be a prevention towards chronic diseases or conditions that can deteriorate health. It's improved my mind and body wellbeing.
On a wider level, I have improved my interaction and approach to people and life generally through upholding the morals of yoga, such as Ahimsa, non-violence, which is one of the Yamas in yoga. I've also increased my income through the teaching of private yoga classes and other commitments with AYP.
OM: How prevalent is yoga in Kenya?
Dickens: Through the AYP, and other facilities offering yoga teacher training and practice, I feel that yoga is now recognised and accepted by a good number of people who can help to spread it even further. The perception that yoga is foreign is fading away and through AYP teachers, we've made yoga accessible and affordable even to the marginalised communities that aren't able to pay for studio membership. Funny enough, some people will practice yoga without realising they are because any act of kindness is yoga — waking up to that morning stretch is yoga!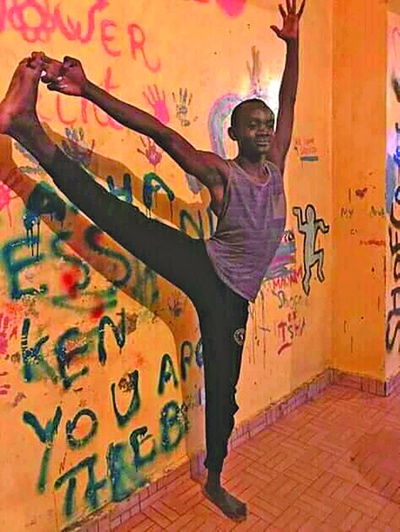 OM: Any tips for aspiring athletes or young people?
Dickens: Do not give up on your journey, accept who you are. When you feel you aren't good enough or you haven't done enough, strive towards doing better. Trust in the process, embrace your situation and keep pressing on.
OM: What are your future plans?
Dickens: Diversify my yoga teaching and practice skills, since I am currently certified in teaching Baptiste Power Yoga. I'd also like to set up a yoga studio in Kibera to transform more young people in the area and even beyond those borders to upscale the yoga and wellbeing chain. I also plan to pursue a career in community development, which would feed my passion for social change.
Learn more about the 2020 Beyond Sport Global Awards at: beyondsport.org/journey
Watch for yourself here: https://www.youtube. com/watch?v=82mwPUZtALI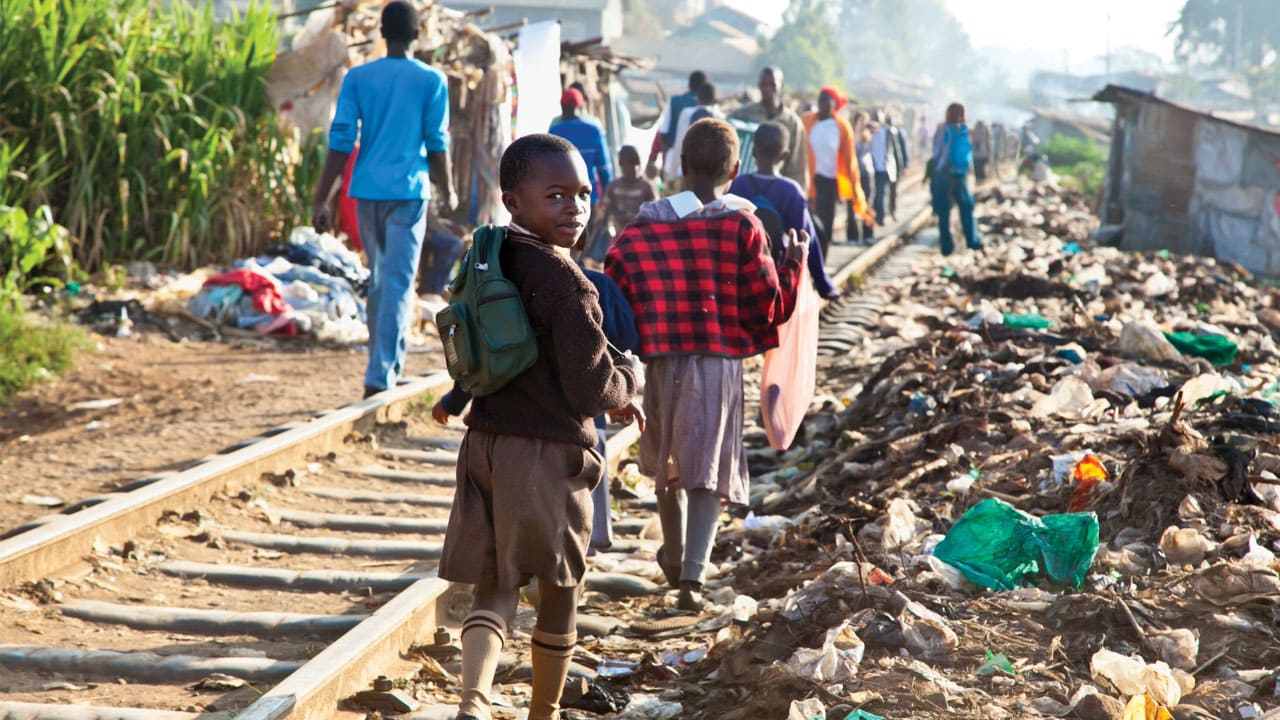 AFRICA YOGA PROJECT
Since 2009, the Africa Yoga Project has trained over 400 yoga teachers across 21 countries in Africa.
Through a three-year employability programme, it teaches yoga as a vocation to earn income and provide invaluable entrepreneurship and life skills.
The Africa Yoga Project teachers build their communities by leading free yoga classes, providing tools for mental and physical health and promoting change through service. Their training includes both paid and volunteer work for instructors to practice their skills and earn an income.
Its impacts are wide-ranging. Youth in Africa suffer the highest working poverty rates globally at almost 70%. Mental health is also traditionally taboo and tools for stress reduction are not accessible to the marginalised.
The impact of lifestyle diseases can be reduced by physical and mental wellbeing practices. Therefore, the need for a mentorship programme is high, which has been the background to success for the Africa Yoga Project in trying to help to find solutions.
If you'd like to find out more about the Africa Yoga project, visit: africayogaproject.org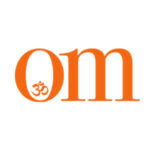 First published in November 2009, OM Yoga magazine has become the most popular yoga title in the UK. Available from all major supermarkets, independents and newsstands across the UK. Also available on all digital platforms.