These skewers have a great 'meaty' texture from roasting the cauliflower and a nice crispy coating from the ground almonds. The peanut sauce is so simple but delicious giving a perfect balance of sweet and savoury. 
Makes 4
Ingredients
For the cauliflower skewers
• 1 cauliflower, cut into florets
• 240ml (1 cup) soy milk
• 1 tbsp cider vinegar
• 1 tsp turmeric
• 1 tsp garam masala
• 100g (½ cup) ground almonds
For the peanut sauce
• 4 tbsp peanut butter (100% peanuts)
• 120ml (½ cup) coconut milk
• 1 tsp soy sauce
• 1 tbsp lime juice
• ½ tsp dried chill i flakes
• 1 tbsp maple syrup
• 1 tsp garam masala
• 1 tsp turmeric
 Method
Firstly, preheat the oven to 180˚C/355˚F/Gas 4, then for the skewers, place the cauliflower onto a tray and roast for 15 minutes until starting to soften and colour. In a bowl, stir the cider vinegar into the dairy-free milk and leave to curdle slightly, creating buttermilk and in a separate bowl mix the garam masala, turmeric and ground almonds together.
Once cauliflower has cooled, dip each floret into the buttermilk and then into the ground almond mix ensuring an even coating. Push pieces of cauliflower onto the skewers and transfer them to an oven tray and bake for a further 15 minutes until starting to go golden.
For the sauce, in a saucepan over a medium heat add the peanut butter, coconut milk, soy sauce, lime juice, chilli flakes, garam masala and turmeric and whisk until fully incorporated, bring to the boil and remove from the heat. Serve the skewers alongside the dipping sauce.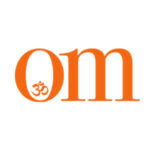 First published in November 2009, OM Yoga magazine has become the most popular yoga title in the UK. Available from all major supermarkets, independents and newsstands across the UK. Also available on all digital platforms.
If You Enjoyed This, Then You May Also Like...