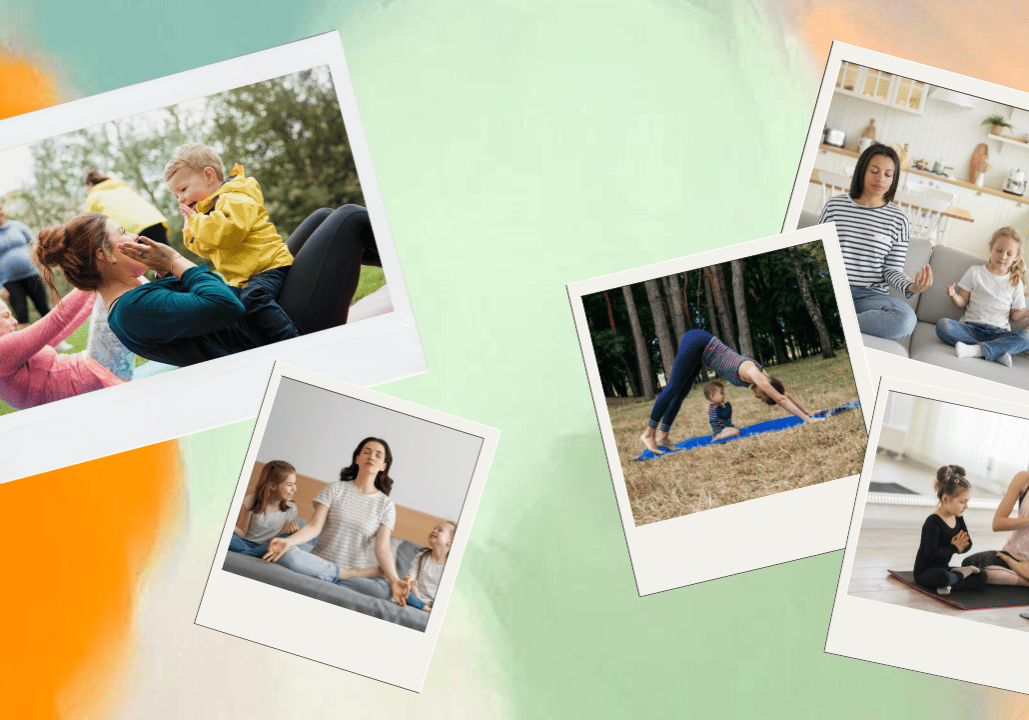 A Parent's Guide to Finding Balance, Flexibility, and Inner Peace - By Brandi Rima
It was a warm morning in May and I was sitting on the floor of a local synagogue with a club of stay-at-home moms as their toddlers wobbled around and infants snoozed in their arms. I had only just said goodbye to my own children for the day, handing our toddler to her preschool teacher and saying good-bye to the oldest three as they sprinted to catch the school bus. After a hectic morning of packing lunches and confirming through the smell test that all teeth were indeed brushed, I had grabbed a 15-minute breather in the car before plopping myself right back down into the middle of parenting realities. 
The president of the mom's club, a therapist and for now stay-at-home mom of her two-year old, had invited me to speak on parenting and yoga. I was honored, but in all honestly unsure if I was the right person to give this talk. I was familiar with mom life, but stay-at-home parenting felt like an entirely different ball game than the one I'd been playing. 
Working outside of the home and parenting has always been my gig. I know what it is like to juggle the often conflicting demands of work and parenting, secure reliable childcare, keep track of preschool rules, and race to secure summer camp spots. School breaks give glimpses of what it is like to actively parent around the clock; but the start of the new work week almost always switches it up again. Our home is bustling with four busy kids, but with a flexible work schedule and full-time childcare I'm regularly on my mat and run a small yoga business. As I contemplated my yoga experiences as a parent, apprehension set in about whether my audience would find them applicable to their own lives. 
While I believe that time on the mat is essential,  I sensed that chattering about making shapes on a sticky mat in a quiet, for grown-ups only studio would miss the mark. As I thought about what to say to an audience of stay-at-home parents, I remembered that time on the mat is practice for when we are living beyond those four corners. It can certainly be practice for parenting. 
That morning I sat on an animal cracker crumb filled floor and explained what yoga offers parents no matter how their stories unfold. If you too are looking for clarity, here are three ways to rely on yoga in parenting: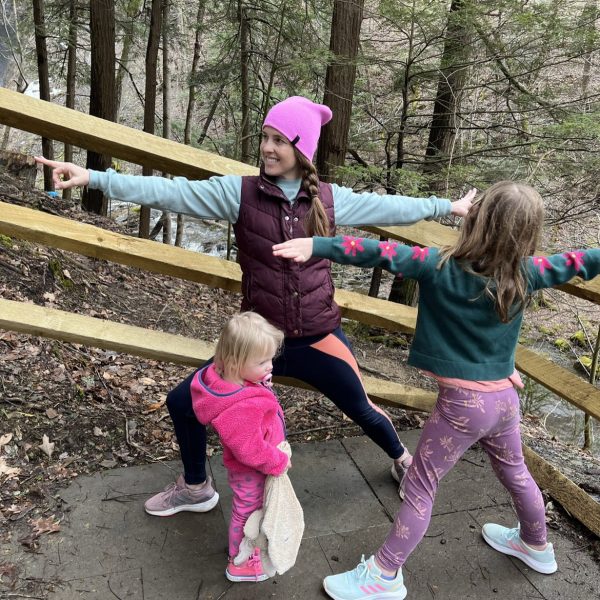 1.Yoga teaches us to breathe. Of course, all humans must breathe. But yoga teaches how to authentically connect with the breath with purpose, whether that be to transition from high lunge to Anjaneyasana or showing up as a parent. I relied on my breath through pregnancy, natural and unmedicated births, nursing woes, sleepless nights, toddler tantrums, those days when our kids take turns turning up the noise dial, and when our oldest son threw a baseball through the front window (At least we think he is the culprit; no one has come clean yet.). My breath recently saved us from a trip to the emergency room when our toddler mischievously shoved a tiny ball from a wreath up her nose. The foam ball was lodged just far enough up her nostril that the family doctor could not retrieve it. As a final attempt before rushing to the hospital, the doctor asked me to seal her mouth with mine and forcefully blow air into her mouth to dislodge that ball. With just one breath, the snotty wreath accessory flew into the open air and landed on my cheek right below the eye. I immediately felt deep gratitude for the decade's worth of breathwork I had done on my mat. 
2. Yoga cultivates flexibility. My husband and I recently made a plan to potty train our toddler over a long holiday weekend. We cleared our calendars, rolled up the rugs, stocked up on loads of sand, stickers and playdough, and buckled down for seventy-two hours of a potty training party. We were set on accomplishing this milestone within three days and proudly dropping our daughter at school on Tuesday morning sporting her big kid undies. Only five hours in though, our toddler had completely revised her parents' plan insisting on "no potty." A part of me wanted to stay on track with the plan until the very end and hoped that our little human would give in before the weekend was done. I was resistant to let go of this impulse, but yoga has taught me that flexibility, not rigidity, makes way for progress. 
Yoga can certainly help us to transform our bodies into pretzel-like shapes, but it is with a flexible mind that yoga lives within us. When we struggle during the asana, teachers often ask us to reconsider how we approach the posture. Perhaps it would better serve us to drop a knee to the floor, release hands to hips, prop up with blocks or abandon the posture for something more accessible. On the mat, a flexible mindset creates space for growth and progress.
Our toddler has still not surrendered her diapers. That's okay. With a little flexibility from her parents, she'll take her own steps in her own time. 
3. Yoga reveals the power of staying on our own mats. For me, it is empowering to take up space beyond the mat with my body but to focus my mind on my own rectangular section of the floor. Keeping the focus on our own mat in yoga creates space for practicing together in community while simultaneously honoring our own bodies and practice. Being in community with others can offer motivation, inspiration and support, but social comparisons can be unhealthy distractions. Years on the mat have taught me to protect my practice by keeping my eyes on my own mat.
A close friend of mine recently brought her wife and one-year old son to visit us on a Saturday afternoon. That morning three of our kids had devoured donuts after a soccer game. Our oldest daughter had come home from a birthday party loaded up with a bag full of chocolate bars and lollipops. With remnants of powdery donuts still on her cheeks, our two-year-old was chomping down on a lollipop she had snuck from her sister's goodie bag. Meanwhile my friend was feeding her son pureed squash and homemade spinach, wheat-free pancakes that were stored in neatly labeled glass jars. I felt my heart break a little knowing that my kids would probably follow up their sugary splurge with boxed mac-n-cheese. I could pretend that my kids' lunches were not usually quite so fresh and homemade because I have four children. Who could possibly manage all of that anyway?!  But I was never caught pureeing vegetables when I had only one child either. Let's face it, I'm just not that kind of parent. And that's okay. 
The temptation to compare ourselves to other parents can be intense. I felt it that morning while sitting on the floor with stay-at-home parents and their children as my own toddler was miles away at her preschool. But as in yoga, we can also be together in community as parents and simultaneously hold space for our own parenting trajectory. I can be inspired by my friend for all the love she puts into preparing her infant's spinach infused homemade pancakes, and also be at peace with the fact that I am over the moon when one of my kids finally consumes a single broccoli floret. We are on our own mats and still here together in this practice of parenting. 
Being a yogi mum for me means giving myself permission to breathe, maintain flexibility and honor my own parenting story. Whether the parenting moment is one of struggle or pure joy, yoga gives me deep gratitude for being a mum to these little humans of ours. May our time on the mat be practice for all of the relationships we cultivate beyond those four corners.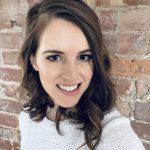 Brandi is a yoga instructor and psychology professor in the United States. She practices, teaches, and writes about all things yoga and psychology.
If You Enjoyed This, Then You May Also Like...