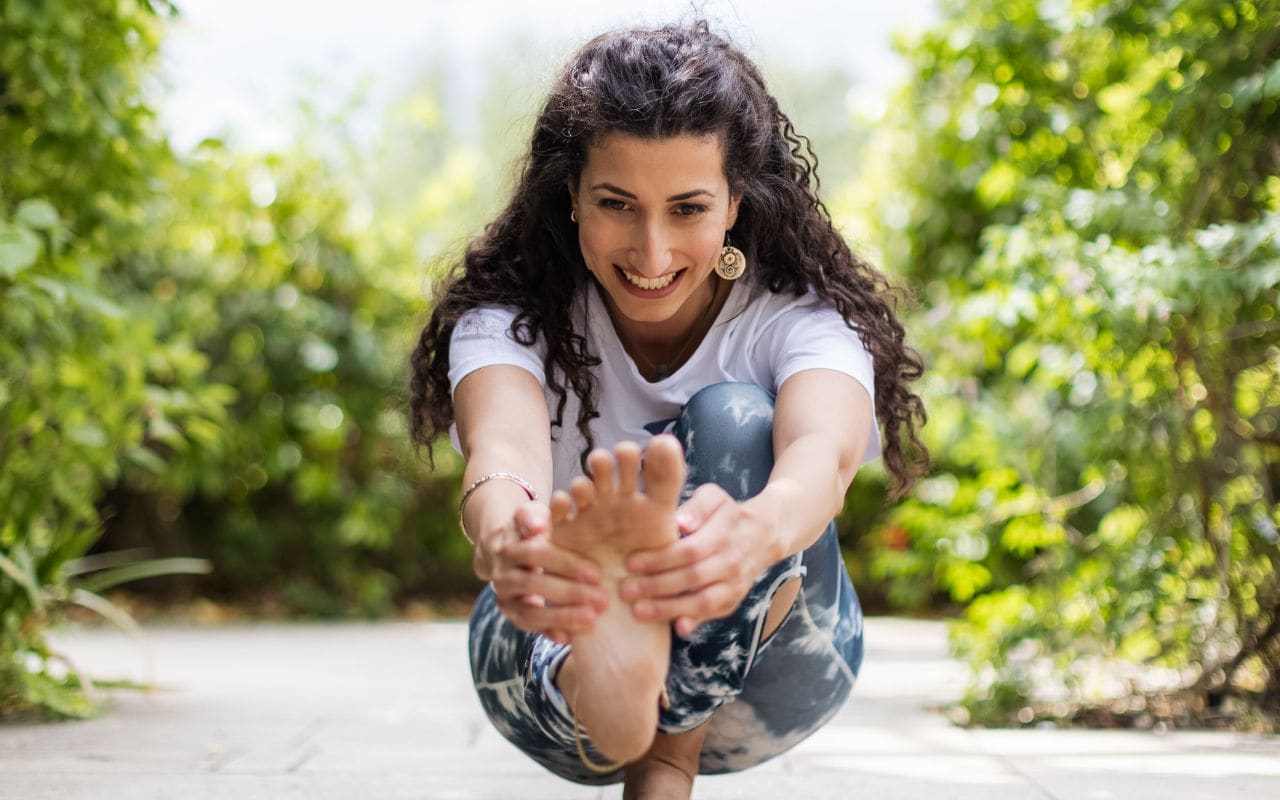 You can find Sally Talal at this year's OM Yoga Show – and even practice with her live in London – all are welcome, she says, wherever you are on your unique, incredible yoga journey
How did you first get started in yoga?
Growing up in Greece, I loved playing football and other sports, but I later found out that I had a heart condition that limited high-intensity activities. In search of a new form of movement, I walked into a yoga studio in Athens and never looked back. At first, Hatha, Vinyasa and Aerial Yoga were my main practice; 15 years on, my practice continues to change and evolve.
What differences have you seen in your practice over the years?
At first, yoga was a way for me to build and maintain strength, flexibility, and balance. Over the years, my practice has evolved beyond the physical aspects. As I introduced meditation and breathwork, I discovered the profound effects these practices have on the mind, body and spirit.
They have helped peel away the layers and uncover hidden corners of my subconscious, supporting me to know, accept, and unconditionally love my true self. Today, my yoga practice is not just about physical fitness but about holistic wellness. I believe that yoga is a powerful tool for cultivating inner peace, balance, resilience, and I strive to share this with others through my teaching.
What are the main styles of yoga you practice and teach?
I teach and practice a variety of yoga styles including Anusara Yoga, Vinyasa, Hatha, Restorative, Yin, along with meditation and pranayama.
How do you feel when you practice compared to when you haven't been able to get on your mat for a while?
I can definitely feel a difference in my overall wellbeing. I often feel less grounded and balanced; I'm not in harmony with myself. So when I get back to my practice, I feel renewed, connected and centred.
Do you think anyone, at any age or ability, can enjoy the benefits of yoga?
Absolutely! I am a strong believer that yoga can benefit anyone, regardless of age or ability. I've seen first-hand how yoga can transform people's lives, whether they are recovering from a past trauma, injury or looking to improve their overall wellness. However, it's important to remember that every individual has a unique body, skeletal structure and ability, and so not every pose or setting may be suitable for everyone.
The beauty of yoga lies in its adaptability — it's a personal journey of self-exploration and discovery where one can find the practice that resonates with them and feels comfortable in their own body. Whether it's in a private 1:1 session, a group class, or a yoga retreat, there's a way for everyone to experience the benefits of yoga.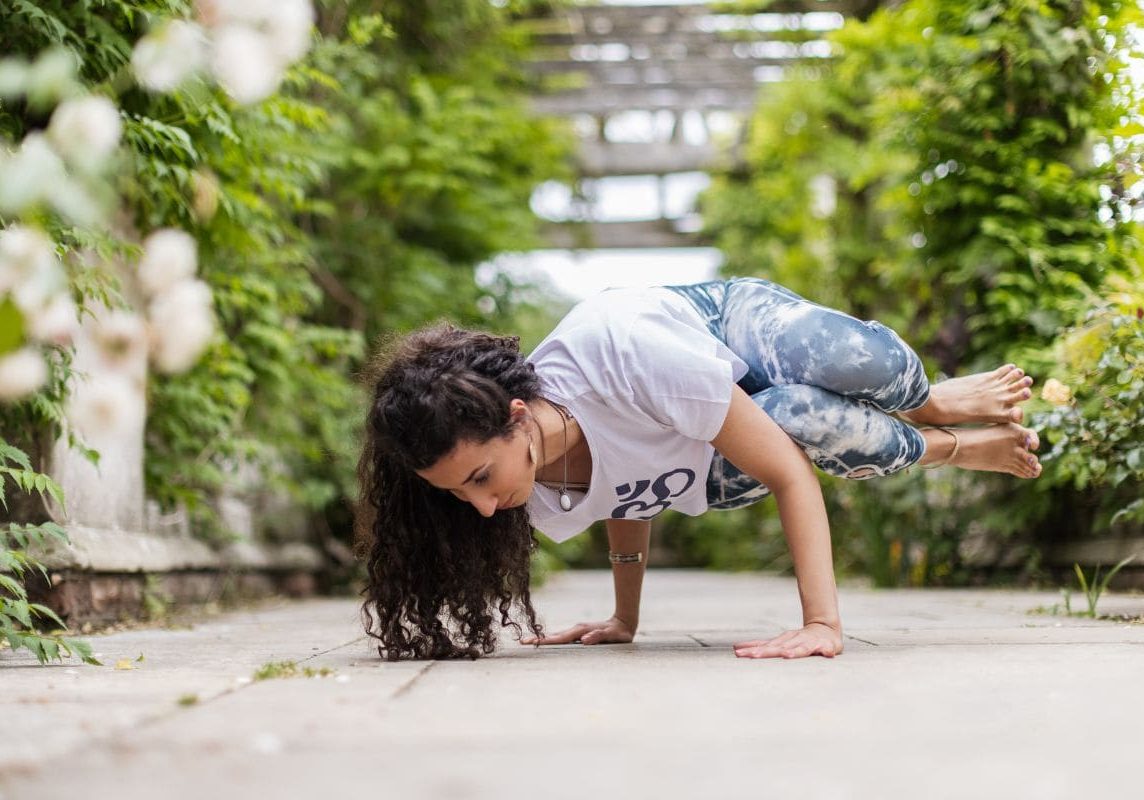 Do you have moments that you feel you are truly 'in the flow' and 'truly alive'? How can we achieve this state?
To me, yoga is much more than a physical practice. It's a way of life, a journey of self-discovery, and a path towards inner peace and harmony. It's a ritual to connect with my innermost being, a way to soften the chattering of the mind and open my heart; it actually all comes down to love. Yoga, meditation and breathwork invoke an immense upsurge of love within, bringing me back to my essence, back to the home within.
What does yoga mean to you personally?
In short, yes I do and then this experience 'leaves' and you may wonder: how did I achieve this state? How can I amplify these flow states more often or for longer periods of time? I personally don't think it's something that can be achieved by a set of actions or a checkbox to tick off. It's more about allowing and surrendering to the present moment.
I experience this often during my yoga practice, when I feel so connected to my body and breath that I lose myself in the movement. Or when I teach and I'm completely connected and present with my students. It also happens when I'm painting or hiking and reach a mountaintop and am just in awe at the beauty of nature — where all else ceases to exist and I am just there in this space and time, in harmony. The best way I can explain it is that time seems to slow down and my awareness expands. The amount of time of receiving an external stimuli and responding to it broadens and becomes longer.
How do you find the balance of teaching and your personal practice?
Ah, the balance of teaching and personal practice! It's a constant dance and one that I often struggle with. As a yoga teacher, there are many tasks that come with the job and it's easy to let my personal practice take a backseat. I've come to realise that my personal practice needs to be prioritised as a non-negotiable and schedule it into my calendar. It's what keeps me grounded, inspired and connected to my own practice and my students. When I do, everything else seems to flow and fall into place more easily.
How do you raise your own vibration?
It's all about identifying what's bringing me down and finding the right tools to counteract it. Sometimes it's just a matter of giving myself time and space to let things settle on their own. As the saying goes: "Let what comes come, let what goes go... find out what remains."
But when I need a little extra boost, I turn to different techniques like Breath of Joy (it even has it in the name!), emotional freedom technique (EFT), shaking, dancing, or painting. If I am feeling unbalanced, I'll practice pranayama or meditation, or simply go for a walk in nature and feel the earth barefoot. The key is to experiment and explore what works best for each of us in different situations.
What do you love to do when you are not practicing yoga?
When I'm not practicing or teaching yoga, you will find me either painting and creating, hiking in nature, spending time with friends and family, rock climbing or finding beautiful unique thrift finds!
What are your yoga plans for the future?
It is unknown, but I envision myself continuing to share my passion of yoga, meditation and breathwork to help others on their journey of self-discovery, healing and empowerment.
As someone who migrated from Iraq and grew up in Athens, seeing the big refugee crisis in 2015 I feel called to support refugees, asylum seekers and marginalised communities through trauma-informed yoga and help in making it more accessible to all. I currently offer free weekly classes with Fierce Calm to the wonderful charity Say It Loud Club. I'm also excited to be hosting all-inclusive retreats in the UK and Greece next year, including one on the beautiful island of Lefkada (from May 24 - 29, 2024). I hope to fuse my passions of art and yoga in workshops, retreats and creating mindful products — exciting things are on the horizon! Regardless of where life takes me, I'll continue to ground myself with questions like: Why am I choosing to take this action? Does this align with my purpose? Will this bring me closer to my north star (vision) or further away?"
In October, you'll be teaching at the OM Yoga Show. What can people expect from your classes there?
So grateful to be teaching at the OM Yoga Show in October — and bringing Anusara Yoga back to the show! You can find me on Friday 13th October for a free taster session. Anusara Yoga means 'flowing with grace', 'going with the flow', 'following your heart' and is a modern-day Hatha yoga system. My teaching is inspired by its heart, precision and grace.
If you want to dive deeper into this wonderful practice, I invite you to join me and Sarah Powell on Saturday 14th October at 12:30pm for our 'Uplift your Soul with Anusara Yoga' workshop, the story of Hanuman, the monkey god. Our 90-minute workshop includes chanting, pranayama, asana with Anusara principles of alignment to guide you with courage and heart to lift into handstands and skillfully leap into Hanumanasana (splits). I can't wait to see you there!
Any messages to readers who have not been to the OM Yoga Show before?
It's an exciting vibe you don't want to miss, bringing together a diverse group of people from different backgrounds. The show offers a unique opportunity to practice with a variety of teachers and yoga styles that you may not have had access to before. It's a valuable and enriching experience for anyone interested in yoga, mindfulness and wellness — come join us and see for yourself!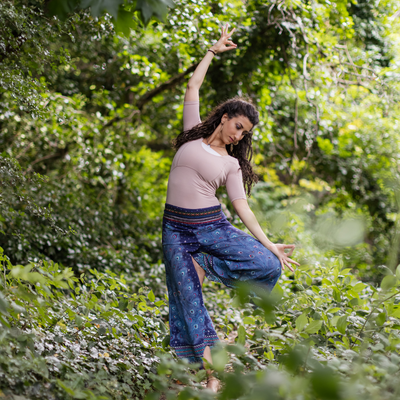 Sally Talal
Quick Q&A
Favourite yoga or spiritual book? 
A book that I find myself returning to each year is Khalil Gibran's 'The Prophet'. The book is filled with profound wisdom and deep insights.
Go-to health food or drink?
You've got to love frozen bananas, cacao, maca and strawberry smoothies. If it's too bitter, try adding a small dash of maple syrup.
Holistic remedy you swear by?
If you feel a cold incoming, try an anti-inflammatory drink of water, turmeric, black pepper, ginger, and garlic. Not going to lie, it may not be the tastiest drink, but it works wonders for boosting your immune system! 
Favourite quote?
A quote I've been coming back to lately by Steve Chandler: "If it weren't for the stories I make up about my reality, I'd be free."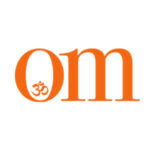 First published in November 2009, OM Yoga magazine has become the most popular yoga title in the UK. Available from all major supermarkets, independents and newsstands across the UK. Also available on all digital platforms.