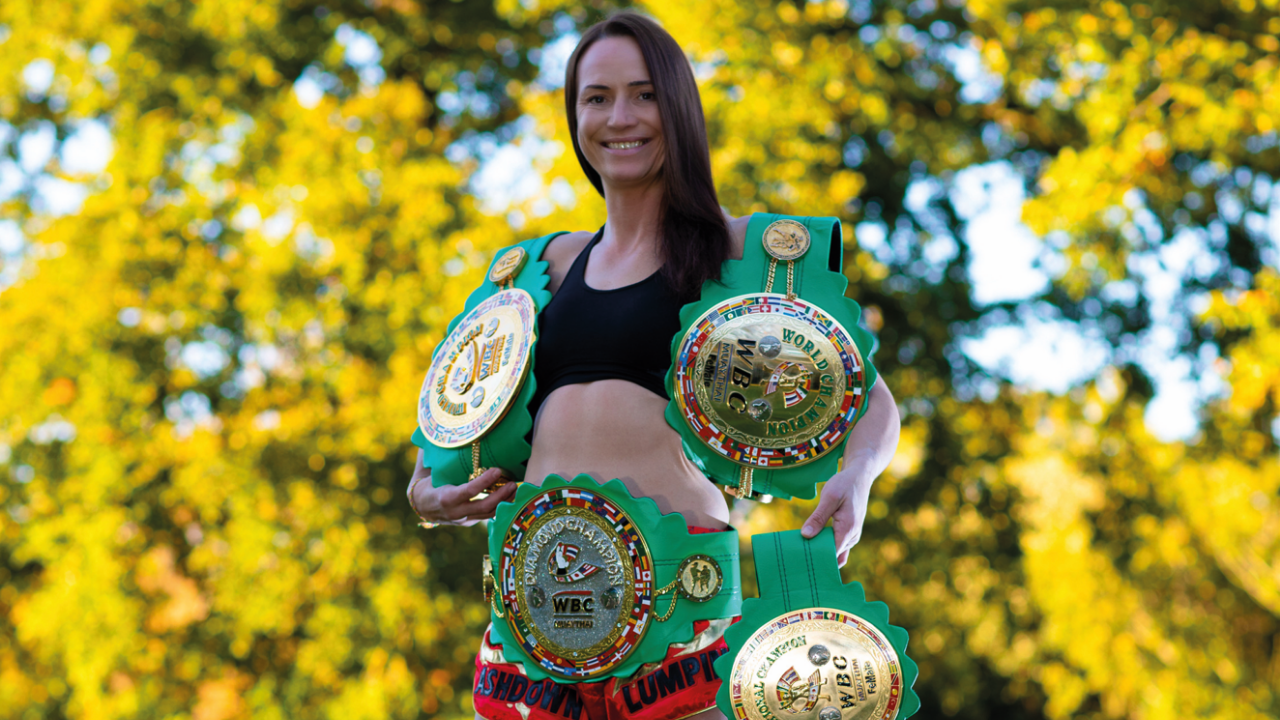 From Thai boxing to yoga teaching: OM catches up with former world fighting champ, Ruth Ashdown, to learn more about her incredible journey
Ruth Ashdown, 43, is a former Muaythai fighter and world champion — she's also now a qualified yoga and acro instructor.  It's a big contrast, but she is now taking yoga to a group of people who really didn't think it was for them — athletes, fighters, men, young people. She wants to show them how challenging yoga can be, how it can improve their training, and help them find some quietness of mind. "So any mental health battles that we are all dealing with, I feel I can help them harness their strength in controlling that inner beast, find positivity, quietness and peace," she says. Quite a journey for a young English woman who previously ranked WBC Muaythai World Flyweight and Super Bantamweight champion, as well as the former WBC Muaythai International and Diamond champion.
Ashdown started training at 27, with no prior background in either fitness or sport, and competed professionally from 2007 to 2018. In fact, she was once a photographer at the National Maritime Museum in Greenwich in London and worked for a time as a sports photographer. This was one of her first loves, which she studied at college. She tells OM that she first started in Thai boxing primarily for the health and fitness aspect. "I started it for fitness. I wasn't in the best place at the time, but quickly fell in love with it, got obsessed, and had my first fight within a year," she says. "I loved the challenge of training, pushing myself, achieving, being someone, feeling good, having focus, being part of a family." She trained and worked at Crawley Martial  Arts Academy ("my family, who got me to my dreams!") but is now following her passions teaching Thai boxing, yoga and acro to others.  "After more than a decade of "very hard, very emotional (good and bad) years, I had achieved all my dreams, which I didn't even realise until I stopped.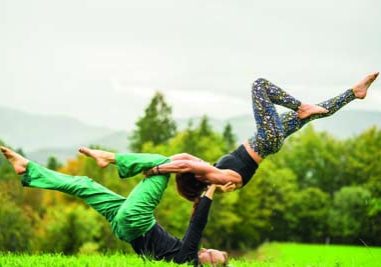 Ashdown also acknowledged the role yoga could play after her eventual retirement from the ring, providing a new focus and passion in life and in her career. Eventually, she signed up for a yoga teacher training in India the month after she quit fighting. It has brought immense benefits into her life ever since. "I feel, calmer, happier, more self-confident, empowered, passionate, more in control — there are so many words  I could use. But for me, it's what I want to bring to others, to enable them to find it, feel it, experience it for themselves."  For a former world champion fighter she's also seen incredible health benefits from yoga too. "I feel I'm in the shape of my life, bodywise. I'm not killing myself training seven days a week, cutting weight, running, smashing pads, constant impact; I'm lean, strong, toned — all from yoga!" It's like a new, improved version of the ex-professional athlete. "Yes, I still have the body strength and muscle from being a fighter for 15 years, but without the constant weight cutting and abuse of training, so my body is happy and settled."
Her Muaythai experiences have brought with them incredible stories and life lessons. That includes a realisation on the importance of mindset and attitude. "I have travelled the world and learnt many lessons along the way. I learnt that the biggest thing that won or lost me a fight was how I was feeling in my head, not my ability. There were times when I'd done all the training, but I struggled to control my emotions and my thoughts and that often let me down; after months of training, I still lost the fight because of my head. It made me realise how powerful it was, and then I realised when I went to a yoga class and saw a mind coach that this was something I could control, at least some of the time." Ashdown believes that much of her current insight into how the mindset affects performance — whether that's in life, on the yoga mat, or in a fight — was gleaned through her time in the ring. But many of the lessons are applicable to our ordinary lives as well. "Think and feel positive and you will be," she
says. "Positive thoughts in your head and positive words out of your mouth will make you feel that way. Believe in you and you can do anything. It's not easy, nothing is, but start with the right words and build from there. Fake it to make it, even when you don't feel confident or in control. Put on your actor face on and portray this and people will believe it — and in turn so will you."  She believes it's important to learn to love and work on the whole package, something that her time on the yoga mat has reinforced. "We all have bits about us and things that we like or don't lie. To fully achieve in anything we need to get everything to the same level to win, even if that means doing the things we don't like. For me, that means body, training, food, and the head, and of course, self-belief — that was the hardest bit!"
Her fight credentials are truly impressive as a five times world champion, three of which were WBC titles at different weights, one of which was a diamond belt — Ashdown is the only woman in the world to have one of these, alongside only three other men, all Thai. Her fights have taken her all over the world, including Australia, China, Italy, Turkey, France and Spain, competing in over 100 fights. She also became well-known for her spectacular walk-outs, making quite the entrance before any professional fight. Although she still coaches Thai boxing in the gym, she's taken a more sedate path following her introduction to yoga. She teaches strong yoga and recently qualified as an acro yoga instructor too. "My goal is to challenge people's pre-conceived ideas of 'yoga' and share this amazing experience with others. Through yoga, you can find quietness, strength in mind and body, focus and discover that, though challenging, it can be fun. If yoga was boring and easy, would I do it?"
It wasn't an instant love affair with yoga, however. She tried it a few times, for a challenge and to experience something new, plus as a restorative aid after all the exertions
of her fight training, but the habit never quite stuck.  She later went to a class with a male yoga teacher, who was also a sports mindset coach. That was a key moment. "He just spoke my language. It was incredible; the time flew by and I'd manage balances that I'd never done before, just through the words he used. I also felt for the first time I'd found some quietness from the constant rampage of thoughts, things I needed to do, work on.
The class took me to another place; it was quite overwhelming. I felt like he was just talking to me; I let go of how I looked and just moved…that's when I knew yoga was for me."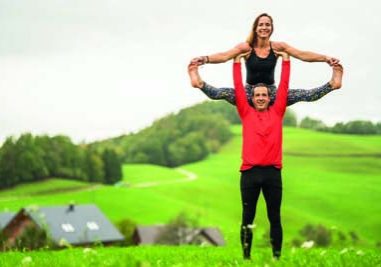 Yoga has helped her understand herself more in other ways too, as well as fostering self-belief and a greater appreciation for the importance of mindset. That includes a
greater sense of confidence and self-reliance in life. "Sometimes you have to do something for yourself. For many years, I wanted to achieve for others — for family, friends, for not being around, for trainers, and the club for all their hard work, and for them to be proud. But it just put too much pressure on me." She recalls a time she spent alone abroad, where she began to feel liberated from these needless inner burdens. "When I spent three months alone in Thailand, I'd never felt more empowered; the weight was lifted and, in turn, I did all the things I'd wanted to do, but for myself, rather than for others."  As you'd expect from a champion, Ashdown is all about breaking out of your comfort zone too.  "Do something whenever you can that scares you, no matter how big or small — they're all big things if you're scared of them!"
There's a saying that if your dreams don't scare you, then they are not big enough — so it's time to dream and think bigger, she says. This, she believes, will heighten the sense of achievement, growth, excitement and strength, which will, in turn, will help you to grow further.  There's nothing wrong with setbacks or losing either. "Lose to learn. We only grow, learn and build when everything doesn't go right. This lesson made me realise how much I wanted to be a champion, it made me want to work harder to be better, to correct mistakes."
Although Ashdown has embraced yoga in a big way, and is now offering classes to groups and individuals, she remains full of love and appreciation for her Crawley martial arts family. From the gym to the ring, and now on the yoga mat, she teaches others in the West Sussex area some of the wisdom that she's picked up along the way.  "Share your lessons," she says. "Know that what you've been through makes you who you are and be proud of that. Share those experiences, both good and bad, and use them to get others through their hard times."  Special people will change your life, she believes. "There are true angels out there that you will meet, maybe for one day, maybe for a lifetime, and, over time, you realise that certain words, actions or deeds that a person did, changed or enriched your life. I want to strive to be one of those people, whether it's a few words or just my time; I want to give and make people feel good because I'm sure I wouldn't have done any of the things I did without encountering some of the most amazing people in my life on my journey." Finally, she says don't ever let anyone hold you back in life, or make you feel bad. And, where possible, try to associate with those people who elevate and uplift you, rather than criticise or bring you down. "It's very easy to listen to one person's view, the one in 10 who might have something negative to say, rather than listening to just those you care about — if people see you doing well there will always be people who are jealous or just unhappy and they will say things. But what do they mean to you and who cares anyway? Be around people who want to help you feel good and to grow."
Ruth Ashdown offers strong yoga classes online and in Crawley and Haywards Heath in West Sussex. She also offers Thai boxing coaching and personal training. For more information visit: ruthashdown.com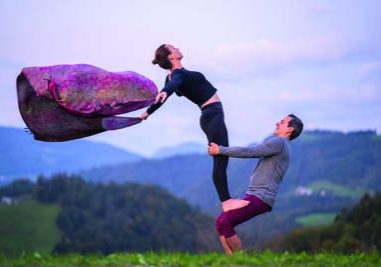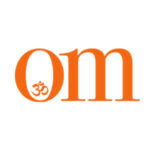 First published in November 2009, OM Yoga magazine has become the most popular yoga title in the UK. Available from all major supermarkets, independents and newsstands across the UK. Also available on all digital platforms.