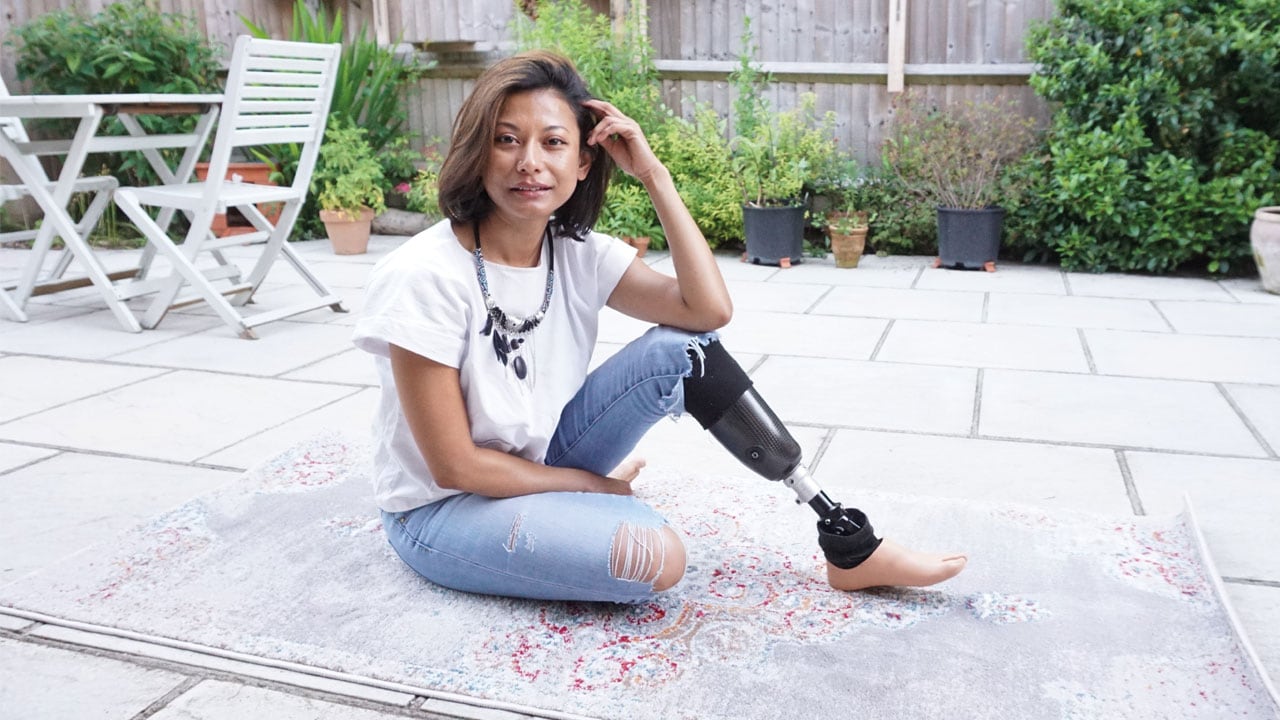 Introducing Faisha, the one-legged yogini. Born in Malaysia but now living and teaching in the UK, OM catches up with a true inspiration
If you've ever searched for online yoga or taken a class on the new BU-Evolution wellbeing platform, you may have already chanced upon Faisha, the one-legged yogini. Despite having a prosthetic limb, her athletic grace is mesmerising and her enthusiasm for all things yoga contagious. This is also a lady with true grit, as someone who has squared up to some formidable challenges during her lifetime. Faisha represents a monumental testament to a 'can-do attitude' with a sprinkling of 'nothing is going to stop me from achieving my dreams'.
But first let's go back to the beginning. Born in Kuala Lumpur, Malaysia, to a hard working close-knit family, she was the eldest of three children. She was bright and energetic; it was clear from early on that she was her own person with her own independent mind. Modest, yet smart and determined, Faisha excelled in her education and had an aptitude for numbers. She glided through early school life.
At the age of six, her Auntie noticed a change in Faisha's left leg which felt hotter than her right. Initially, the family thought this was just a sprain from typical child behaviour, but after a visit to the hospital it was explained that she had too many nerves in the limb, which resulted in surgery. Although initially Faisha recovered from this episode it wasn't long before the pain returned.
During the following school years, this pain increased and by the age of 12, a wound appeared on the sole of her foot between her second and third toes that refused to heal. Faisha was also suffering from eczema at this time, which was impacting her selfesteem. A round of hospital appointments followed, resulting in her first angiogram. Visits were made to various hospital departments; neurology, orthopaedic and dermatology. It was explained that after her first surgery at just six she had been wrongly prescribed a certain medication which had resulted in rashes developing eventually into a severe eczema.
For the next two years, Faisha went back and forth to hospital on a monthly basis, but the consultants could not determine the exact cause of her problems.
By the age of 25, she had been suffering with a swollen foot, severe pain, ulcers and bleeding for 19 years. Finally, during another visit to the hospital, a vascular surgeon saw Faisha and made the correct diagnosis of AVM (Arteriovenous Malformation). A vascular abnormality in which there is an abnormal direct connection between arteries and veins. The most common issues of an AVM are haemorrhage and pain. If left untreated, the bleeding can cause neurological damage and can be fatal. A large AVM can also be stressful for the heart, which then has difficulty supplying blood to the whole body and heart failure can occur.
Faisha was offered an embolisation to help block the flow of blood to the abnormal capillaries. However, she still preferred not to have it as she was told there could be a chance of death or gangrene and possibly losing the lower leg in the process. So, despite suffering from low self-esteem, eczema and a wound that wouldn't heal, she found solace in her life and accepted the situation to carry on as best she could.
She had by now become used to what she describes as 'minor blood explosions'. However, in 2012, whilst working for a leading finance company in Kuala Lumpur, as she was picking up her car her leg began to bleed terribly. She called her brother who came to collect her. By the time they got home there was blood everywhere in the apartment, lobby and elevator. These episodes were now impacting her work life, so she had no alternative but to work from home.
It was suggested that they carry out exploratory surgery to see if they could discover more, but after her first surgical experience, she was reluctant without knowing exactly what the doctors were doing. She was understandably concerned that the situation had the potential of becoming even worse. By this time, Faisha had a permanently swollen foot and the unhealed wound had developed into ulcers, which was impacting her day-to-day living.
One day at school, now aged 17, Faisha found herself in absolute agony. She was on her way to attend an important exam only to discover her foot was now oozing blood. In her determination to complete her exam she strapped up her foot and wore comfortable slippers.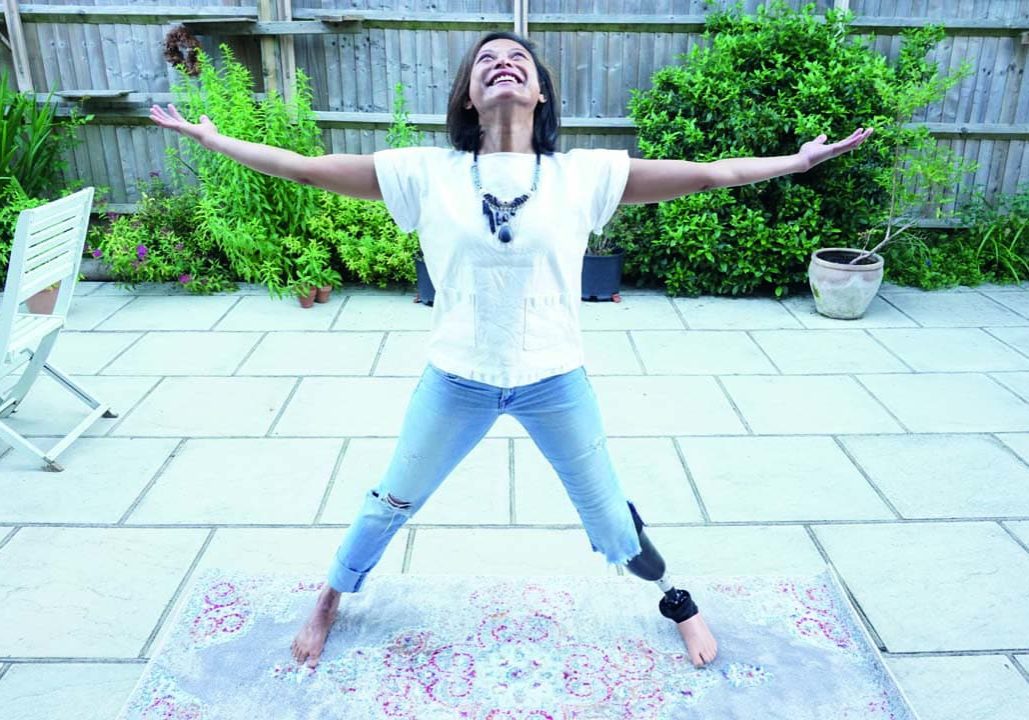 The pain eventually became too much. Knowing she had limited options she decided to find the doctor who had originally offered her the embolisation to say that she was now ready for treatment. The doctor took her in but regretfully explained that the window for this procedure had passed and the odds of success were now strongly against. He said the only option left was an amputation; this was met with a firm "No!" from Faisha.
However, the pain was having an impact on her ability to perform in her job in finance, and so she felt she had no option other than to resign and dedicate more time to her health and recovery.
In 2016, 28 years after the first symptom, Faisha was finally beaten by the pain and surrendered to the unthinkable decision that she would have to have an amputation. On 26 February, 2016 her leg was amputated to just below her lower left knee. After five days she was discharged.
Faisha's fighting spirit shone through this nightmare and after just two months she was already driving. After seven months she had received her first prosthetic leg, and by 2017, she had begun to practice Pilates and yoga.
A few months after her amputation, Faisha met her now husband, Robert, who had spotted her on a social media post. Robert had suffered an ankle injury himself and had sent sent Faisha a set of crutches; they met and fell in love.
Having a prosthetic leg gave Faisha a new found freedom. She travelled to Europe and the UK and on her travels she delighted in trying all types of yoga. Eventually, she made the decision to become a Vinyasa yoga teacher. During lockdown, she completely immersed herself in a 200-hour online teacher training programme, qualifying in December 2020.
Faisha now lives in Buckinghamshire with her husband Robert and streams live Vinyasa online classes with BU-Evolution twice a week.
OM chatted to Faisha about her experiences and how yoga has helped to transform her life:
How did you first get into yoga?
I first truly discovered yoga on April 18, 2017 in a small village in Shropshire. I had an amazing and friendly teacher that taught me Dru Yoga, which is a mild, flowing yoga and very relaxing; this was my first yoga adventure.
Within the same year, probably in July, I returned to Malaysia and continued my yoga journey in a cosy studio in Kuala Lumpur city centre. I paid for monthly unlimited classes and tried various styles — Yin, Hatha, High Fly Yoga, Airo Yoga, Kundalini Yoga, Power Yoga, Pilates and not to forget Vinyasa. This became my routine twice a day, six days a week. I had so much fun.
I'm now living a nomad's life. Apart from frequent travel between Malaysia and England due to my husband's work, we also move from place to place within England.
During my first long stay in the UK I moved to Suffolk, which was where I was introduced to Jivamukti. It's very intense, and I would say quite similar to Power Yoga but more spiritual.
Not long after we moved again to Leicestershire. We stayed in a small village close to Burton-on-Trent, where the yoga studio I visited was located. This time, I was introduced to Ashtanga.
In 2020, during lockdown, I took an online yoga teacher training course and then after graduation, I eventually started teaching Vinyasa Yoga with BU-Evolution (my classes are every Tuesday and Friday at 9am). And, very recently, I went to Mallorca, Spain to continue my yoga adventure trying Stand Up Paddle Yoga — it's amazing!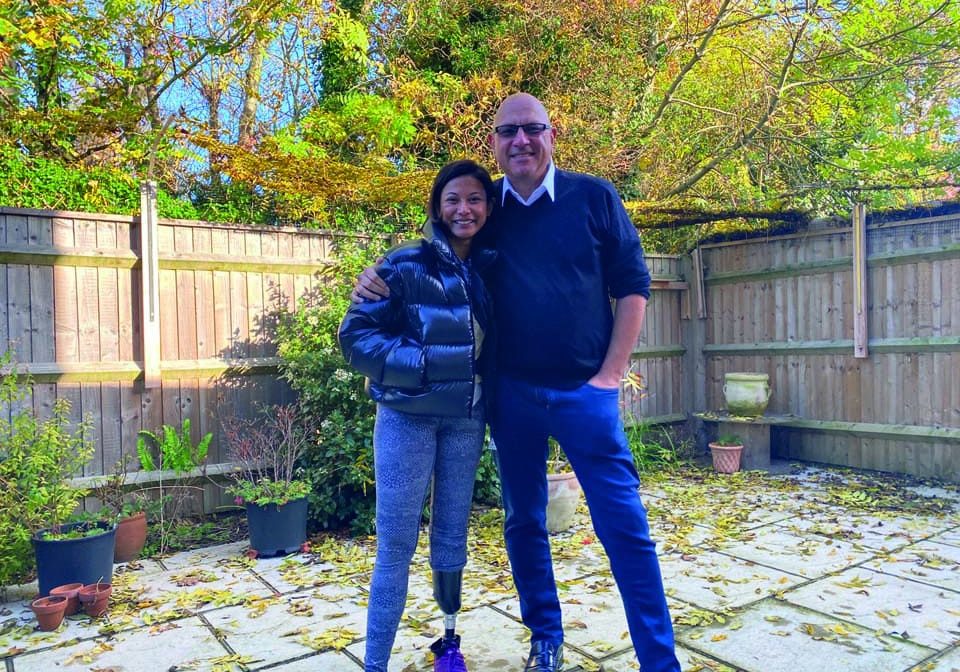 What inspired you at the start?
Growing up with AVM (Arteriovenous Malformation) limited my daily activities. To cut a long story short, when I was about 19 or 20 years old, I met a girl the same age as me and she invited me to join her yoga class. Yoga was not as popular 20 years ago as it is today. However, I had seen people practice yoga and I always wanted to try it. Ashamed of my physical condition, I could not do it. Instead I just practiced a mild stretching at home.
A few years later, I met another lovely lady, who had been practicing yoga for a few years previously. One day, she came to our house with a photocopy of a yoga book and handed it to me — this was my first guidebook to yoga. I tried a few poses but with my condition I still could not do it. I couldn't stand up for too long, so at the end I just did mild seated stretching instead.
However, right after my amputation, I'm like a racing car at the start line ready to accelerate! I just can't wait to get my first prosthesis. Approximately seven months later I was able to really work and learn yoga.
What does yoga mean to you personally?
When I first learned the word 'yoga', the first thought that came to my head was 'spiritual'. Over time, I can see it as a traditional workout. But once I had practiced it, it changed my perceptions about yoga. Yoga is a combination of physical movement (asana), breathing (pranayama) and the spiritual. When I flow into poses synchronised with breathing, it helps to bring balance in my practice and peace in my mind and body.
Unlike a modern workout, which challenges the body to the limit, yoga means listening to your own body — ignore the surroundings, there's no competition, other than just do what your own body needs.
Every day is different. Perhaps some days I can do poses without help; other days, I may need a yoga block or a strap. Something that I always highlight in my class is to listen to your body.
There is no competition, and listening to my own body does help me to feel comfortable in my own skin. I concentrate on my inhale and exhale, which helps to bring balance to my body and mind. This combination has resulted in me feeling strong, flexible and boosted my self-awareness and self-esteem.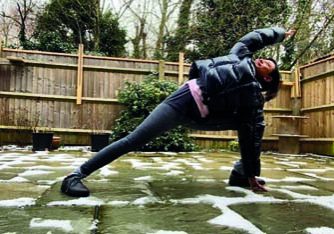 How would you describe your teaching style?
I teach Vinyasa Yoga for all levels. The practice of Surya Namaskar (sun salutations) every day builds strength and flexibility, this is the reason I like to add it into my teaching. From there, I add a few more poses depending on the theme for that day.
To begin a class, I usually like to start with a breathing practice. This is to help my student reset their body and prepare for the class. I want them to feel calm by taking a long inhale and exhale. Then it continues with a warm-up, which most of the time will be seated stretching. At this time, I will make sure that my student combines their asana with the breathing that we practice at the beginning of the class.
Surya Namaskar will be the next practice. Usually I will add a few more poses in between, which then will lead to the peak pose which would be an inversion or backbend.
After that, I will take my student through abdominal work and gently flowing to cool down, and, lastly, Savasana. It's important to feel comfortable during Savasana. I let my student feel free to take a blanket or other yoga accessories they need before they rest down.
Through intention, asana and pranayama my goal is to have my students leave a class feeling refreshed and renewed. I also aim to indirectly teach and lift their self-awareness and self-esteem through my planned asana and pranayama.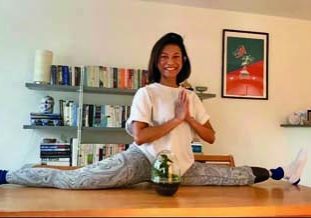 How did you cope with such a challenge as losing a limb?
It might sound weird but I had a tougher life before the amputation. For 28 years I carried the burden on my shoulder; constant pain that never fades away.
I was quite secretive, but some friends knew I wasn't well, obviously because I was limping. But not many knew how bad my condition was until I posted a post-amputation picture on my social media. They were shocked!
It took many years to convince myself and find the courage, but finally 26 February, 2016 was the day I underwent a below knee amputation. Strangely, it was the happiest day of my life. It felt like a new beginning!
Prior to surgery I did a lot of reading about AVM and what to expect after the amputation. On my first day as an amputee, I had a sensation which they called 'phantom sensation'; a tickle around my missing toes. Then, on day seven and onward, I felt a pain which they called 'phantom pain' - these are the after-amputation problems that I had prepared myself to expect. Although my phantom sensation is not so severe, my phantom pain is very severe, and after almost six years post-op, I still rely on pain medication.
I'm not very good at giving advice, but if you go through a similar struggle you must believe that there's a light at the end of the tunnel. Every time I feel down, I convince myself that maybe nature wants me to go through this so that I can grow stronger and wiser.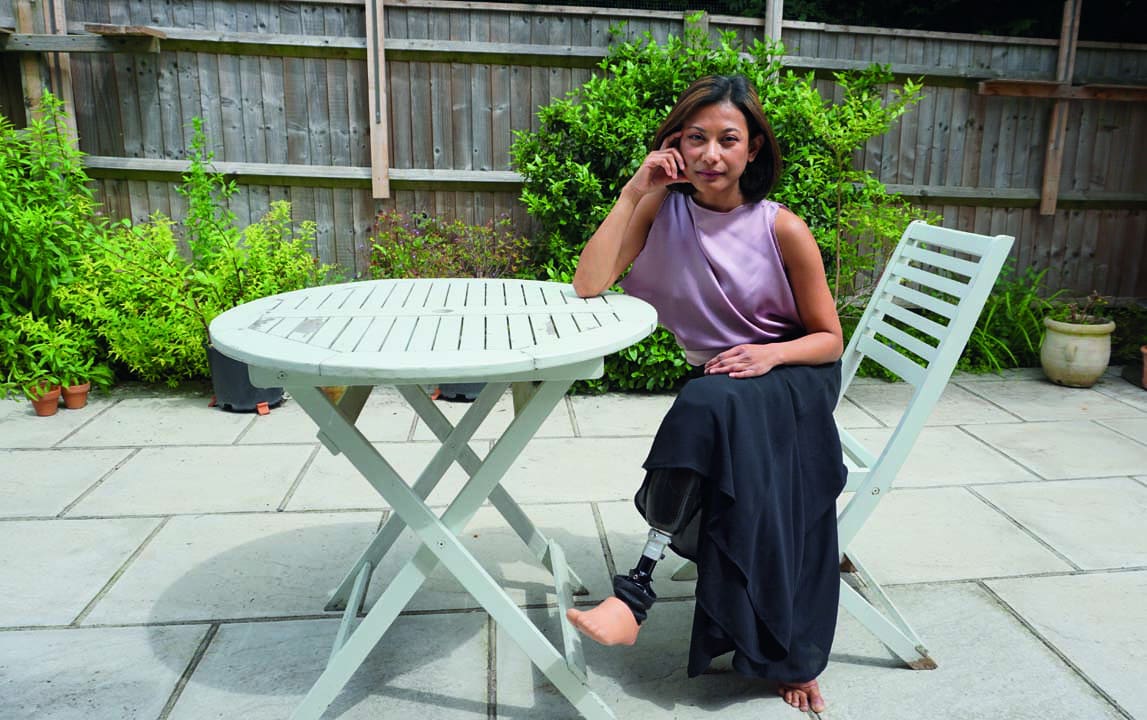 How has this affected your yoga practice and teaching?
With a prosthetic leg it feels like I am not in control completely, especially when I need to press three points of my foot onto the mat — this is challenging to do with a prosthetic foot. To help, I try and imagine that I still have a real foot and am using the muscle to try and press onto the mat. This is when physiotherapy and occupational therapy become important post-amputation; not just to mature the stump, but also to strengthen the residual limb.
My stump does get blistered occasionally. I use blister plasters to reduce the tenderness around the blistered skin. Changes in the weather also make my stump expand and shrink. Depending on which season an amputee has their socket cast it can make a difference; with me it was in a cold season. So now, when the weather is colder, I feel comfortable walking in my socket. But during summer, it feels tight. As a result, sometimes my stump becomes numb quite easily.
However, whatever the season is, it's always very important to listen to your body. If you need time to rest a residual limb during your yoga practice, just do it. It is very important do what your body wants you to do. Otherwise you can accelerate numbness, blistering, and so on.
Yoga is not about being perfect. It's about connecting to your own body.
So it is so important to only go so far as you are comfortable with.
What are your plans going forward?
I want to expand BU-Evolution into an international platform. It's inclusive: we understand that some people have low self-esteem and are not confident enough to start or try a gym or a yoga studio, as they might feel that they are not capable or not worthy. This is another reason why we built this platform so that everyone is welcome and can practice yoga from their home and feel comfortable and secure.
This is the platform for 'everybody' and 'every body' — and that includes people with disability. There is always a way for modification for each and everyone. So please come and try out my classes — everybody and every body is welcome!
Follow Faisha on Instagram @missfaisha or try one of her classes for yourself online at BU-Evolution (bu-evolution.com)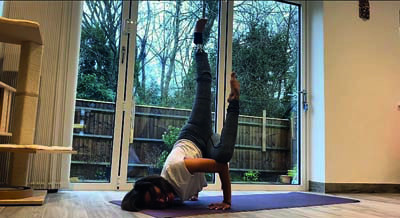 BU-Evolution is offering a free month-long class pass to OM readers where they can try out a class with Faisha and many other brilliant teachers online. Just email info@bu-evolution.com and put 'OM Yoga offer' in the subject line.
Find the studio on Instagram @bu_evolution or visit: www.bu-evolution.com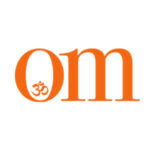 First published in November 2009, OM Yoga magazine has become the most popular yoga title in the UK. Available from all major supermarkets, independents and newsstands across the UK. Also available on all digital platforms.