Nurturing Your Family With Yoga: An A-Z Of Yoga Poses, Meditations, Breathing And Games For The Whole Family
Pinter & Martin
£16.99
An essential guide to the practice of yoga for families and children, demonstrating how it can be a real part of everyday family life and bring happiness and harmony to the home. 
This book is packed with fun and practical suggestions for incorporating yoga into daily family life, including: The A-Z of Yoga – a game that introduces children to 26 classic yoga poses; breathing exercises to strengthen and balance the nervous system and to steady the mind; visualisations to reduce anxiety and build resilience; and a Yoga in Bed sequence to help children settle down and sleep soundly. With guided meditations, affirmations and reflections that will inspire and inform interesting and thoughtful discussions with children, as well as tips and tricks for adults to help share yoga successfully, this illustrated book is all you need to help you foster health and wellbeing for your whole family.
Sitting Comfortably: Preparing The Mind For Peaceful Meditation
Swami Saradananda
Watkins
£15.99
Whilst there are many books on meditation, Sitting Comfortably is the first book to actually address the physical aspects of the practice, presenting a range of physical and mental techniques to get you into an optimum meditative state. Swami Saradananda is a renowned and international yoga and meditation teacher with over 40 years of experience. In her classes, she often observes that — despite a desire to meditate — many of her students are deterred by physical or mental impediments. They are frequently distracted, feel that sitting is painful, are caught up in their limitation of time, or simply lack the ability to maintain self-discipline. Here, the author shows readers how to overcome these difficulties with postures to alleviate discomfort.
The No-Nonsense Meditation Book: A Scientist's Guide To The Power Of Meditation
Steven Laureys
Green Tree
£12.99
Less stress. Sharpened attention. Better sleep. A contented mind. Meditation offers all of these things. In this book, from award[1]winning neurologist and neuroscientist Dr Steven Laureys, the author proves the positive impact of meditation on our brains, which can lead to many outcomes such as better sleep, reduced stress and sharpened attention. He also explores his own personal journey to meditation and speaks to a range of meditators including David Lynch, Sam Harris and Tim Parks about their own experience. Featuring brain science, practical exercises, and inspirational anecdotes, this accessible book shows the beneficial impact meditation can have on our day-to-day lives.
Holding Space: The Creative Performance and Voice Workbook for Yoga Teachers
Sarah Scharf
Singing Dragon
£19.99
This expert guide provides yoga teachers with the skills they need to understand how to care for and improve their voices technically, as well as how to express themselves authentically and effectively as a teacher. Being able to give instruction clearly and with emotional intelligence is part of the personal development that each yoga teacher goes through. This book offers instruction, support and ideas on how to embark on the journey of yoga teaching with greater confidence and mindfulness. After the basics in vocal projection, inflection and intonation are covered, the book details the psychological significance of believing in your own value and finding what makes each teacher unique and accessible to their students.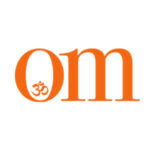 First published in November 2009, OM Yoga magazine has become the most popular yoga title in the UK. Available from all major supermarkets, independents and newsstands across the UK. Also available on all digital platforms.