Tips from the experts to help you grow the yoga business of your dreams
Does a YTT set you up for running your own business?
In my yoga teacher training, the time dedicated to business was short and didn't really set me up for running a business, but I was able to draw on my experience of co-founding and managing a youth arts and education charity, which I had done for a quarter of a century. What my training did very well was teach me to hold space and support others in a creative, safe, dynamic and compassionate way.
I don't have a business plan because I was rebelling against the wisdom that I needed one. The truth, however, is that I know that there is 'magic' in writing one. They are helpful in setting up a direction of travel and to make vague thoughts and ideas more concrete. A good business plan is a dynamic document that should evolve with you as your business develops and grows.
My yoga teaching reflects the areas I've always worked in — the arts. I collaborate with artists, dancers and writers. I teach everybody and prioritise groups that can be overlooked or marginalised: children and young people; those on low incomes; or those that believe yoga isn't for them because of their physical appearance or ability. I allow time and space in my classes to empower students to make decisions for themselves. For too many people yoga can feel inaccessible. I'm working in partnership with Yoga on the Lane to develop training for yoga teachers in supporting children to build resilience. Modern postural yoga has grown out of South Asian culture and yet a 2020 government report revealed that South Asian women are the least physically active in the UK. There's something wrong in that picture isn't there? As a South Asian woman myself, I want to work to change this. The challenge isn't restricted to women of South Asian heritage, of course; many millions of other women are dissatisfied with their bodies. That is far too many and yoga should be a way to counter this. Yoga and qigong offer the perfect way to explore our place as a part of nature, yet, all too often, communities from urban areas are apprehensive about spending time in the countryside. I want to break down these barriers too and I'm developing a programme that links nature, diverse communities with yoga, qigong and the arts.
Your secret to making a living?
I want to ensure my classes are accessible and no one is excluded. The relationship between cost, value and price is complex. I offer tiered pricing options; workshops by donation and subsidised courses to ensure an inclusive approach. I also fundraise to make this a sustainable offer for marginalised groups and have successfully received funding from The Mayor of London and Arts Council England, among others. I do what I can to take yoga to the best place for my students, whether this is in their school, community centre, or online. I know there are psychological barriers to access in yoga studios, in the same way as there are to arts spaces.
I practice what I preach! I prioritise my own personal practice, meditate, journal, spend time in nature, and read.
Written and compiled by Claudia Brown (yogabyclaudia.com)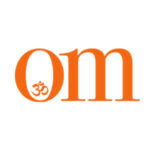 First published in November 2009, OM Yoga magazine has become the most popular yoga title in the UK. Available from all major supermarkets, independents and newsstands across the UK. Also available on all digital platforms.