Lake View Yoga opened this space a year ago. Since then, it has caused quite a stir…and it's not hard to see why. Lake View is a self-contained studio situated on an island in the middle of a lake in mid-Sussex. Warm in winter and with a breeze moving gently through in summer, it is spotlessly clean with every imaginable prop on hand to make your practice comfortable and safe. "So many of my clients have told me that, as they walk over the jetty, their worries drop away and a feeling of calm supersedes all," says studio owner Lucy Leslie. "Water has that effect it seems. My neighbours are currently a family of Canadian geese, two crested grebes, an elegant heron and a remarkable turquoise kingfisher and his wife."
The studio is a perfect octagon, made entirely of oak, with a surrounding deck, with benches for taking a coffee or tea after class. There's a kitchen for entertaining and the outdoor space is large enough for several students to be outside when the teacher is inside.
There's a 360º view of the lake, no matter where you stand and whatever the weather — it feels good to be in the middle of rain or gales, when you're cosy inside! The area itself is peaceful and quiet, though it's only seven minutes from junction 10 on the M23 and 15 minutes from Gatwick airport. The studio has its own car park for 20 cars.
There's a busy schedule too, with 20-plus weekly studio classes and workshops. "I also lead an annual 200-hour teacher training and host day retreats," says Lucy. "The message of yoga, of self-care, sensible movement and valuing peace and quiet is increasing in importance as the pace and complexity of our lives accelerates. My aim is to provide a local sanctuary for all to explore moving mindfully, thinking clearly, cultivating kindness and looking after yourself."
See Lake View Yoga for yourself on Instagram @LakeViewYoga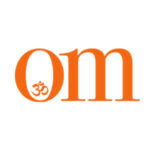 First published in November 2009, OM Yoga magazine has become the most popular yoga title in the UK. Available from all major supermarkets, independents and newsstands across the UK. Also available on all digital platforms.