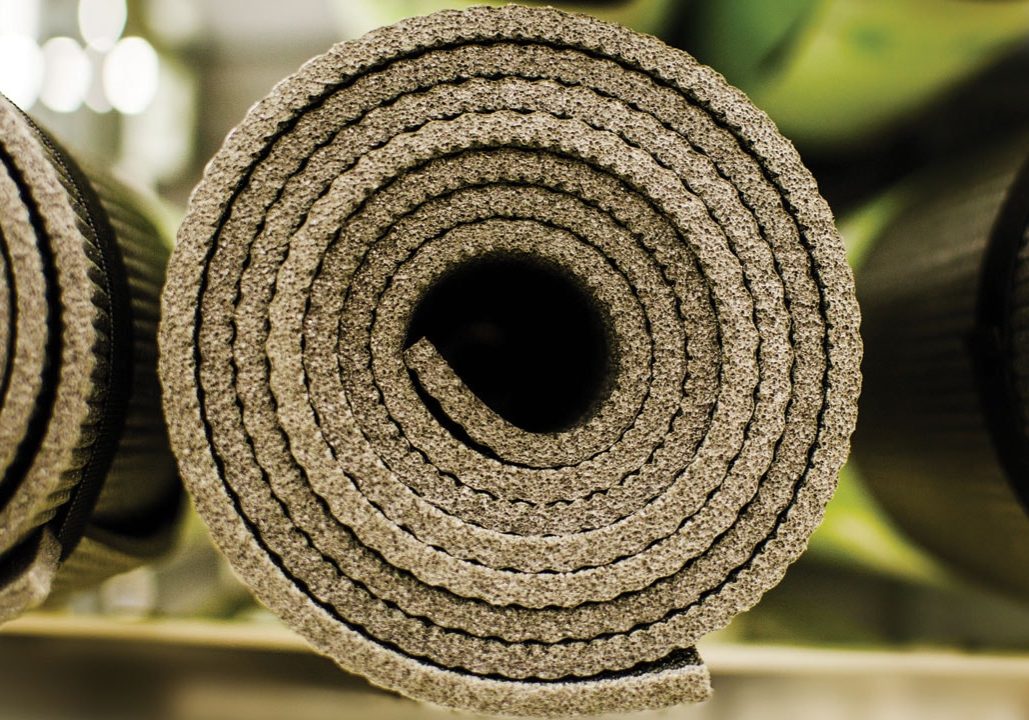 Considering a new mat? Wait! Read this first to find out about cushioning, grip, portability, and what material to choose. Part one of a three-part series by Bethany Norman
Your yoga mat is a very personal thing. Each of us has a different preference; the main ones being cushioning, grip, and portability. Other things to think about are how to clean it (more important than it used to be!), and breaking in your yoga mat. But the huge consideration is what the mat is made from, and the environmental implications of this.
The traditional thickness of a yoga mat is about 4-5mm. You just want enough cushioning so that the floor doesn't feel too hard, and you can kneel without discomfort, but not so much that your feet are encased in the mat when standing, as this will make it hard to do balancing postures.
If you like a bit of extra cushioning and you shop around you can find a yoga mat that is a bit thicker than average – 6-8mm. Note that once you start getting to 15mm, you are in Pilates mat territory, and this will be too thick. That said, I do have a few students who use a thicker mat and it suits them fine.
Size of yoga mats is fairly universal (185cm x 60cm). However, if you shop around you will be able to find one that better suits your longer legs, or wider shoulders (we are all unique!).
Grip is my pain point, as I suffer from slippery hands! This means that I prefer a mat that is super non-slip, or 'sticky' in yoga speak, and designed for use when doing hot yoga.
The best non-slip mat that I have bought is made predominantly from latex, natural rubber. So, if you suffer from slippery hands like me, look out for a mat made from this material. Most other yoga mats are made from something like PVC, but constructed to be 'sticky', or non-slip, although I've never found them to be quite as good as my latex one.
I'll talk more about the different materials that yoga mats are made from next time, because there is a lot more to it, especially if you want to buy a mat that is environmentally friendly (see How to choose an eco-friendly yoga mat, parts 2 and 3).
Or weight! Depending on how far you have to lug your yoga mat, and on what mode of transport, you might have to think more or less about how much it weighs.
My favourite, aforementioned, sticky mat weighs 2.5kg. This is the mat that I use when at home; this is not the mat that I carry around with me on my bike when heading to a yoga class. For this I have another mat, which weighs a more portable 1.4kg, and this is a normal sort of weight for a yoga mat. There are also specific travel mats that weigh 1kg, or less, which can be handy for packing in a suitcase when heading off on holidays.
So, if you're shopping around for a mat, make sure you find out how much each weighs, and that the weight tallies with the method and distance you carry your mat.
You may never have been too bothered with how clean your mat was before Covid-19. The good news is that most yoga mats are designed to be cleaned. Some more vigorously than others though, so check the care instructions of yours before getting out the bleach.
Gentle cleaning is better for the longevity of your mat; most of the time a simple wipe over with a wet cloth would be enough to take off any surface dirt, sweat or oil.
If you thought your mat was more dirty than normal, some warm soapy water would be enough. Some mats can go in the washing machine, as I said, check the care instructions first.
The other tip I heard recently was to take in in the shower with you, and get warm and soapy with your mat!
Whatever you do, let it dry thoroughly afterwards.
When I was teaching in-person group classes, and loaning out mats, (sigh for the good old days) I made my own simple cleansing mat spray from water, bicarb soda, and a drop of essential oil like eucalyptus or tea tree, for the anti-bacterial properties.
A quick tip, as this can be frustrating: most mats need some use before they become fully non-slip. Honestly, at first, you will think you have bought a dud mat, but give it time and use, and its true capability will be revealed. Obviously, the more you use it, the quicker this process.
I hope I have given you some helpful advice when it comes to choosing a yoga mat, and how to go about getting the right one for your needs.
However, I haven't covered the most important point when it comes to buying a yoga mat —  what they are made of. The vast majority of yoga mats are made of new plastic. There is no getting away from that. So resist the urge to go and buy a new mat straight away, and read the next instalment of this article –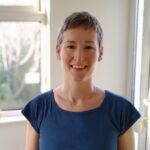 Bethany Norman is a yoga teacher with 4 years' experience, she has a background in healthcare, and a passion for making 'healthy' work in normal life.
If You Enjoyed This, Then You May Also Like...