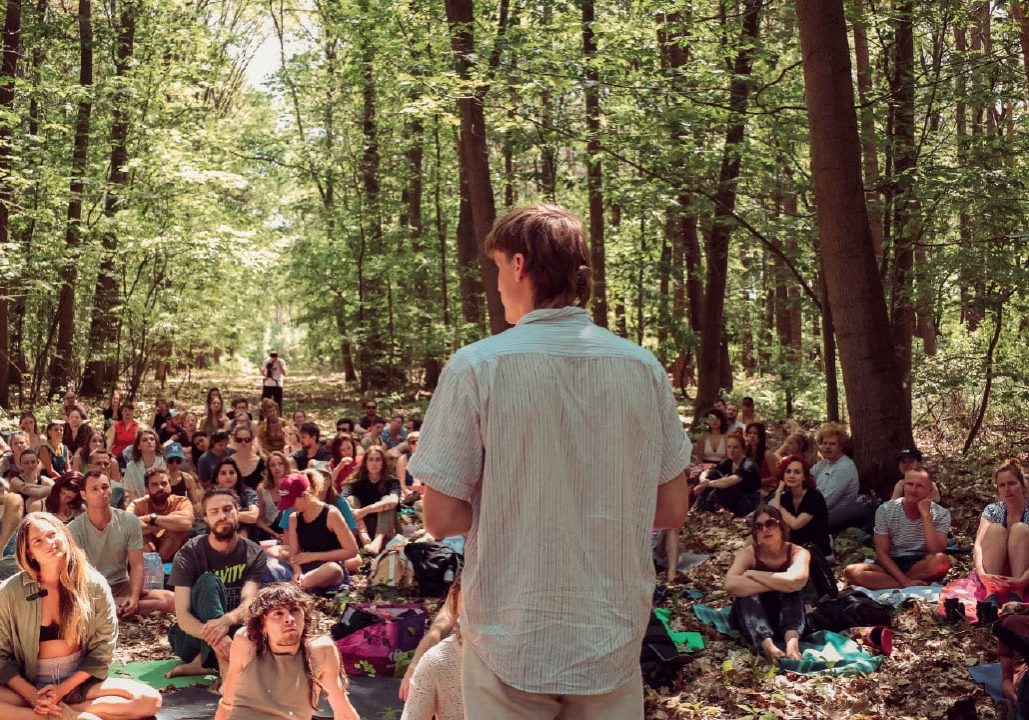 Meet Belgium-based photographer, Simeon Van der Hoeven, a visionary artist and healer who creates mass nude projects that reflect themes and ideas that will resonate among the yoga community, including a spectacular chakra series
A healing and visionary artist, Simeon Van der Hoeven is known for mass nude projects in nature in which participants are guided into geometrical shapes inspired by spirituality, mathematics and science. His combination of art, together with a wide background in various healing practices, offers a transformative experience for those that participate in these projects.
He is also the driving force behind the Enrootment Method, a multidimensional therapeutic approach that combines verbal techniques with energetic bodywork from a trauma-informed perspective. He is a group facilitator, assisting in a wide range of different sessions, from integrative group therapy to guided journeys. Here, he talks to OM about his artistic work, its origins and meanings.
Can you tell us a bit about your background and how you got started?
Growing up, I felt like an outsider, disconnected from others and unable to fully express myself. The divorce of my parents and the lack of understanding and communication around it deepened the isolation. I struggled to verbalise my thoughts and emotions, retreating into my own world of interests and imagination. Throughout middle school, college and university, I continued to feel disconnected and lacked a sense of belonging. It wasn't until I experienced a breakdown that I embarked on a journey of healing and self-discovery. During this time, I realised the observations and insights I had as a child were valid and authentic.
I began the process of reconnecting with my inner child, unlocking the creativity, connection and imagination that had been suppressed. As I worked on my own healing, I felt called to help others break free from their masks and rediscover their childlike joy. This led me to embrace the path of a visionary healing artist. Combining my love for creativity, connection, and imagination, I now offer a space where people can explore life through the eyes of a joyous child. My aim is to help individuals reclaim their innate creativity and find healing and expansion in the process. It is a way for me to share the transformative journey I went through and guide others on their own path of self-discovery and growth.
Can you explain the main areas of your work today?
My time is shared across my creative practices as a photographer and my work as a facilitator for healing. For me, the two areas are very much entwined, nourishing, informing and inspiring each other.
Through my group shoots, a beautiful, supportive and caring community has been born. Participants find true connection with others and stay in contact after the shoot day and keep coming back to take part in projects. This area of my work is rooted in holding space so others can come together
My work as a facilitator for healing is multifaceted. I hold one-to-one alternative and explore their own healing and growth; a place of communal connection and consciousness.
therapeutic treatments with clients, group cacao ceremonies and facilitate training courses in the Enrootment Method, a trauma-informed, non-dual therapy practice. I have found having the balance and unity between my creative work and my work as a healing practitioner is vital for me both personally and professionally.
Through living and working within the union of my creative expression and being a facilitator of healing, the Visionary Healing Arts Association has been born. My goal with the association is to create a platform for artists who share my passion and commitment to art and healing and to spread and expand this work in a way that respects the integrity and commitment that comes with facilitating both areas. This will include a wide range of artistic mediums such as photography, graphic work, painting, performances, music and installations.
What are the main themes behind your work?
I started to discover very common human themes of suffering and longing after working intensively with people on a deep level of consciousness. That is when I started to shift my focus more on the healing of others through my art. We all have very different stories, but at the same time we collectively share the same fears, needs and desires. By targeting these themes in artistic works and Visionary Healing Arts projects, there is an opportunity to touch a lot of people on a deeper level in a place that will help facilitate transformation for them.
Experiences and challenges that we take on with this level of awareness create expansion in our perception of ourselves, connection with others, spirituality and often nurture a better outlook on life. This makes it an expansive practice for people participating and inspires most to spread the same wave of self-exploration and self-development with their own environments.
People that participate in my projects often look back at it as one of their most influential experiences they have had in years. For those that experience something transcendental within a project, they often report it as one of the strongest experiences in their life. I have had the joy of witnessing people reach a tender spot inside themselves through connecting to my work in some way and through this connection they became inspired to make a positive change in their life.
What is the Enrootment Method?
The Enrootment Method is a holistic approach that combines various techniques for conducting therapeutic and spiritual work, all viewed through a scientific and trauma-informed lens. It presents a comprehensive method for addressing all aspects of human existence in a unified and coherent manner, while providing a framework for understanding the interplay between these aspects.
Drawing from verbal techniques and psychological concepts, it encompasses working with the conscious mind, the ego and the more non-dualistic aspects of the psyche. It is supported by a solid foundation in bodywork and anatomy, enabling practitioners to address internal tensions and somatic defences. Additionally, the approach includes a framework for engaging with the energetic dimension, involving the exploration of feminine and masculine energies, life force energy and kundalini.
It also incorporates training on therapeutic practices: the nervous system, trauma, breathwork techniques, emotional dynamics and their relationship to disease. It works with emotional release and transformation tools and acknowledges the non-dualistic nature of experience, integrating it within the broader scientific framework.
The name 'Enrootment' reflects the merging of two fundamental principles: 'Root' and 'Embodiment'. 'Embodiment' signifies the process of bringing our experiences into connection with our physical bodies, fostering a deeper relationship between mind and body. Meanwhile, 'Root' represents the foundational energetic centre, serving as a source of safety, nurturance and grounding during the transformative and occasionally spiritual experiences offered by this approach.
How can your work help those affected by trauma, abuse or suffering?
By participating in conscious processes, either therapeutic or artistic, the opportunity to become vulnerable and make intentional changes shows itself. It creates a sacred and safe space to unpack difficult emotions and navigate the depths of our psyche for things that have hurt us or are holding us back. Apart from knowing what hurts us, experiencing impressions of safety, liberation, freedom and expansion are essential to change the internal dialogue we are missing. This is where healing art becomes a very powerful catalyst for expression and change.
Conscious creation manifests in various layers within my artwork and creative processes. First and foremost, my work draws conceptual inspiration from ancient spirituality, symbolism, and mysticism, evident in the colours, shapes, arrangements, and energy imbued in each piece. Secondly, the process of guiding participants through rituals and incorporating trauma-informed practices, verbal work, movement, breath, and exercises supports a safe therapeutic container for individuals to cultivate self-awareness of their patterns and intentions.
Experiences and challenges that we take on with this level of awareness create expansion in our perception of ourselves, connection with others, spirituality and often a better outlook on life. This makes it an expansive practice for people participating and inspires most to spread the same wave of self-exploration and self-development with their own environments.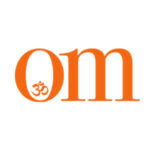 First published in November 2009, OM Yoga magazine has become the most popular yoga title in the UK. Available from all major supermarkets, independents and newsstands across the UK. Also available on all digital platforms.