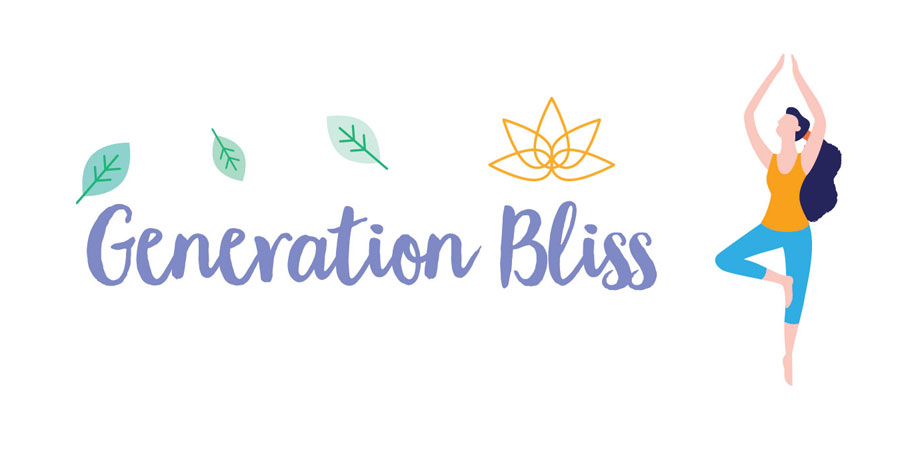 OM chats to one of Britain's youngest yoga teachers, Flo Cross, 16, who says that yoga is the perfect counter to the stresses and angst of the teenage years
How did you first get into yoga?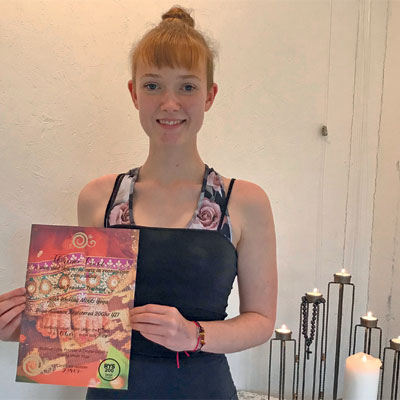 I'd always thought yoga would be something I would be interested in and enjoy but my interest never got much further than this, although I used to meditate a bit as my mum did. I saw a poster at school for a local class, which caught my eye because of the person on the front. The yoga teacher (at the time the youngest yoga teacher in the UK, Robin Watkins-Davis) was the girl that was my 11-year-old playground buddy when I was only five! I went to the class and was incredibly moved by my first experience of yoga. Robin and I are now really good friends and she's helped me a lot on my yoga journey and in getting into teaching, as well as lots of exciting yoga-related projects.
What does yoga give you personally?
Yoga allows me time to feel into myself and my body and give myself and my wellbeing my full attention. It allows me to love myself, and has taught me how to do that. When I do yoga I get such a huge sense of happiness and belonging, I feel almost full up with love for everything: myself, the world around me and the people around me. I believe that doing yoga has made me more compassionate towards everyone and everything in my life; I am far kinder and considerate to other people, I pay far more attention to nature and the environment and I am also a lot kinder to myself. The feeling of pure bliss I get when I do yoga is the reason I wanted to become a teacher; all I want to do is offer other people the opportunity to experience that bliss.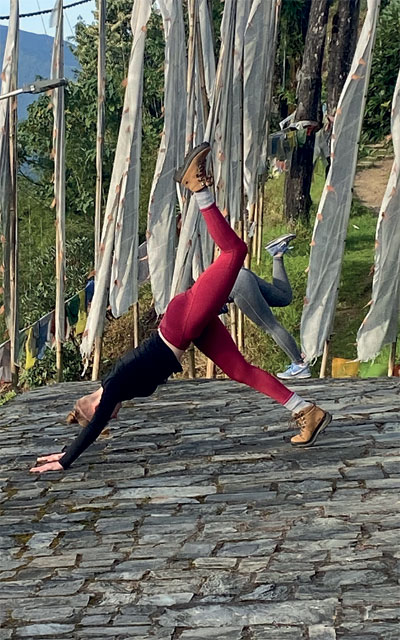 Your teaching style and future plans
I started off teaching a lunchtime yoga club at my school before I did my teacher training; this club attracted lots of people from all years. So many people came up to me and told me how much they had enjoyed it and how much they had benefited from it that I was compelled to finally do my teacher training. Since then the club at school has grown, so much that I had to find a larger room; I even started a class for the teachers. I run private solo and partner classes at my mum's art studio in my garden and have been covering some local teen yoga classes, which I am going to take over this year. I'd say my teaching is a mix of styles and I vary it depending on the audience, but I always try to ensure a natural flow between poses so people can get lost in the experience of moving their bodies. I try and keep it quite natural and playful so I can let my personality show as I teach. I don't want to take on too many classes at the moment because I have GCSEs this year (plus I can't drive yet so can't travel around too much!) but I want to start some more classes especially for young people with mental health issues and free classes for homeless people. In the future, I'd love to study philosophy and travel all over the world teaching yoga and helping people in any way I can.
What do you do when you're not doing yoga?
My interests outside of yoga consist mainly of playing rugby and scuba diving. I actually find yoga really helps me with both of these; it's helped me to get stronger and gain more body control and awareness, which has really improved my rugby and being more aware and able to control my breath has helped my scuba diving. I try to embrace yoga philosophies and teachings in my everyday life as some of the teachings just make so much sense. I particularly try to incorporate mindfulness, especially mindful walking and mindful eating. I find mindful walking a great way to bring my attention to my surroundings and stay in the moment. Mindful eating as well: I find it quite hard but a great way to stay present. It also helps me to pay more attention to what I'm eating and to respect my body more. I'd say these are two great ways to get into mindfulness.
What are some of the big challenges facing teenagers today?
More than ever before, teenagers and young people are under pressure; under pressure to get good grades, go to parties, wear certain brands, and to look and act a certain way. I see so many of my friends stressed about the way they look and try all sorts of crazy diets to fulfil their imagined beauty standard, as well as worrying about their grades, even pulling all nighters to study before exams, who they're dating and if they are generally 'good enough'. I think this is the main problem for teenagers: the fear of not being 'good enough'.
This can manifest in different ways for different people and lead to different potentially damaging coping strategies. This key mind trap, I've found, can be reversed by yoga. The practice of yoga promotes acceptance of yourself and where you are at the present moment, both mentally and physically. This concept that you are actually perfect as you are, and the safe welcoming space of a yoga class, is so contrary to the normal feelings and messages of self-hate and self-improvement that most teens surround themselves with, that I believe that yoga can make a real difference to teenager's lives, and in more ways than you'd expect. Yoga and the yogic mindset offer a full range of tools and concepts to help with the specifics of people's 'good enough' complex. Personally, I have struggled with my perception of my body: yoga has helped me to realise how amazing my body is to be able to move and stretch and bend and hold me in strange positions.
Also, it's helped me to realise that my body is just the seat for my soul; who I am isn't defined by how I look. This realisation that my body is pretty amazing and an increased awareness of how I'm feeling has helped me immeasurably. I know other people who have found breathing techniques useful to deal with anger issues and addictive tendencies and others who have used body scans and relaxations to get to sleep. When young people spend so much of their time searching for an outside influence to make them happy, always looking for the next "When I have.." or "When I am…then I'll be happy", then I think that yoga can really help them in so many different ways.
Favourite go-to yoga book
Bhagavad Gita
Life motto
If you want to do something, just do it!
Favourite healthy food
Mango smoothies
I am happiest when…
I'm in the woods near my house meditating or doing yoga
4 things adult yoga teachers should know when teaching younger students and younger teachers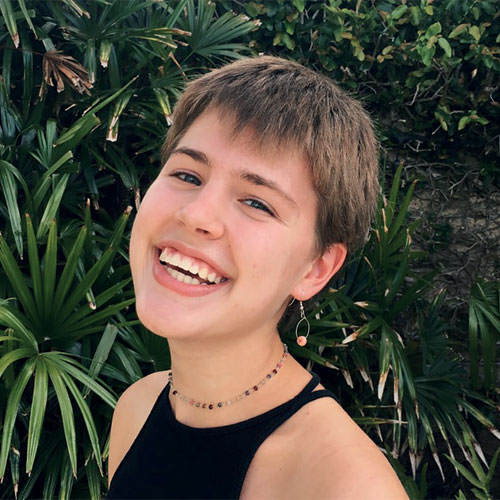 Maggie Odom is a 16-year-old qualified yoga teacher. She gained her yoga certification last year aged just 15, following a 200-hour training with Hot Yoga by The Sea, Kailua in the USA. But her story goes back to age eight, when she first began dabbling in yoga and meditation to help her deal with a chronic pain disorder. The benefits then helped her into her early teenage years. "As I got older, yoga gave me peace and relief from the anxiety and depression that I struggled with, as well as relief from the everyday stresses of being a teenager," she tells OM. "I chose to complete yoga teacher training because I wanted to share these benefits with teens just like me. More and more teens are doing yoga because it has so many benefits. Our generation is being bombarded with social media, stress, pressure, and schoolwork. Yoga provides a space to just be." Known for her soothing guided meditations, she believes that everyone can access the many benefits of yoga, including stress reduction, improved sleep, and pain management. She gears most of her classes towards children and teens as she believes that the mental and emotional health of these age groups is often overlooked.
But, as more and more young people take up yoga, she believes that older yoga teachers need to learn how to be accommodating and understanding of their experience. For that reason, she's come up with a list of the do's and don'ts that she'd like adult yoga teachers to know about younger yoga teachers and younger yoga students.
"Over the past year and a half, I've navigated the adult-dominated world of the yoga industry," she adds. "It's been a new and exciting journey. My relationships with adult yogis have been essential in my growth as both a student and teacher. I found mentors but I've also found that adults don't often understand my needs and wants as a younger yogi. The yoga community often explores how to make classes accessible for older yogis, but less energy is spent making classes a positive space for younger yogis like myself."
1. Don't treat younger students any differently in your classes
If there's one thing I hate, it's being treated differently because of my age. When I walk into a new studio, I'm always wary of the way that ageism sneaks into people's mannerisms. Strange glances, excessive explaining, it's all very annoying. Treat us the same as any other student. Just because we're young doesn't mean we're not just as passionate about yoga and thrilled to take your class. If you are curious about our yoga experience, just ask. We are happy to share what brought us here!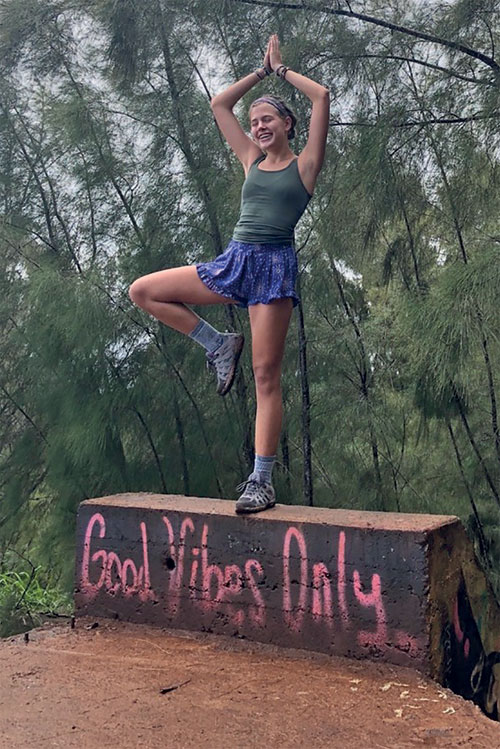 2. Do include younger yoga students in pre- and post-class conversation
Most yoga classes include some friendly banter as students are entering and exiting the studio. There's nothing more isolating than being left on the sidelines during these chats and there's nothing more disappointing than knowing it's because of your age. We already go into classes with a little anxiety because we know we'll probably be the only student under 20 in the room. Community is essential in having Teacher zone a positive yoga class experience. Let us be a part of that community in a simple way by letting us join these conversations.
3. Don't withhold trust from younger yoga teachers
There are teens such as myself that are not only students of yoga but teachers as well. We've gone through the training and we know our stuff. Once you get to know us, you'll realise our level of maturity. You shouldn't have to think twice about advertising our class or giving us a key to the studio just because of age. There are actually many benefits of hiring a teen yoga teacher. You can attract even more younger
yogis to classes, bringing the practice to a whole new audience. It also helps you create a more diverse class roster!
4. Do learn from the unique perspective of younger yoga teachers
Every age and life stage provides a new lens through which to look at yoga. Younger yoga teachers have ways of seeing the practice of yoga that may be totally different than yours. Take the time to listen to our insights. We'd love to listen to yours and learn from you and your perspective!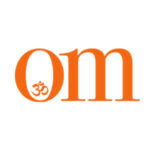 First published in November 2009, OM Yoga magazine has become the most popular yoga title in the UK. Available from all major supermarkets, independents and newsstands across the UK. Also available on all digital platforms.