Flying Fantastic - Elevate your workout
London: Waterloo, Peckham and Wimbledon
Elevate your workout at Flying Fantastic! This place is often described as an adult's playground…but aerial is no child's play!
Co-founders Chris and Edel Wigan discovered aerial silks whilst living in Argentina in 2009 and on their return to London, set out on a mission to make circus arts as accessible as possible.
Here, you'll find aerial yoga, silks, trapeze, hoop and more taught by encouraging, experienced trainers with a flexible, drop-in class format.
"We ran our first classes from community centres, working with whatever facilities were available, so when it came to creating our first bespoke aerial studio it was a very exciting challenge," says Edel. "High ceilings can be hard to come by, so to find a 9-metre-high Victorian railway arch in central London felt like an amazing privilege. Every inch of the studio was designed and planned with love and care."
Equipment storage was a priority, with so much unusual equipment, such as silks, trapezes and hoops that don't fit on traditional shelves.
Instead, knotted silks and hooks full of hoops are a feature of the studio, creating a sense of organisation and order.
At Flying Fantastic, the ultimate goal has always been to create accessible, inviting spaces that encourage students to come and defy gravity in an all over body workout that is designed to be challenging but fun.
"People are often nervous about trying aerial, so it was important to us that everything about the studio demonstrated care and professionalism. Chris has a design background, so there are very personal touches all throughout the studios with our own distinctive tongue-in-cheek voice."
But, without doubt, the most recognisable feature is the rainbow lights. Constantly mesmerising, they provide a stunning backdrop for even the most simple of moves. They light up the studio and are a constant reminder that everyone is welcome, always.
"So much so, that our rainbow lights were the first thing on the plan for our second bespoke studio in Peckham. They are the perfect backdrop to the cheering and applauding that provide the everyday soundtrack for Flying Fantastic classes."
The sense of community is palpable, even from first timers, as people encourage each other to get their limbs in the right place whilst hanging upside down…"not that leg, your other left one!"
Flying Fantastic is often tagged as many people's 'happy place'… and for good reason. That's something the owners can be rightfully proud of. So, for those who haven't had the pleasure yet, it's time to come and play. Everyone is welcome!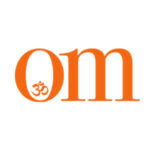 First published in November 2009, OM Yoga magazine has become the most popular yoga title in the UK. Available from all major supermarkets, independents and newsstands across the UK. Also available on all digital platforms.