Here are 6 tips for beginners - By Emma Mills
Yoga is incredibly helpful and can be a great tool for battling the daily stress we all face, it offers peace, reassurance and mindfulness to all that are willing to cultivate an attitude of openness and vulnerability within both heart and mind.
To fully achieve the benefits of a yoga practice or in fact anything new you are trying for the first time, you must first let go of judgment, expectation and negativity even before rolling out your mat, clear your mind and drink in the possibility of this beautiful peaceful ancient practice.
Before we begin let me tell you, this is your practice and it should work for you. Yoga is very personal and what works for someone else might not work for you and that's absolutely fine, the point of yoga is to embrace who we are at that moment and accept the wonderful body that we call our own.
1. Wear comfortable clothing – I'm putting this right at the top of the list because it is key, we are moving our bodies, breathing, letting go, relaxing into different poses and ultimately trying to stay focused. Comfortable clothing won't look the same for everyone so go with what works for you, yoga pants, shorts, jogging bottoms, harem pants or pyjamas, wearing something that feels right on your body and gives you the space to move and breathe is what will make your practice that bit more amazing.
2. Find a beginner friendly class – The best way to safely and effectively learn yoga is from a qualified yoga teacher, this could be in person or online, both methods are a brilliant starting point, gaining knowledge, basic yoga poses, breathing techniques and a feeling of which 'style' of yoga suits you best. As with all yoga classes, take time to read the disclaimers and fill in the health and safety questionnaires, taking care to find the perfect fit for you.
3. Get comfortable with the quiet – Most of us have fairly busy lives with lots of different thoughts everyday keeping our minds active, we often feel guilt for not keeping busy or 'getting things done'. Even on the days we take off or to wind down, we are watching a screen, scrolling on our phone or letting our thoughts and ideas run riot. Yoga teaches us to let go of these thoughts and settle in the stillness, we are encouraged to find peace, regardless of the physical posture we are in leading us naturally towards stillness.
4. Modify - In the beginning not every yoga pose will feel accessible and every pose should feel like a nice stretch, never painful, so its important to listen to your body each time you move it. Every pose covered in your class has a modified way to practice it. Use blocks, straps, blankets, any props that make your pose feel better for you and your needs.
5. Avoid comparing yourself to others – It's easily done, I find myself doing it! Thinking wow that yoga pose is amazing or those Instagram pictures are beautiful with the headstand in front of a sunset on a beach, but comparing yourself to others will only hold you back. Because yoga is such a personal journey you almost can't compare your journey to someone else's, how could you? They are a completely different human to you and have a different set of goals and needs in mind for themselves, stay focused on your path and where you want to be.
6. Slow and steady – Rushing through a yoga class defeats the object of yoga, yoga is mindful movement, it is relaxing into each pose, listening to your body, breathing deeply and taking some time out for self. Instead of speeding up each practice which could potentially lead to injury or strain, try to add in an extra 5 minute practice during the week or stay in a pose you enjoy for a minute longer, building strength and patience are the things that will create a more sustainable practice in the long run.
Above all else, use your time on the mat to be you, embracing all that you are and everything your body and mind do for you each day.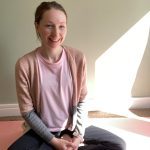 Emma is a 200hr qualified yoga teacher, specialising in Hatha Yoga and breathwork, aside from this she has completed many CPD yoga courses and recently completed a 'flexibility workshop'.
She is currently teaching voluntarily online and being inclusive to every student is always at the forefront of her mind when setting up a class.
Using social media and the discovery of Instagram she has been able to reach out and share the joys of practicing yoga with many other likeminded people.
If You Enjoyed This, Then You May Also Like...