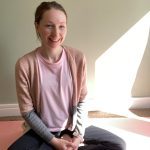 Emma is a 200hr qualified yoga teacher, specialising in Hatha Yoga and breathwork, aside from this she has completed many CPD yoga courses and recently completed a 'flexibility workshop'.
She is currently teaching voluntarily online and being inclusive to every student is always at the forefront of her mind when setting up a class.
Using social media and the discovery of Instagram she has been able to reach out and share the joys of practicing yoga with many other likeminded people.