What to do when you want more than a weekly yoga class. By Sarah Atkins
Picture the scene: you're in your yoga class, breathing in the sweet joy of a blissful Savasana. Suddenly it hits you… "I want more". Knowing you want to go deeper with yoga is one thing, working out the journey ahead of you – that's another.
Workshops and weekend retreats are great first steps in developing your practice and opening your eyes to new yoga horizons. Whether you want to focus on one posture, breath practice or learn more about meditation, whether you're interested in a style of yoga or an element of anatomy, you'll find a workshop online, if not near where you live.
But what if you want to go deeper still? Depending on who you ask about 'which way now?', you'll hear many different answers.
You are in the yoga equivalent of Alice in Wonderland. "One day Alice came to a fork in the road and saw a Cheshire cat in a tree. 'Which road do I take?' she asked. 'Where do you want to go?' was his response. 'I don't know,' Alice answered. 'Then,' said the cat, 'it doesn't matter'."
The Cheshire cat clearly wasn't worrying about his time and bank balance, but then he did live in Wonderland.
In the UK we are fortunate to have so much choice and there are some exceptional yoga organisations, offering different ways to expand your yoga experience. The BWY, for example, offers foundation courses at different levels,
designed to give you a much deeper grounding in yoga, far beyond what's possible to develop in a weekly class. You can use them to explore the history and philosophy of yoga as well as developing your yoga practice. They're also a steppingstone to a BWY teacher training, if that is what you want when you know more.
According to comparison website Finder, there are more than 10,000 yoga teachers in the UK. Many of them began their yoga teacher lives as yoga knowledge seekers, taking up teacher training courses as a way to discover more about the subject. But is teacher training an effective use of your energies? Will it take you where you want to go with your yoga? Return on investment, or ROI, isn't a phrase you hear regularly in yoga circles, but it's worth knowing you have choices.
There are specialist courses online and in person. For universities like SOAS (a part of the University of London), yoga is a master's degree-level subject. The world really is your oyster today and that can be distracting in itself – so many shiny objects!
With a multi-faceted gem like yoga, it's easy to get overwhelmed with the options. Which brings us back to your big question: how do you take that next step forward?
Rather than giving your power away to the internet, asking a search engine, consider looking to the people who know you best.
Yoga offers us many practical tools to help us in our decisionmaking. Here's three you are likely to have already gathered.
Research with an open mind
You can't try everything, but you can know yourself. What is important to you? Find the yoga that feels aligned to your nature and identity. In the UK and the USA, yoga often reflects a history and heritage rooted in India, but did you know there's evidence of yoga posture images from Africa, from ancient Egypt, and what is today called Nigeria?
Talk to your yoga teacher
They should be thrilled you want to learn more and explore yoga at a deeper level. They are likely to have ideas and options you hadn't considered. There's likely to be a good reason why you're with that yoga teacher and if their classes work for you, their insights are likely to fit with your next steps forward.
Did you know many yoga teachers offer home practice plans, helping you establish your yoga life? Yes, you can practice along with online yoga teachers on YouTube but developing a home practice with accountability will             help you establish a daily practice tailored to your development.
Meditate on it. Literally.
Who knows you better than you? Find a quiet place where you won't be disturbed for a while. Keep a notebook and pen by your side. Close your eyes, let your breath settle to a gentle steady rhythm, let your mind quieten and slowly, connect with who you are. If you don't connect with yourself regularly like this, be patient. You're in there! Consider: 'What do I want in yoga?' When you feel like you're ready, start writing what comes to mind. Use this information in your research. The first steps can be the hardest but it's often only when we get moving that we start to see opportunities arise. Be bold: we practice warrior postures for a reason!
Sarah Atkins for the British Wheel of Yoga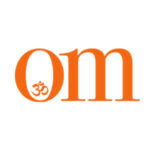 First published in November 2009, OM Yoga magazine has become the most popular yoga title in the UK. Available from all major supermarkets, independents and newsstands across the UK. Also available on all digital platforms.