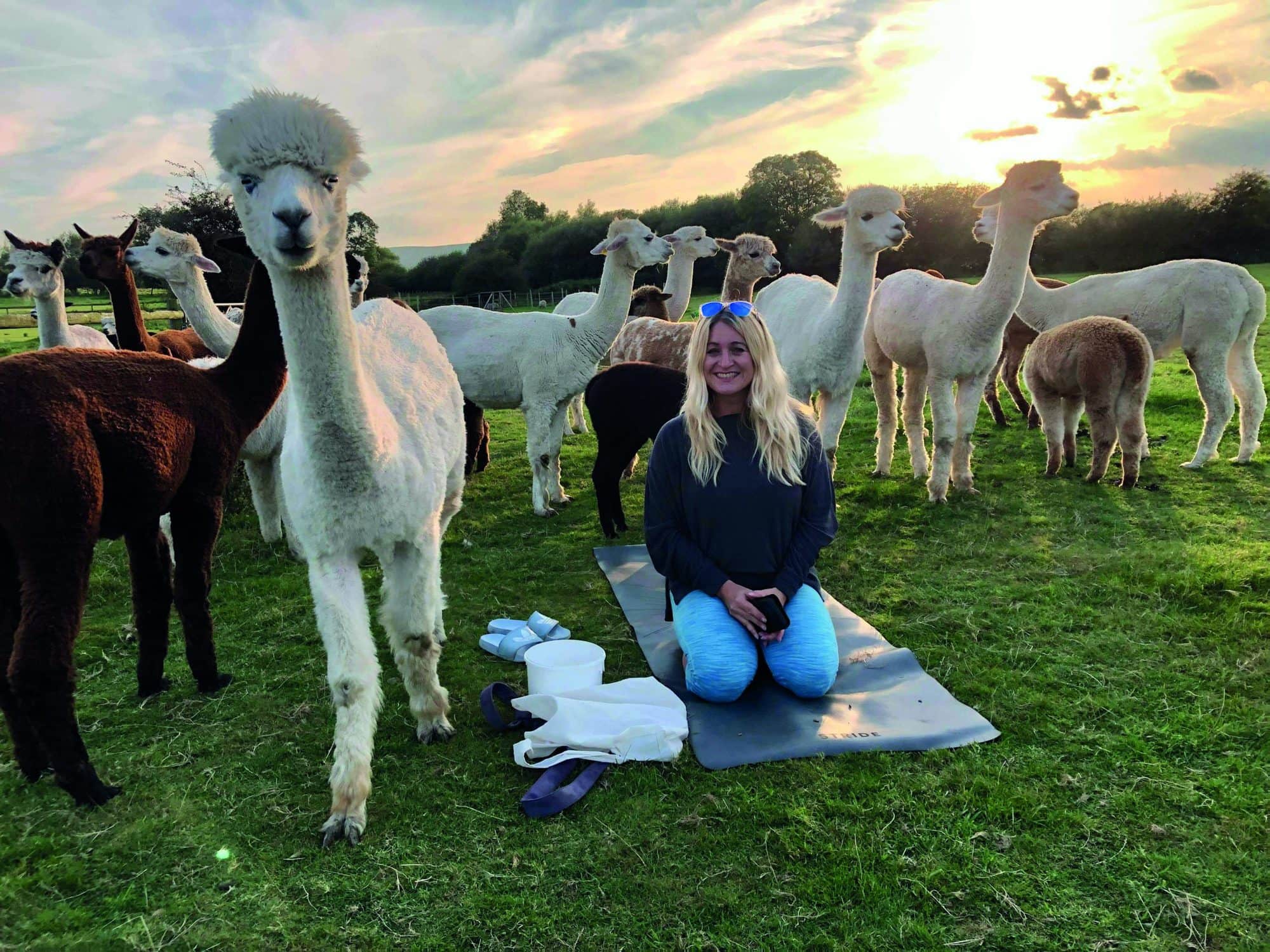 Fun times at the farm: why you need to get your Alpaca Yoga fix. By Eva Kristlova
There is a very special farm in the village of Selmeston, East Sussex, which is the home of alpacas, Shetland ponies, sheep, pigs, chickens…and their loving human family, Carlie, James and three children.
This is Jijie's Rest, a 10-acre farm situated within the lush, green countryside of the South Downs in southern England. It's also a place where you'll find Alpaca Yoga.
Alpacas are a smaller, cuter, fluffier version of llamas, and the quirky yoga sessions have become a big hit. The yoga with alpacas classes at Jijie's Rest have now become many people's 'happy place'…a space they can be at peace and leave all their worries behind.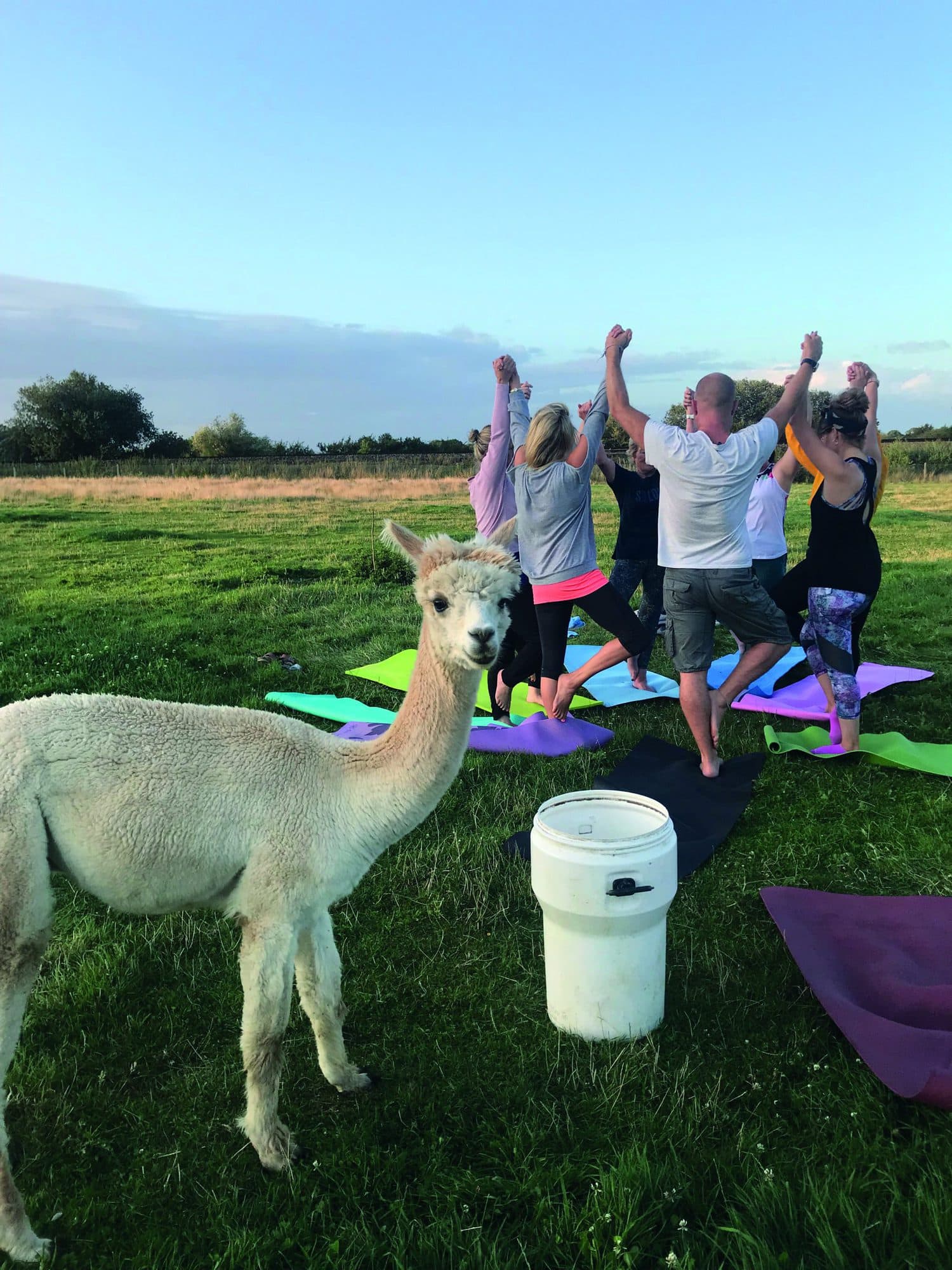 What happens at an Alpaca Yoga class?
The class is light-hearted, all-inclusive and fun. It takes place in the alpaca field and is limited to 10 participants to ensure a very special and therapeutic time for both yogis and alpacas.
There are close to 30 alpacas at the farm (including many babies), all super friendly. The highlight of the class is walking up towards the field and seeing the furry friends come running. They line up, observing with their big, beautiful eyes, waiting to be fed. After meeting and greeting the alpacas, you'll make your way to the field where the yoga mats are placed in a circle, ready for practice. The alpacas are curious and friendly animals,and will follow the group and often sit alongside participants in the circle, observing and feeling the healing vibes!
Often, they walk from mat to mat, sniffing, making connections with everyone there, and eventually nestle themselves among the group for a rest. It is impossible to practice yoga in this environment with eyes closed! Everyone is engaged and immersed in this experience and the alpacas are very cute to look at. Some of them can be a bit mischievous, so if you close your eyes you might miss something funny!
This class is the perfect antidote to the serious and overwhelming world we live in. The whole experience a unique way to reconnect with your inner child, with nature and return back to joy.
It will leave you on a high, smiling from ear to ear, happy and completely recharged, such is the healing power of yoga and animals!
Alpacas are cute and fun. People enjoy their curiosity, their hilarious antics and their lovable traits. Their presence breathes positivity into the space. They offer unconditional love, acceptance and companionship, all of which benefits our physical and mental health. Human-animal interaction releases positive hormones, which boosts your mood.
It means alpacas (and all animals in general) are natural anti-depressants! Being in nature and with alpacas and other animals brings about happiness and decreases blood pressure, reduces depression, anxiety, stress and fear. Being around alpacas makes us laugh, smile, giggle; it helps us mentally relax, become more mindful, live in the moment and enjoy life.
5 FUN FACTS ABOUT ALPACAS
1. When they sit, they fold their legs under their body, which makes them very easy for transporting.
2. When they eat grass, they cut off the top of the plant rather than pulling it by the root. This is why many farmers use alpacas like a lawnmower.
3. Alpaca fibre is flame resistant and water resistant. It can wick away moisture because it has a unique ability to mimic cotton in the moisture region.
4. Alpacas hum when they're curious, worried, content, bored, fearful, distressed or cautious. Humming is the most common sound that alpacas make!
5. Alpacas are known to be very friendly with human children and very sociable with dogs, cats, horses, donkeys, sheep and goats.
Public classes or Private Group bookings
The team that run Alpaca Yoga sessions at Jijie's Rest are very open to creating a bespoke experience for your private group or reserve you a space in one of the public classes. It's the perfect way to celebrate your yoga friend's birthday!
As one of the regular alpaca yogis (Fiona) says: "The most fabulous, magical experience you can ever have. Beautiful surroundings, majestic animals, a perfect way to reset. Whether it is your first experience, or like me a complete addict, you will fall in love with the activity and will want to come back again and again."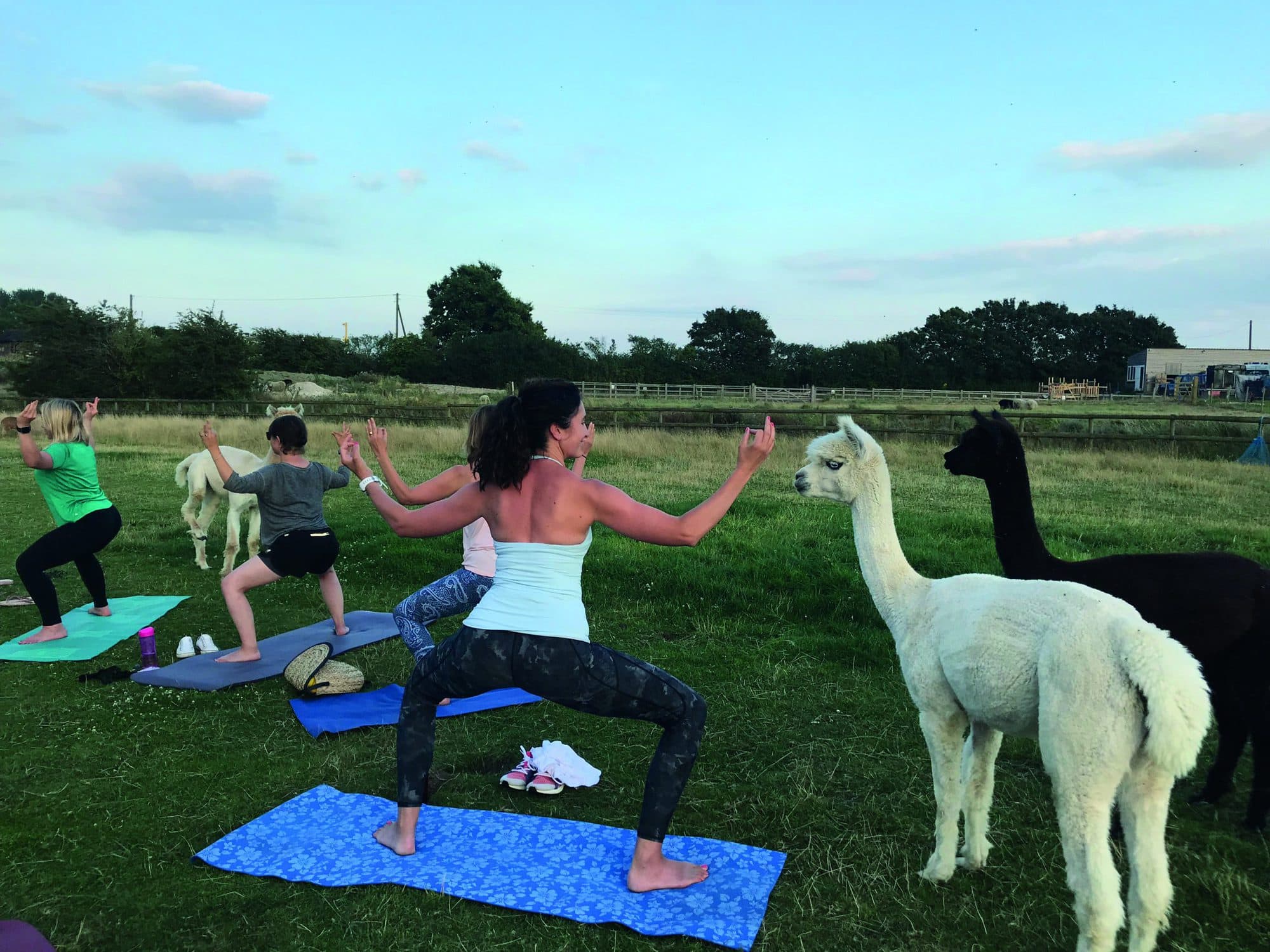 Eva Kristlova (yogawitheva.co.uk) is a yoga teacher who lives and teaches in Eastbourne and surrounding areas in East Sussex. Find her at the Yoga Life Studio (yoga-life.co.uk) delivering yoga classes in person, on Zoom and also on the Yoga Life online platform.
Discover the Jijie's Rest Alpaca Farm at: jijiesrest.co.uk or see it for yourself on Instagram: @jijiesrestalpacafarm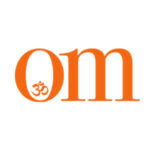 First published in November 2009, OM Yoga magazine has become the most popular yoga title in the UK. Available from all major supermarkets, independents and newsstands across the UK. Also available on all digital platforms.