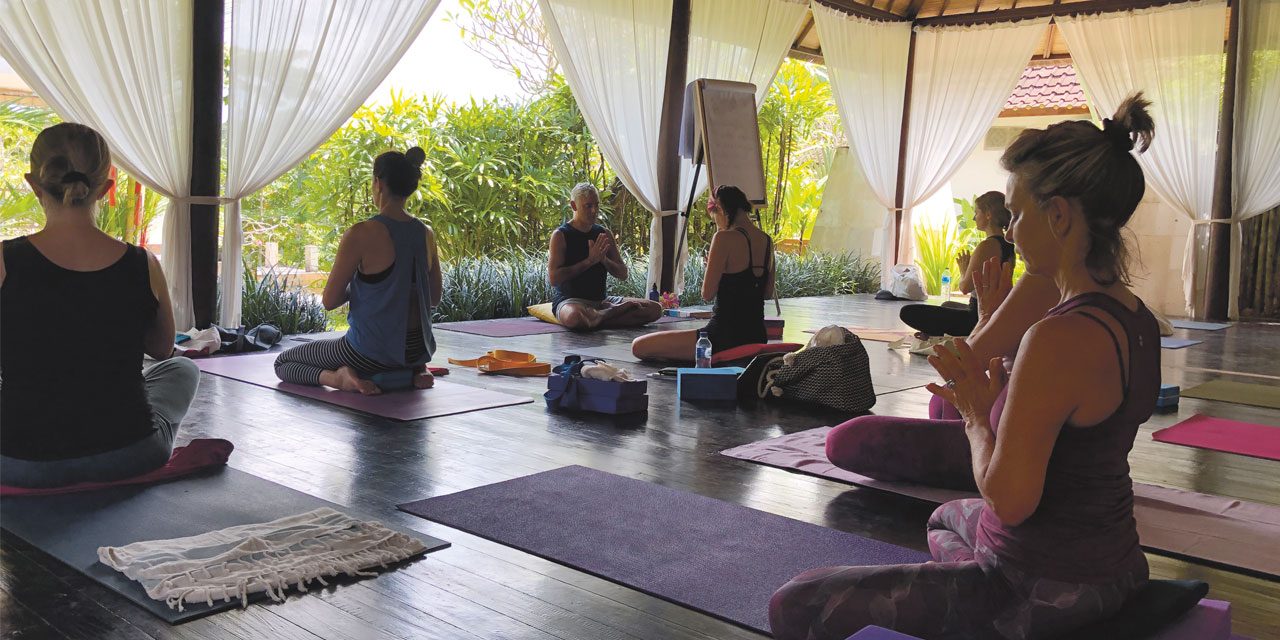 A yoga teacher training journey
A personal account of a yoga teacher training in Bali, by Sonal Thakrar
I embarked on my second teacher training in April 2019, this time over an intensive month in Ubud, Bali. Two enlightened souls, Bridget Woods Kramer (bridgetwoodskramer.com) and Ananda Leone (anandaleone.com), imparted the wisdom of their invaluable gifts: opening to grace and embodying the three principles of Anusara Yoga - Attitude, Alignment and Action with the Power of the Breath. I learnt these were the most fundamental threads to my yoga practice. Once I set my foundation and intention for the practice, I aligned my mind and heart to that divine power; softening my boundaries and being open to the energetic power within my magnetic fields. I willingly became aware of every part of myself, sensing that duality of light and shadow exists within me and moving through with breath, awareness, strength, courage, softness and love.
The course was designed to be intensive, so we could fully immerse in the teachings of Anusara Yoga and Pranayama without the distractions of daily life. Like a sponge soaking in the rich knowledge, we would sit in the yoga shala for over 10 hours a day living and breathing the teachings, our breaks getting shorter as the days progressed.
I signed up for this immersion experience to deepen my own practice and to complement my first yoga teacher training in 2016. What I hadn't envisaged was the life journey that followed. Here are my top eight life lessons from my Bali journey:
1. Learn to share space
I asked the universe to give me space and my own room. She decided to put me in a family villa with my own room but sharing a bathroom and outside terrace. She gave me what I needed and not what I thought I had wanted. She taught me how to respect my own space, how to respect another's and when to come together in companionship. I realised I 'needed' both space and company, just not exclusively. My villa mate was a beautiful soul goddess who turned out to be Amanda Holden's doppelganger. I drew a long straw. Thank you, universe.
2. How to shut out the 'noise'
On the first night around 9pm, I heard an incredible croaking racket. There was a pond directly outside my villa, and I learned very quickly that, come nightfall, the frog ringleader sounds out the call. Every night until 5am I slept with a rave party so loud that ear plugs were useless. By week two, I surrendered. The frogs taught me to quieten the noise inside me; the noise that needs to be silenced is internal, rather than external. On the first night back home, I missed the rave party.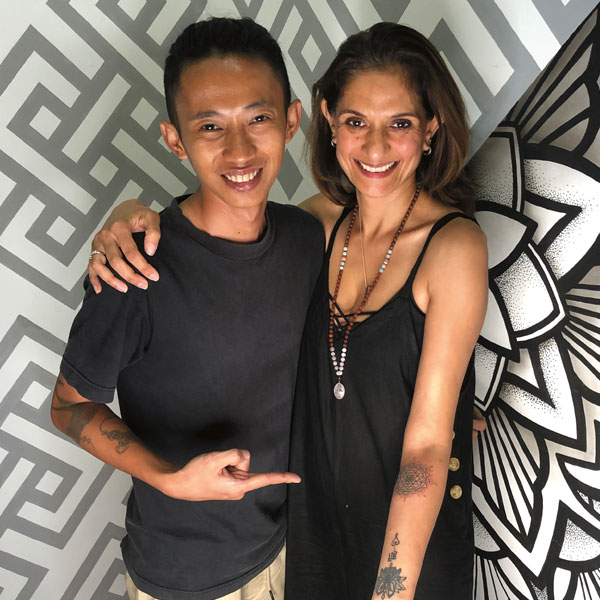 3. Surrender is part of recovery
Day 2, I collapsed in morning practice, with no warning that I was coming down with something. Fatigue, dehydration and nausea had me bedridden in my shared villa (another sign). Thank god for the angels who brought me fresh coconut water and checked in on me. Sporting layers, long leggings and sweatshirt under a duvet with no air conditioning was no competition to my classmates in the lightest of yoga wear in mid-30 degrees heat. Missing classes left me with waves of guilt, anxiety and FOMO (fear of missing out). I hadn't even spoken to all of my classmates yet! Struggling to raise my head above the pillow, I had no option but to find peace and surrender to what was – I was convinced the universe must have a plan.
4. Trust in the process: faith in healing
The universe did have a plan! I asked for help – not easy for me. Pills were not going to fix what I had. My teachers knew that too and suggested I go see a healer. Not just anyone: fate sent me to Wayan, author Elisabeth Gilbert's real-life healer in 'Eat Pray Love'. When I turned up, she told me to 'come back tomorrow', and I almost fainted. I stood before her and begged her to fix me. That was the start of an intense five-day healing process that involved lots of prayers and offerings to spirits, ingesting a variety of charcoal pellets, lime green gels, constant wafting of incense, herb scrubbing and massaging, ceremonial and ritualistic cutting with her grandpa (a 'medicine man' who spoke no English), and a four-hour round trip to a derelict temple high in the mountains to be bathed in the holiest of springs. My trusted driver, half my age, who ferried me to every session, knew more about my intimate healing journey than I ever will. I received with abundance, glowing in the energy of these incredible spiritual healers with gifts that cannot be articulated into logic. Only faith and trust known as 'Shradda" can give any explanation as to why we seek out these messengers to help us on our path. I missed almost the first week of teaching, but my teachers knew I needed healing and supported me wholeheartedly.
5. Breathe
One of the most important lessons I learnt from Ananda was 'Life is Breath and Breath is Life'. I truly learnt how to breathe after spending two hours in class every day for four weeks. My chest opened, my heart expanded, I softened and melted into the sweet rhythm of my breath. Life felt open, and I was 'breathing' for the first time. Lesson: breathe. Breathe using every part of the diaphragm, front body to the sides of the torso opening the intercostal muscles and breathing through the back body above the collarbones.
6. Have fun
The universe was instrumental in showing me that I can have fun if I am open. During our first weekend off, most of the group were relaxing poolside, having treatments, shopping or nose deep in their teaching manuals. But I had an agenda. I wandered off in boho chic (a world away from my home life as a city lawyer), sat in the coolest of cafes full of beautiful people and sipped green juice. I sat and wrote, creativity channelling through me. Later, I wandered up the street to sit with Gerry Prana at Karma House Tattoo designing my new ink addition, before spending six hours on our last full day off before exams getting inked. How did I fit in a 200-hour teaching training and 30-hour pranayama training, I ask myself? I learnt that life doesn't have to be too serious, I can still remain focused but add playfulness. My new ink design became the inspiration behind my exam theme.
7. Trust in yourself
Exam day and tensions are high in camp. With so much learning to process in four weeks, it's impossible to remember every alignment and heartfelt cue. With less than 48 hours to prepare, I had to transition from mind to heart. It was there all along inside of me, but I had to go through the emotion before I had the realisation. So, I put all the trust I had in myself, chanted a Shakti mantra to invoke confidence, poise, and authenticity in my voice, channelling the powerful divine feminine energy as I delivered my class. Immediately afterwards, relief enveloped me. I couldn't recall much except quoting a Patanjali sutra and relating it back to the theme of stillness before new beginnings – feedback was incredibly humbling, the opening comment being that I had managed to articulate four weeks of learning from my heart space into a 30-minute lesson and had left out only the kitchen sink! Magical. Because I trusted in what was already inside of me.
8. Letting go
Something most of us truly struggle with – me, most of all. I find change challenging even when I 'know' it's the best thing for my growth. I have been wearing a pendant with a Sanskrit inscription honouring Lord Krishna for years. It's travelled with me during the turbulent rollercoaster ride of my life, a talisman infused deep with my prayers and energy that I wore 24/7. The chain broke in 2017 just before I climbed 3,000 metres up the Himalayas after a 10-day yoga retreat. After initial panic, I secured the pendant to my bra. Within 20 minutes of final descent, it was back around my neck sporting a new chain. Back to Bali, during morning practice, it broke again and the pendant fell on my mat.  My heart skipped a beat. I knew intuitively what that meant (cynically perhaps I just needed a stronger chain!) and spoke to my mentor Bridget at the end of the session. Her pause and look energetically confirmed my own intuition and when she verbalised it, I burst into tears. It wasn't until the guided meditation part of my exam delivery, when I spoke about the magic that happens in the stillness after letting go, that I knew what I must do. The next day, just before I left for the airport, I walked to the ancient temple in the village where two sacred rivers meet. After a prayer off gratitude, I offered up a part of myself in the form of my pendant, which was ready to be released to Mother Bali. It had done its job and I was energetically ready for the next chapter of my life.
The most significant lesson that all of my teachers have imparted is that I cannot authentically hold space to take anyone "there" unless I have been "there" myself. With the deepest of gratitude to all of my teachers for their teachings in this lifetime and beyond.
Sonal Thakrar is co-founder of Kleem (kleem.co.uk)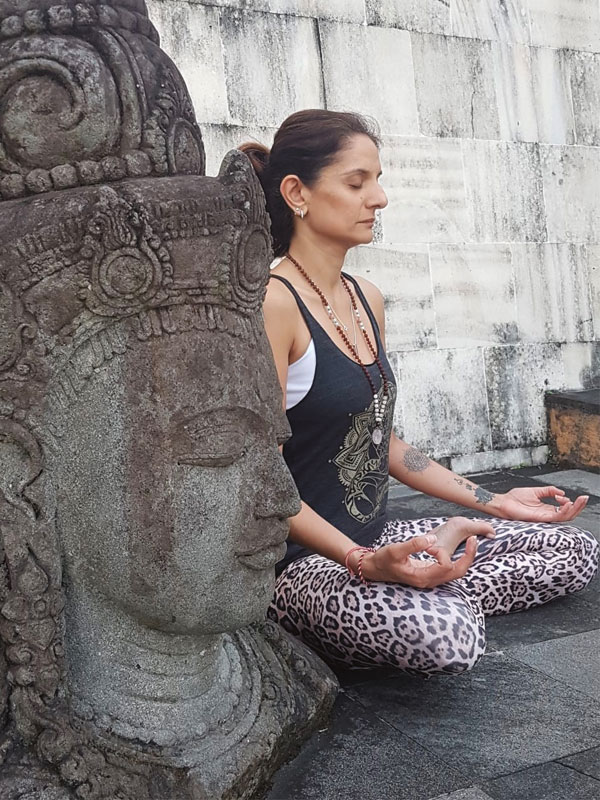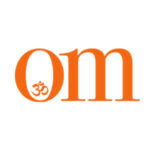 First published in November 2009, OM Yoga magazine has become the most popular yoga title in the UK. Available from all major supermarkets, independents and newsstands across the UK. Also available on all digital platforms.