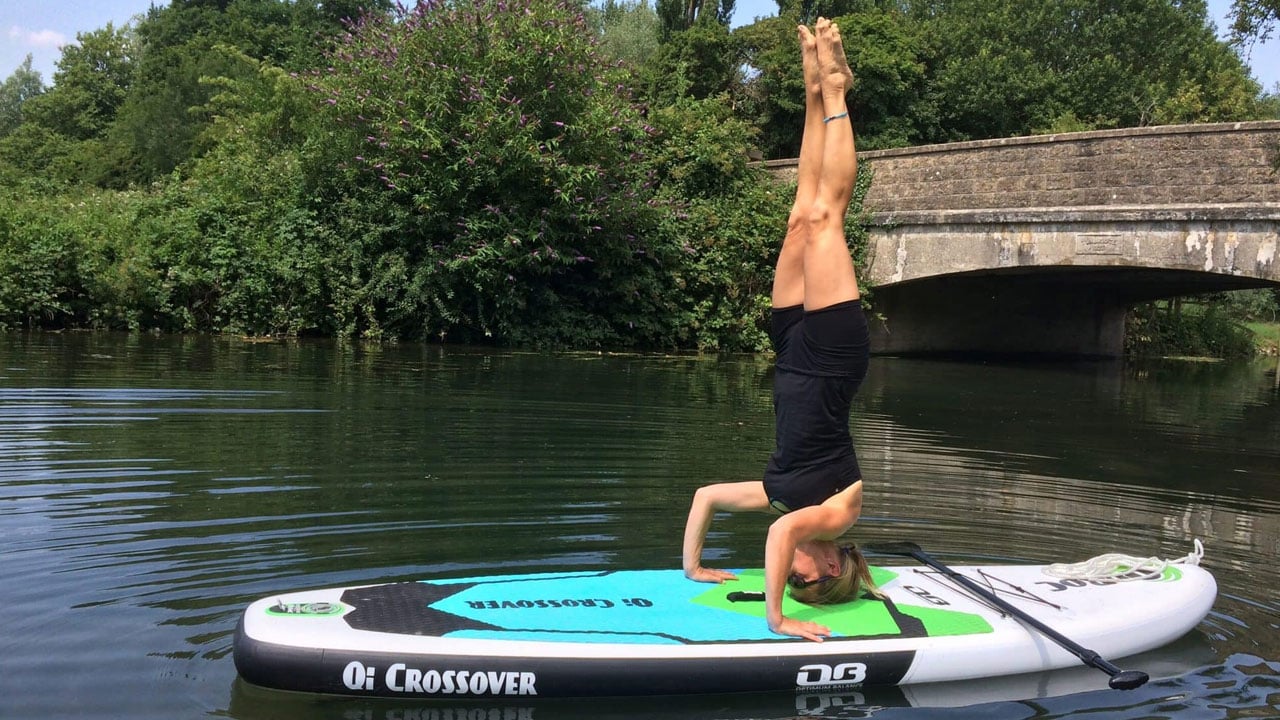 10 reasons to try SUP Yoga
Summer is here, so it's time to try Stand Up Paddle Board Yoga. By Lorna Chapman
Calling all yoga water babies! Have you ever thought about swapping your yoga mat for a paddle board for the perfect aquatic experience?
Here are 10 brilliant reasons to try Stand Up Paddle Board (SUP) Yoga:
You'll connect with the sights, sounds and feel of natural surroundings.
The natural forces of the wind, temperature and tides give you a unique experience every time.
It slows you down!. It's hard to rush your practice on a floating mat; you need to stay mindful to stay dry!
It offers a new approach to familiar poses and a fresh challenge. Yoga on water, on an unstable platform, requires greater strength, focus and balance. Poses that feel stable on land can be tricky on a paddle board, for example Warriors I and II.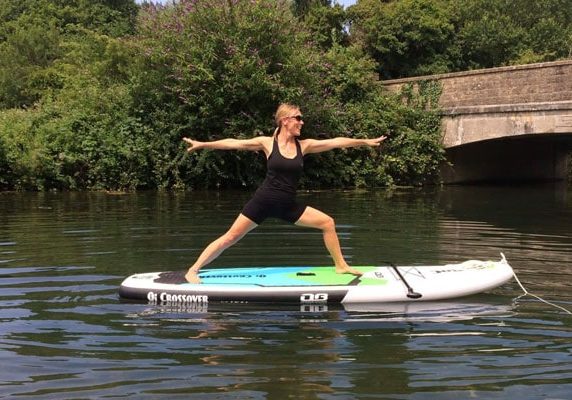 5. Enhanced proprioception: your awareness of your body's position in poses is enhanced; if your feet are unevenly placed, especially in standing poses, you may wobble!
6. You can use your paddle as a fun prop: as a staff in standing and balancing poses, or to help release your shoulders in seated poses.
7. Calms your mind: being on the water is perfect for practicing breathing and meditation.
8. It's great fun. There'll be lots of laughs and potential splashes for those attempting challenging poses. The most fun sessions are the splashy ones!
9. Savasana is blissful relaxation: you're literally floating and the sound and sensation of the water can be incredibly soothing.
10. Social distancing: it's good to know that spacing boards out on the open water is very easy.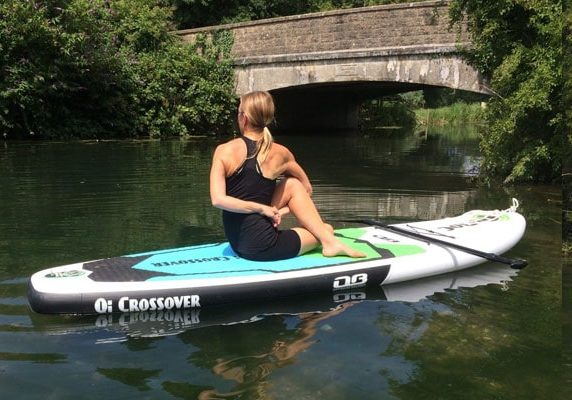 Where is SUP Yoga done?
The easiest place to practice SUP Yoga is on flat, non-tidal water in a sheltered setting, such as a lake, or even a swimming pool. Rivers and the sea on calm days are also great, but can be more challenging, and a sound knowledge of the tides is essential, so it's a good idea to go to an experienced SUP yoga teacher.
Do I need a board?
Most schools rent out SUP boards. If you have your own, you can use that.
What kind of board is best?
Inflatable boards are best for yoga. There are a lot on the market of varying quality, which is often reflected in the price. A good-quality, all-round board is usually double-skinned, around 32" wide, 6" thick and 10-11ft long for optimum stability, with a comfortable non-slip deck. Yoga-specific SUP boards are available, but these may not be ideal if you're keen to paddle too (some are even rectangular and not designed for paddling at all). Touring or race boards are slimmer, longer and less stable; you can practice yoga on these, but it's more challenging!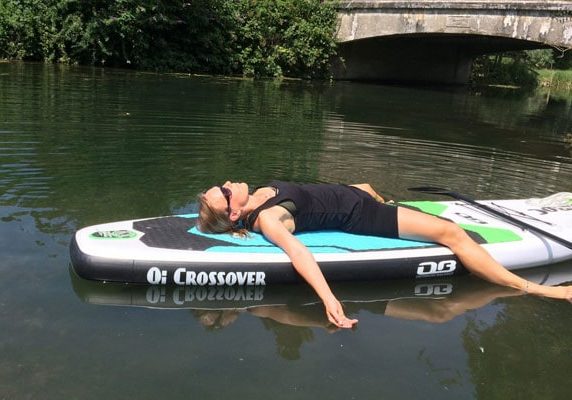 Can I practice SUP Yoga if I can't swim?
It's a good idea to be water confident and to be able to swim at least 50 metres.
Should I wear a wetsuit?
Wetsuits are optional, but they can be restricting. If you are nervous of falling in, remember a good teacher always offers alternatives to standing poses.
Do I need a buoyancy aid? 
You can use a PFD (personal flotation device) if you are nervous, but it may get in your way. They are not generally worn for yoga. If you are paddling to a specific location for SUP, PFDs should always be worn until you stop and tether for yoga.
Won't I drift away?
You will be tethered to a line or an individual anchor or sand bag. Your board will swing with the wind and tide, but will settle in place in line with the other boards.
What if it's windy?
A little wind adds to the experience of SUP yoga, but high winds would be dangerous. Be prepared for your sessions to be postponed during adverse weather conditions.
What kind of qualifications will my teacher have?
Check that your teacher has adequate experience and qualifications in yoga,  SUP yoga and SUP. They should also be qualified in First Aid and SUP Safety.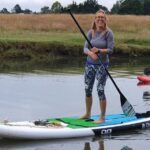 Lorna Chapman has been teaching yoga since 2003, paddle board yoga since 2016 and also teaches regular yoga holidays abroad.
If You Enjoyed This, Then You May Also Like...