Spread a little happiness
If you're still a little nervous about returning to the yoga studio for some Savasana bliss then this meditation is for you. By Jill Lawson
After a long hiatus, returning to our favourite yoga class can be just as intimidating as going to one for the first time. We may be out of practice and unprepared to bend and twist with such enthusiasm, but mostly, it's our insecurities that overrule our intentions. Having negative thoughts about ourselves dampens our interest in the experience — so we don't go.
Thinking negatively about ourselves is one thing. When we think everyone else has the same thoughts about us, it compounds our fear of judgement. For example, if we feel less than perfect in yoga pants and believe others think the same about us, we become doubly doubtful. Psychologists call this behaviour projection.
The following meditation will help you ditch your self-doubts and stop projecting negative thoughts into the minds of others so you can return to that collective Savasana bliss.
A healthy frame of mind is crucial in getting us back on the mat in a group setting.
Do it now
To begin, make up a simple and positive affirmation confirming your brilliance. Perhaps it is, "I am radiant," or "My soul is beautiful." Whatever pledge you create, believe it with all of your heart.
Take several deep breaths and scan your body. Whenever a negative thought arises, repeat your affirmation. For example, if you feel lethargic, instead of thinking of yourself as lazy and out of shape, state your claim. Continue until negative thoughts cease coming to mind.
When you are ready to enter the class, scan the room and take note of your thoughts. While we understand projection places our negative thoughts into the minds of others, we should know that we can also project positive thoughts into the minds of others. If you fear someone is thinking negatively about you, repeat your affirmation and imagine that thought is theirs.
The beautiful part of this meditation is that no one will know you are telling yourself that you are the most dazzling person in the world. Your thoughts are private, so don't be shy.
Besides, a positive image isn't just for you; it helps uplift those around you. By believing yourself to be lovely, you permit others to feel the same way about you. Now, go to class and project your positivity into the world. Let your inner smile be what contributes to the greater good of everyone you encounter.
Jill Lawson is a writer and yoga teacher enjoying life on the island of Maui in Hawaii (jilllawson.net)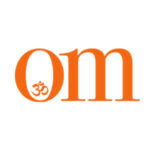 First published in November 2009, OM Yoga magazine has become the most popular yoga title in the UK. Available from all major supermarkets, independents and newsstands across the UK. Also available on all digital platforms.