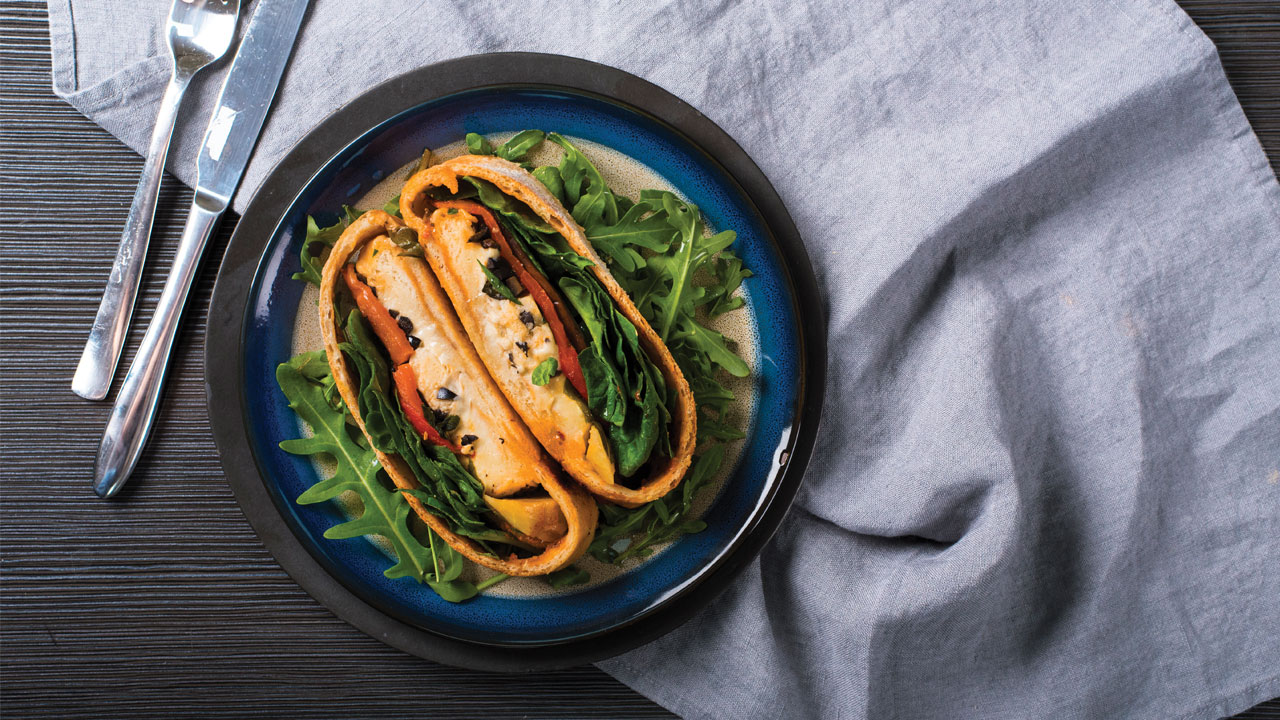 Roasted Vegetable Stromboli
Serves: 8-10
Ingredients for the dough
450g (3 cups) strong white bread flour, plus extra for dusting

1 tsp (7g) fast action yeast

2 tsp sea salt flakes, plus a little extra for the top

300ml (1 ¼ cup) hand-hot water
Ingredients for the filling
1 small aubergine, thinly sliced lengthways

1 courgette, trimmed and thinly sliced lengthways

2 large red peppers, halved and deseeded

2 large yellow peppers, halved and deseeded

150g (⅔ cup) baby spinach, washed

6 tbsp red or green, dairy-free pesto

75g (½ cup) black olives, pitted and chopped

25g (1 cup) fresh basil, leaves only

Sea salt and black pepper, to taste

A little olive oil, for brushing
Preheat grill to medium, place the pepper halves under the heat and leave to roast and blacken for around 10 minutes, checking them often. When the skins are black, set the peppers aside to cool enough to peel away the skins. Remove the skins, discard and then slice the peppers into thick strips.
Mix all the ingredients for the dough in a large bowl and bring together with your hands to form a ball. Transfer to a clean, floured surface and knead for 5-10 minutes, or until smooth and elastic. Coat the dough lightly with oil and place back in the bowl to rise, loosely covered with a damp tea towel. This will take around an hour, or until doubled in size.

Preheat the oven to 180°C (Gas Mark 4, 350°F). Arrange the sliced aubergine and courgette on a baking sheet and brush with oil. Season and transfer to the oven for 15 minutes or until soft. Leave the oven on.

When the dough has risen, transfer it to a floured surface and knock out the air. Roll out to a very large rectangle and spread with the pesto, leaving a 2 inch border at the edges. Layer over the cooked vegetables, olives, basil and spinach, seasoning as you go.

Fold the 2 shorter ends of the dough inwards a couple of inches and then roll up, starting with a longer edge, to completely encase the filling. Transfer to a baking sheet, drizzle with a little olive oil and sprinkle with sea salt. Bake in the oven for 40 minutes, or until golden and puffy.

Serve cut into slices, hot, warm or cold, cut into slices.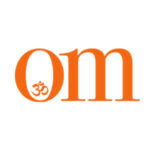 First published in November 2009, OM Yoga magazine has become the most popular yoga title in the UK. Available from all major supermarkets, independents and newsstands across the UK. Also available on all digital platforms.