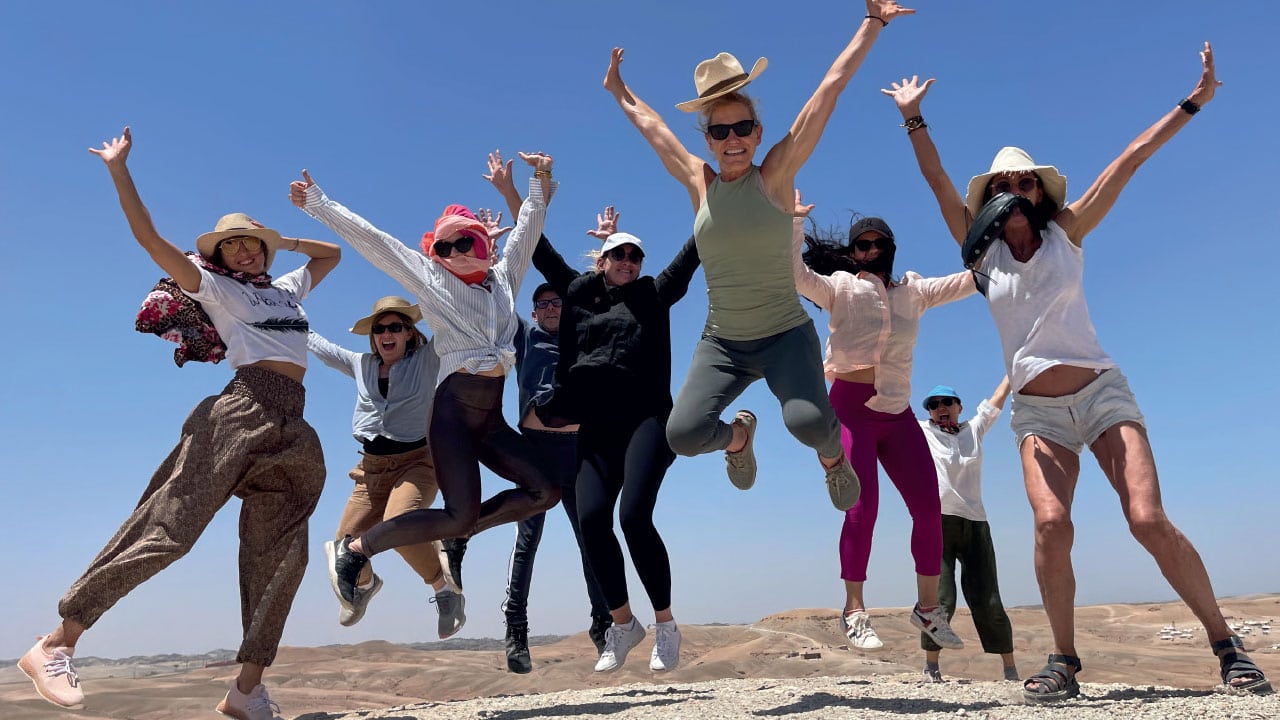 Awe-inspiring retreats and ideas for yoga explorers
Andrea Marcum leads a diverse yoga group through magical Morocco, as 20 individuals grow and evolve into one single yoga family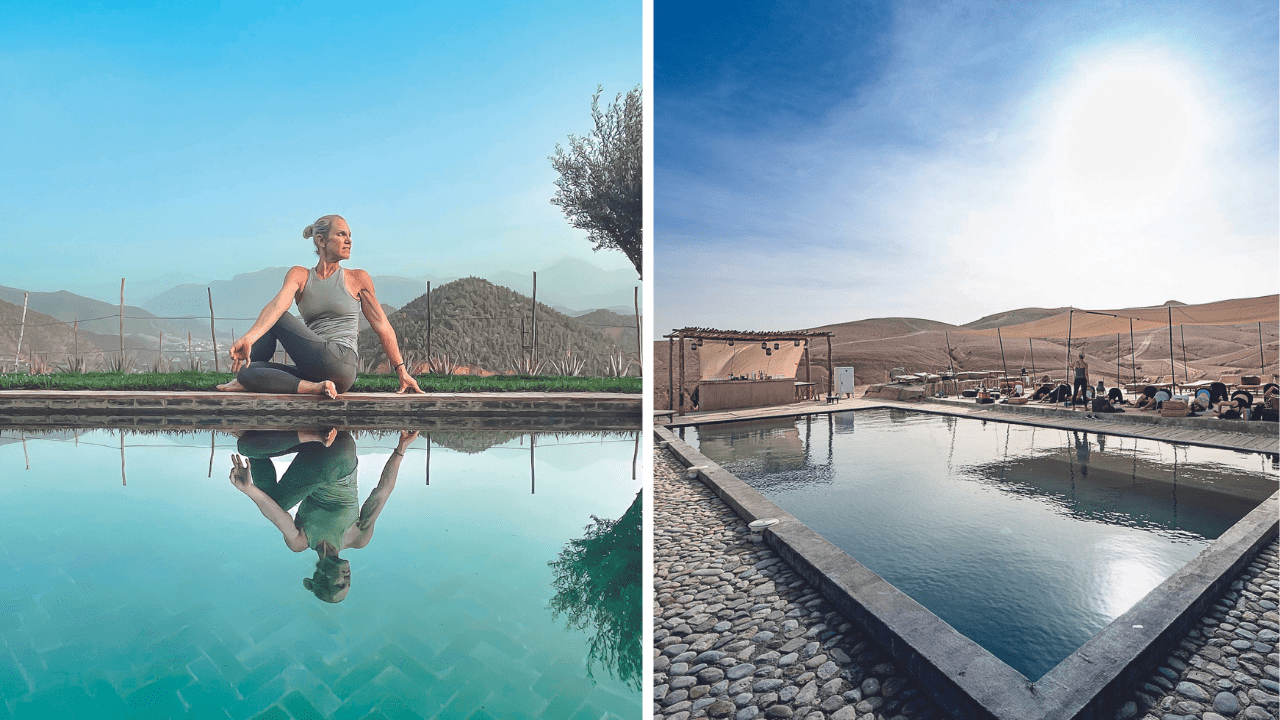 "You will never reach your destination if you stop to throw stones at every dog that barks" — Winston Churchill
I recently returned from leading a yoga retreat in Morocco. It was a trip slated for 2020, so those on board had been asked to practice some pretty serious patience. The pandemic seemed to wane and then came barking back preventing us from heading out on our adventure for two years.
Finally, we assembled, arriving with our own barking dogs — a woof of anticipation, a yelp of expectation, and our stonethrowing tendencies to vacillate between "I like" and "I don't like."
Stepping out into the world on retreat means stretching…not just on our mat, but off. Think about it. Even just considering a yoga retreat brings out the dogs. "I'm too busy." "Everyone else will be better at yoga than I am." "What if it's all couples." "I'm too old." Believe me, I've heard it all and I understand. Travelling out into the world demands that we travel inward too.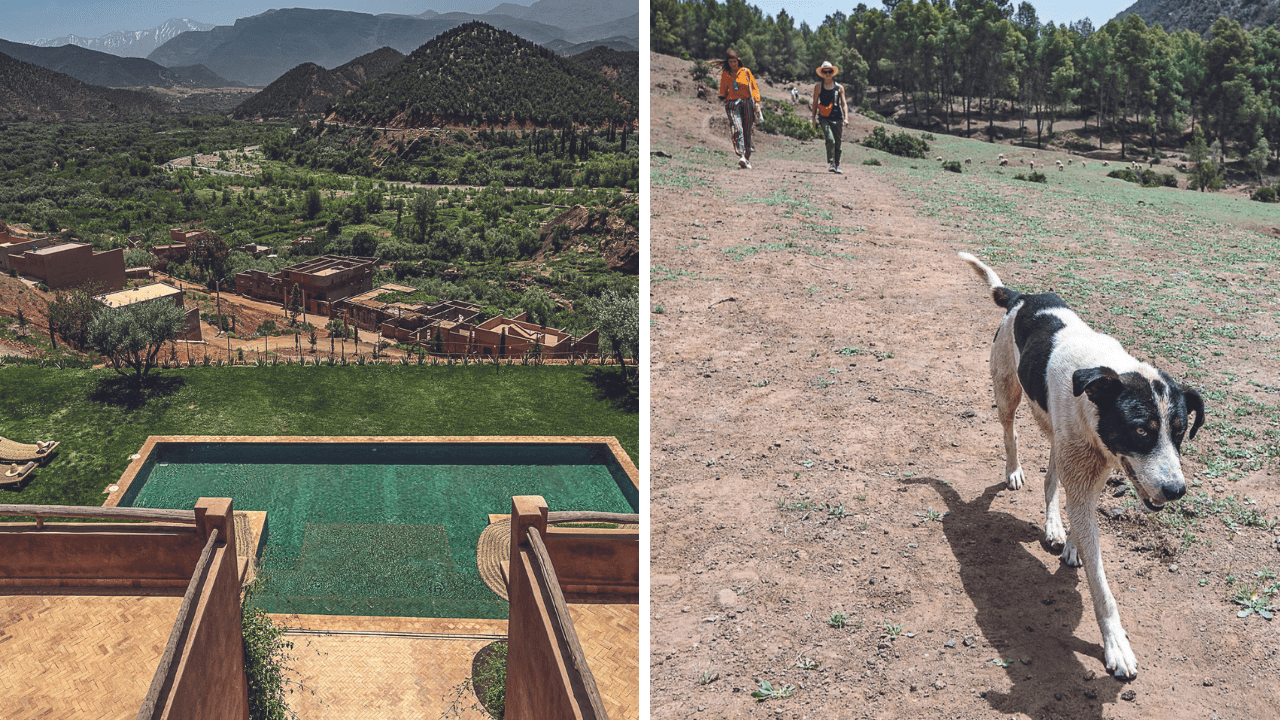 My group landed in Marrakech, a city that is a maze of narrow passageways slithering through the medina where motorcycles whiz inches from you, cats wander, vendors clamour, and cobblestones are not the only thing that challenge your footing. There were 20 different personalities, all with their own unique 'bark' and, as a retreat leader, it's my job to extend a loose and thoughtful leash to each one.
Initially these barks feel disparate, driven by individual wants and comfort-seeking needs. Anticipation and expectation conspire and 20 different 'likes' and 'don't likes' are a stone's throw away at every moment. The discomfort of arriving somewhere new is like trying an arm balance for the first time – you aren't sure you trust it and wonder what you've got yourself into. But the vulnerability of not knowing, of feeling wobbly but trying anyway is where we discover things we couldn't see before. Things around us and within us.
Yes, it's awkward — but the wobble is the win. A yoga retreat encourages us to be mindful travellers, not mindless tourists. Our mat becomes a place for us to embody this exploration both individually and collectively.
In yoga philosophy, Abhyasa means consistently showing up. Vairagya asks us to do that without expectation of a particular outcome. They are yogic tools that work together to move us beyond our barking dogs and stone throwing, towards our destination.
In other words, downward dog is not just a physical posture, it's a humble bow where our inward and outward trekking meet up. Down dog, and travel, turn things upside down and reveal another perspective.  What we uncover as we make our way through our retreat week together is that it also turns the initial 20 'Me's' upside down to become a unified 'We'.
Yoga is often defined as union. It is a connectedness to our self, to one another and to the world around us. We lean into that on retreat, challenging ourselves to show up (Abhyasa) for ourselves and for each other with open-minded curiosity, and non-judgement (Vairagya).
After Marrakech, my group headed to the Agafay desert – the flipside of the frenetic, congested city. A sandy, rocky expanse as far as the eye could see and 13% humidity (suffice to say bone dry) became our new position. It was like shifting from an intense side angle pose into the reach of an Ardha Chandrasana (triangle pose balanced on one leg).
Remote glamping in the dog-day-heat kicked up new dust for our odyssey. Some felt the vastness of the desert to be freeing, while others yearned for the shopping and infrastructure of the city (not to mention a more sophisticated commode). But the space provided us a place to come together in new ways: in the yoga tent overlooking the dunes, at the table for extraordinary meals, beside bejewelled cantankerous camels, and in the cool aqua-blue pool that echoed with laughter as we howled together.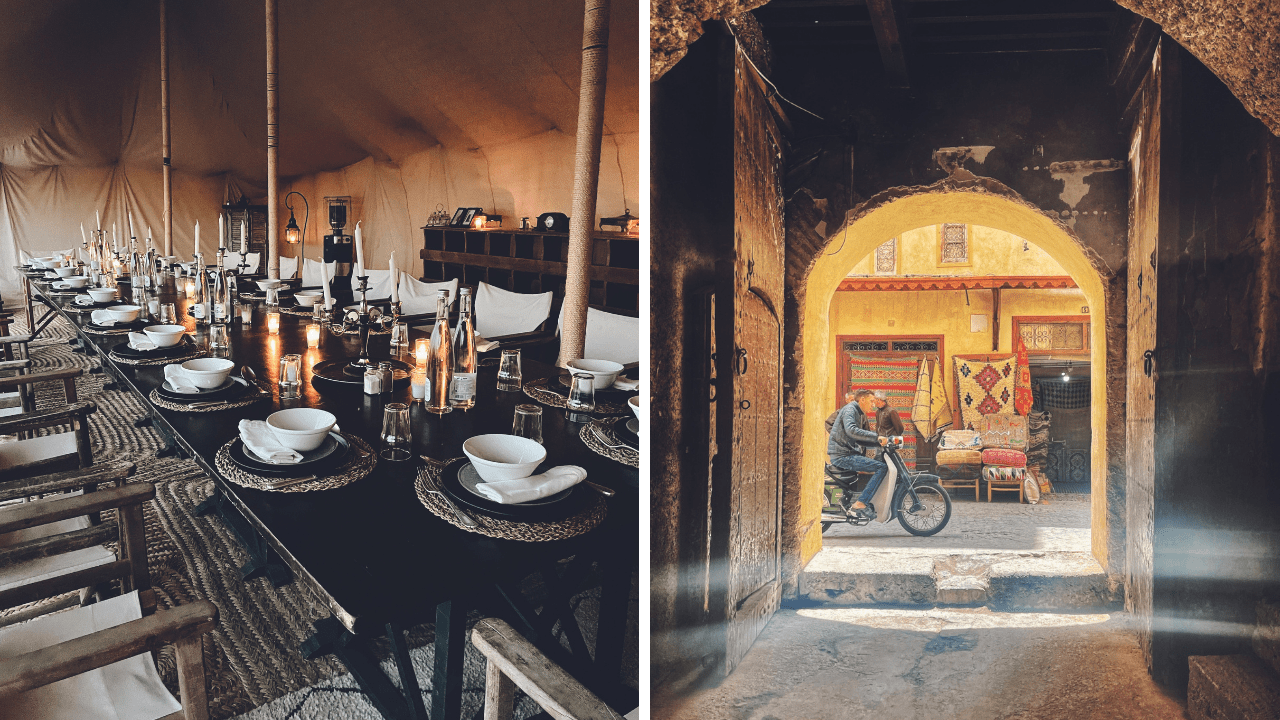 In vinyasa yoga, each sun salutation brings us back to Tadasana (mountain pose). The flow of our Moroccan pilgrimage
dropped us next in the Atlas Mountains. We wandered up steep red-soil peaks and down into green valleys lined with sheep. Ourika Valley's evaporating salt ponds snuggled next to a Berber village and mirrored the patches of the snow we could see on the distant mountain tops.
Mint tea poured with traditional theatrical zeal, and platters of couscous and tagine were prepared for us by a household who welcomed us into their riad for lunch. We sat on the floor together around small round tables (thankful for the hip-opening poses we'd done together all week).
Twenty personalities and six hosts became one family. As we waved goodbye and walked through the forest to return to our lodging, a black and white dog named Ohmi accompanied us. I watched him run from person to person off-leash, tail wagging – which, I thought to myself, was how my retreaters seemed to be now too. Stones were replaced by rocks that we helped one another navigate to cross a stream in our path. Stories, hats for shade and water bottles were shared freely between people who days before had never met.
What had begun as disparate barking had coalesced into living yoga. We had freed ourselves up to arrive together at our destination. And in so doing it became abundantly clear that the journey is the destination – no matter where in the world we are.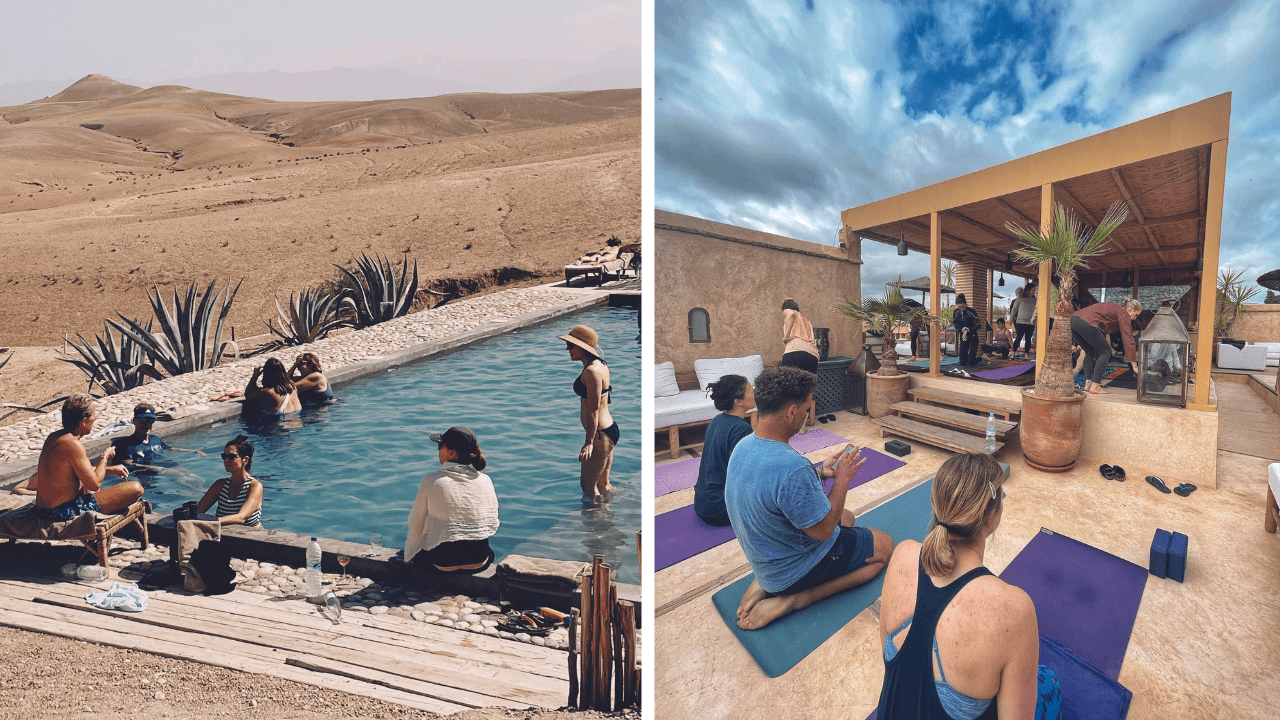 Andrea Marcum is a yoga teacher and author who leads retreats and workshops around the world. Visit: andreamarcum.com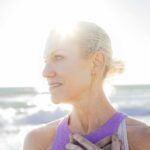 Andrea Marcum is a yoga teacher, retreat leader & author. You can find her online classes at andreamarcum.com