Tips from the experts to help you grow the yoga business of your dreams
Gill Littleford, 51, of Gill Littleford Yoga & Pilates, Telford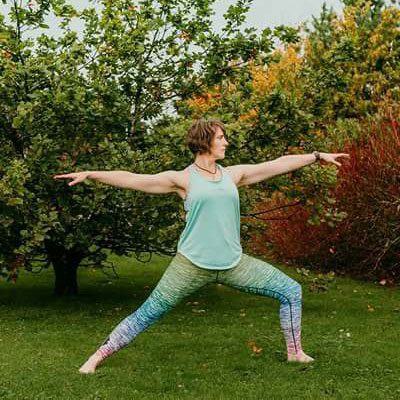 I'm a Brummie girl, now living in Telford, who after 29 years of office work decided to do the unthinkable — train to become a yoga teacher. I have practiced yoga myself for many years, always looking up to my teachers but never imagining that I would have the confidence to be at the front of a group of people, much less guide them through a class. I credit my Crossfit box (gym), and my two yoga teachers with giving me that confidence, and now I really can't imagine doing anything else.
DOES TEACHER TRAINING SET YOU UP TO RUN A BUSINESS?
A yoga teacher training doesn't really cover setting up your own business. I am really not a business woman at all, but my course did give me the passion and drive to walk into gyms and ask if they wanted yoga classes, and to make up leaflets and walk the streets spreading the word about the new teacher on the block.
My business plan was very loose. The only numbers involved were to build up my income to what it had been in my office job, and that took six months. Apart from that, I knew I wanted a mix of gym classes for the regular income, and a couple of classes where I hire a venue – more risky but with the potential to earn more. I also knew that, over time, I wanted to switch the balance to more community classes, and reduce my gym classes. Over my five years of teaching that has now happened.
There is a lovely, close-knit community of yoga teachers in Telford who support each other and help to promote each other's classes and workshops. We are all very different in every way, but I am most definitely the less bendy, cuddlier one, and I'm very happy and proud to be her. So I wouldn't say I chose my niche, more that it's just who I am. When I first started teaching I tried to be like my teachers, because I thought that's the way you're supposed to teach, but I quickly realised that didn't work and have settled into my own little groove.
CONTINUOUS PROFESSIONAL DEVELOPMENT
Over my five years of teaching I have trained in Hatha, Yin, and Yoga Nidra. I'm currently doing an online Pranayama course. Having come from a gym background I find as time goes on that my teaching and my own practice is becoming more spiritual, and I am delving deeper into the energetic world, training to be a reiki healer and a crystal healer.
When I first started teaching I would beat myself up for being so exhausted all the time. I was physically fit (I did Crossfit for goodness sake!), so why would 16 classes a week completely wipe me out? I gradually accepted that I needed to take time out for myself. I would walk, read, meditate and do anything else that felt good to recharge (I do love a good nap!) — and try not to feel guilty that I would be doing this in the middle of the day, when the rest of my family were working hard (this is my down time, between my morning / lunchtime classes and my evening classes).
To accept that not everyone will like me; not everyone will take to 'Gill Yoga' — and that's okay. Also, that not every venue will work, however perfect you think it is, and however much you really want it to work — and that's okay too.
Given the myriad of issues surrounding Covid-19, I will always have at least one online class on my timetable. I honestly believe that nothing compares to practicing together in the same room, but online has its place and always will from now on.
Find Gill Littleford Yoga & Pilates on Facebook: Gill-Littleford-Yoga-and-Pilates
Written and compiled by Claudia Brown (yogabyclaudia.com)