Tips from the experts to help you grow the yoga business of your dreams
Dinah Siman, 56, Yoga, Pilates and Menopause Pilates instructor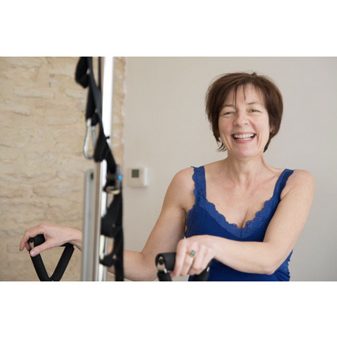 DOES TEACHER TRAINING SET YOU UP TO RUN A BUSINESS?
When I first started teaching in the movement field over 22 years ago the answer was definitely 'no'! I had to figure out what worked for me and how to run classes, book-keeping, advertising, insurance — it was learning on the job for sure!
Networking. To begin with it was always by going out of my way to make contact with other teachers, therapists and practitioners. I developed a solid network of chiropractors, osteopaths, physios, acupuncturists, cranial therapists, reiki healers, massage therapists, psychologists, you name it, to whom I referred and vice versa. Communication is the key. I've taught a fair number of therapists over the years: it's the best way for them to understand your work and that you have the best interests of your clients as your primary motivation. The vast majority of clients have come from word of mouth, recommendations and referrals. Communicate!

I use Instagram. I love it! I'm currently working on my new brand which is Menopause Pilates, so I'm developing my presence with regular posts and again networking with others in the field.
I have the greatest admiration for two of my teachers, Jo Avison (author of Yoga: Fascia, Anatomy & Movement) and Alexander Filmer Lorch, (author Inside Meditation: In Search of the Unchanging Nature Within and The Inner Power of Stillness). I trained with them at The Art of Contemporary Yoga. They are both brilliant in their fields. Jo is the best anatomy teacher possible. Her in-depth understanding of human movement from her background as a structural integrator, in addition to her extensive yoga practice, gives her exceptional insights and her classes are always inspiring. Working with Alex to learn about the universal teachings and to go on to teach for him and develop my own practice is one of the greatest gifts in my life. I can truly say the work is transformational.
Self care is absolutely vital. I have been teaching between 20–26 hours a week for over 22 years, raising three children with large periods as a single parent. I haven't always kept my self-care in the forefront: even though I know I should, life gets in the way as we all know. But I have always ensured I have a treatment for my body regularly, at least once a month. This may have been chiropractic, crystal healing (my fave), acupuncture, cranial sacral therapy, massage or reiki. Regular meditation and yoga practice on my own mat is a must, even if it's Savasana! Practice! Spending time outside, walking and seeing friends are all vital. I've also found all the ongoing training over the years hugely nurturing, spending time with other teachers or on retreat. The life of a movement teacher can be lonely at times; it's really important to stay in touch with other teachers and not feel isolated. You need to be able to talk to someone about your day, your aims, your highs and your lows. Staying in love with the teaching is also part of self-care, which is why your own practice is so important: it reminds you why you're in the business.
Written and compiled by Claudia Brown (yogabyclaudia.com)