Antonia Hruscovschi, 28, Shanto Yoga Birmingham 200hrs RYT multi-style @shantoyoga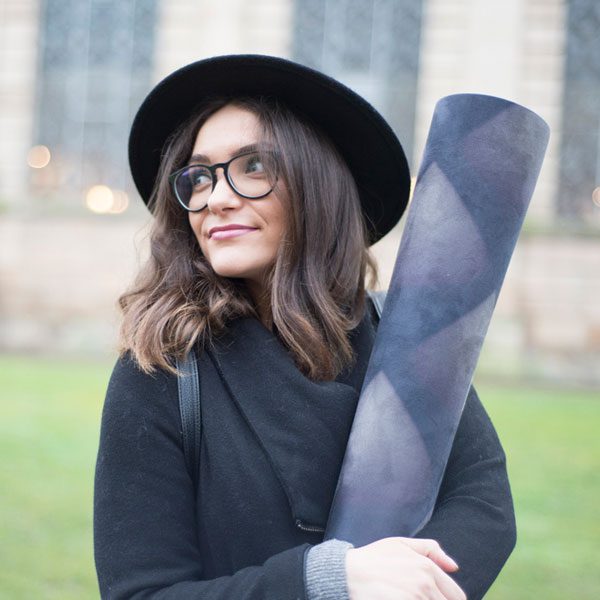 DOES YOGA TEACHER TRAINING SET YOU UP FOR RUNNING YOUR OWN BUSINESS?
A yoga teacher training is a beautifully-immersive experience, but unfortunately, my training didn't set me up for running my own business. After talking with other teachers from the industry, I have noted that this is commonly missing from teacher training in general. I qualified in India and my school greatly emphasised a traditional way of teaching without too many details about how to get into the industry, how to promote yourself or how to step into entrepreneurship. Whether you are teaching yoga full-time or part-time, you are running a business and it's something rarely discussed in depth as it should be.
DO YOU HAVE A BUSINESS PLAN?
My background is in marketing and I have also completed a business degree so I stepped into my teaching journey prepared to build a business. My business plan covers everything from training and continuous professional development to income, expenditure and goals for the next five years. I manage every aspect of my business on my own so this means that I can personalise my plan to reflect everything that I want to accomplish. I believe you can make this document as detailed as you like. The magic in it is that it helps me stay on track, constantly reminding myself of why I have chosen to do the things that I do, where I am heading, and what I need to do to get there. It is also a great tool to look at the things that work and those that don't so you can adjust along the way.
ANY GREAT MARKETING TIPS?
From my experience, a lot of people from the industry roll their eyes when they hear about marketing because they don't want to sound too 'salesy'. Well, marketing is the art of selling and it's so much fun and creative. As a yoga teacher, you're probably already doing marketing without even realising it, whenever you speak about the services you offer. Marketing is a simple tool that allows you to reach more people with your message.
Probably the greatest tip is to be yourself and share your content authentically. Yoga has been around for thousands of years and there are only so many sequences we can come up with — people will come to your classes for who you are, the energy you share, and your uniqueness.
WHAT ABOUT MARKETING BLOOPERS?
So many! From not building a mailing list from the beginning of my career to tech issues while doing lives on social! Every blooper is a lesson though and since technology changes constantly, so we need to give ourselves a break. Everyone is too busy thinking about themselves, nobody cares as much as we think they do!
HOW DO YOU USE SOCIAL MEDIA?
Instagram is my main platform to engage with my community. I use it daily (probably more than I should!) and it has been of great value for my business.
In terms of advice, I would always say to be authentic and create high-quality content. Being authentic doesn't mean that you should share your whole life on Instagram (unless you want to do that), it means to speak your truth and stick to your values regardless of what anyone else is doing.
In terms of high-quality content, I would say that you need to find out what your audience wants from you, but there are a few basic things that work well for Instagram:
High-quality images/videos: either find a photographer to work with or ask a friend to help you out.
2. Always seek to give value to your audience, from your images to your captions.
Long gone are the days when a picture with a quote in the caption would get you hundreds of likes. Also, it's important to remember that the number of followers or likes is not what matters most, but the community you're building and lives you change with your message!
I have two niches (yes, it's possible!). On the one hand, I focus on people who are just starting their yoga journey and help them gain the confidence to step on the mat. Too many people don't do yoga because they think that they're 'not good enough' for it. My mission is to show that yoga is for everyone. On the other hand, I love to help newly-qualified yoga teachers to find their voice and build a profitable yoga career.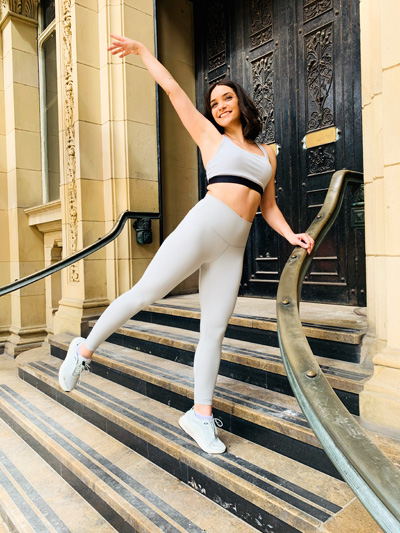 WHO DO YOU ADMIRE IN THE YOGA WORLD?
My ultimate favourites (and the people on my vision board!) are Ambra Vallo, Celeste Pereira and Kelly McHugh.
WHAT'S THE SECRET TO MAKING A LIVING TEACHING YOGA?
It definitely is possible and there are different ways of generating income through yoga. One thing that I have learned the hard way is that running around from studio to studio will not only leave you feeling exhausted but it may not generate the thriving income that you deserve. The secret is to build your community, both online and offline, and create a mixture of offers — studio classes, workshops, private clients.
If you're a teacher just starting your journey, network as much as you can. It may be awkward at times, but it is extremely rewarding. Before you apply to teach at a studio, be a client first and invest in the businesses you want to be part of.
WOULD YOU RECOMMEND A BUSINESS COACH OR A MENTOR?
Yes! This is so important when running your own business and it's often overlooked. I work with a business coach and I regularly join different business and wellbeing group coach programmes. I don't have a mentor just yet, but it's definitely something that I would love to explore once I find the right fit for me. I genuinely believe that investing in yourself should be a top priority and my business coach helped me get out of my own way and navigate limiting beliefs that have been holding me back.
That is such a great question and in all honesty, I am still working on finding the right balance for me. As yoga teachers, we give wholeheartedly to anyone that comes to our classes and we often forget to replenish ourselves. My self-care routine is an accumulation of little habits that I do consistently. I journal and meditate every morning and I limit the time I spend on social media. I also schedule a time for myself every week to do the things that I love most: reading, going to restaurants, or taking someone else's yoga class.
WHAT'S BEEN YOUR HARDEST LESSON?
Burnout is real and it's not cool. There is nothing honourable about exhausting yourself — you cannot give from an empty cup! Prioritise self-care.
FUTURE TRENDS IN THE YOGA WORLD?
Oh, we are living such interesting times. It is wonderful to see how much the yoga industry is expanding. Yoga is needed now more than ever and we are privileged to live in a world where everything is available at the click of a button. Although online sessions are amazing and they provide easy access to our favourite teachers I don't think that the virtual world can completely replace human interaction and the physical practice with a teacher. The business of yoga teaching will have to adapt accordingly and we will see more teachers and holistic practitioners stepping into their entrepreneurial power and finding innovating approaches in the contemporary market. There is a new generation of yoga teachers coming and they are consciously learning from the greats of the industry and their experience!