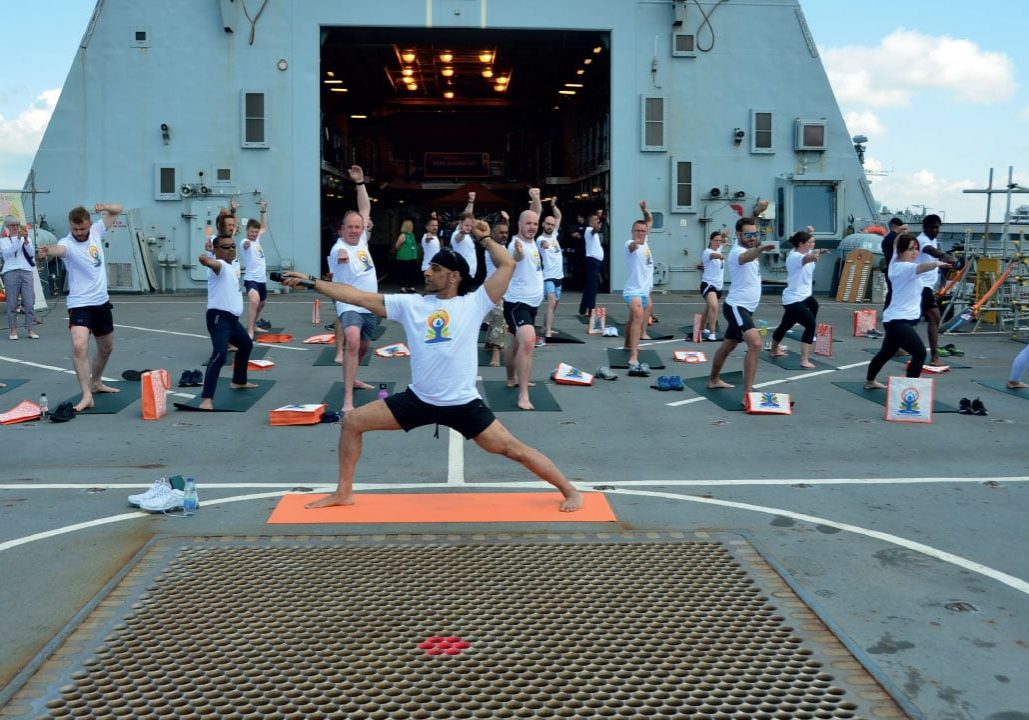 Neil Patel of Chi Kri Yoga introduces the ancient practice to the men and women of the British armed forces
Yoga is for every body — including the men and women of the armed forces! We love these images from this year's UN International Day of Yoga, showing the Chi Kri Yoga (chikri.com) team teaching soldiers and sailors of the British Army and the Royal Navy.
The various yoga events, set up by the High Commission of India in London, included a visit to the naval base in Portsmouth for a one-of-a-kind class on board HMS Diamond, a Type 45 Destroyer — a truly unique setting for a yoga class.
Neil Patel, the founder of Chi Kri Yoga — and a long-term friend of OM magazine— says there is a natural place for yoga among our soldiers, sailors and warriors. In India, yoga is commonly practiced among servicemen and women.
"I hold crew, soldiers, warriors and fighters in extremely high regard — despite being a yogi myself," he tells OM. "These men and women would be the first to aid the nation in an emergency and deserve our upmost respect for their courage and bravery, often leaving their families for months and months at a time. The Navy themselves guard our coastlines night and day while we sleep, protecting the peace we can all share with one another."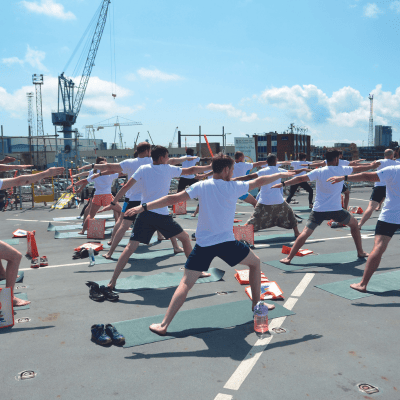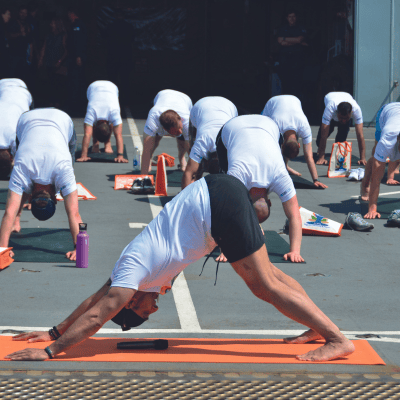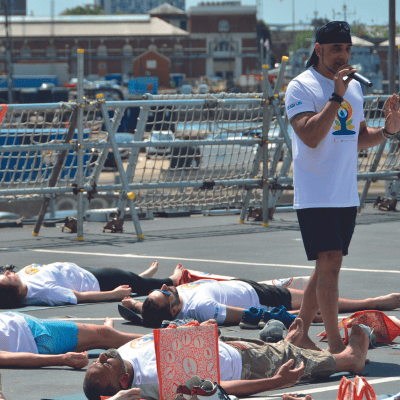 The High Commission of India worked together with the Royal Navy for a group yoga class on HMS Diamond while it was moored in Portsmouth.
"I can honestly say I've never done a more unique, challenging, interesting and fun yoga class than this! It was a real test of my capacity and ability as an instructor, teaching yoga on the deck of a war ship. I was blessed with around 30 enthusiastic Royal Navy servicemen and women, who were happy to learn, full of spirit…and pretty damn good practitioners to boot!"
Patel says the yoga 'mission' was part of a global 'Ocean Ring of Yoga' campaign set out by the Indian government, and involving Indian ships across the world for the UN's International Day of Yoga held on 21 June each year.
"In the UK, this particular element of the ring fell into my hands — and on a humungous British Type 45 Destroyer! My small, but powerful, Chi Kri family team on the day consisted of Mina and Nitin Changela — and naturally, Lord Vishnu, for guiding everyone's safety and ensuring the blessed work of yoga continues to go into new territories, and from strength to strength."
This HMS Diamond itself typically travels alongside larger, QE2-sized battleships, protecting them from airstrikes. Type 45s have sea-to-air missiles that can strike where the QE2 is too big to turn around and fire. "I spoke to many of the crew members, aged just 18 and 21, and their lives consist of being away from home, living in tight conditions, being battle-ready and living a life of strict discipline."
Somewhat like a yogi's life in a broader, spiritual sense, he ponders.
"A yogi has to be at war constantly with their mind, ego, desires, body, disciplines — and even with the Truth and God — to find their way to freedom from a tough, material world. Our enemies are within. But I note that discipline and a readiness to fight are similarities with these young men. As a yogi, I humbly salute all good-hearted solders."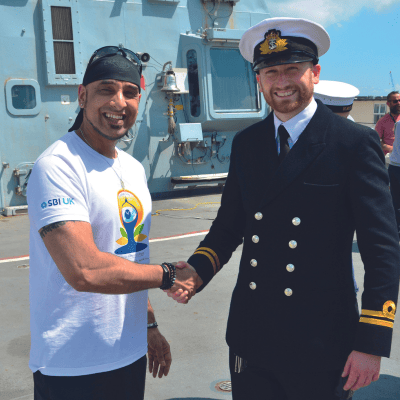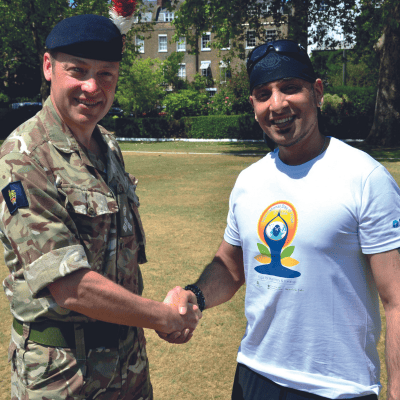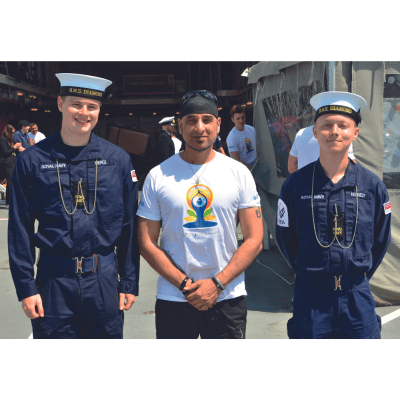 Working alongside the armed forces is also something personal and meaningful to the Chi Kri founder himself.
"I'm always thrilled to teach kshatriyas (the warrior class)," he says. "As a half-Lohana myself, our ancestors come from soldiers who used to protect the northern half of India (Lohanas are descendents of Lord Ram's son, Luv , and first known as Luvana). A nation always needs defenders, soldiers who are willing to put life on the line to protect our children, or to act as a physical deterrent to invasion. It's a dirty job, but somebody's got to do it!"
Moreover, he adds, yoga is not about peace alone. "Lord Ram, Krishna and other incarnations of Lord Vishnu slayed millions of people as a last resort to protect dharma in descending yugas. Lord Krishna asked Arjuna to fight and kill his own family, as a final resort, when they were about to take Hastinapur by evil means. Who is going to stand up and fight at these moments? A trained army, that is who."
At Chi Kri, Patel always trains his students to be warriors and not worriers. "We even have a posture named after a soldier, Virabhadra, the warrior pose, in which we get deeply into the warrior mindset, and use that spirit to fight our egos." In the study of Ahimsa, the great sage, Patanjali declares that, to protect the innocents, defence is understandable, he adds. And if the aggressor is big and strong, a defence arm of the government is therefore needed. In the manusmriti, the first book of civilisation, warriors were so important Lord Brahma's first son, manu, created a whole class for them.
"Yoga is a discipline and so are the warrior skills. And if yoga can help instil the desire for harmony and proportion into the minds of our forces, then it has found another good home. I know it might be tough to grasp, but Chi Kri Yoga salutes our defenders. That does not mean we support each and every political order around the globe, we do not — but we do know how to separate the nature of an honest warrior from the motivations of a corrupt leader."
You can see Neil Patel at the OM Yoga Show this year hosting the inaugural OM Yoga Awards. He will also be giving a speech on yoga and cancer at the London show. Find out more about his work at Chi Kri Yoga at: chikri.com or connect on Instagram @chi_kri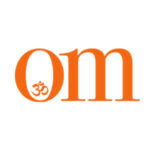 First published in November 2009, OM Yoga magazine has become the most popular yoga title in the UK. Available from all major supermarkets, independents and newsstands across the UK. Also available on all digital platforms.