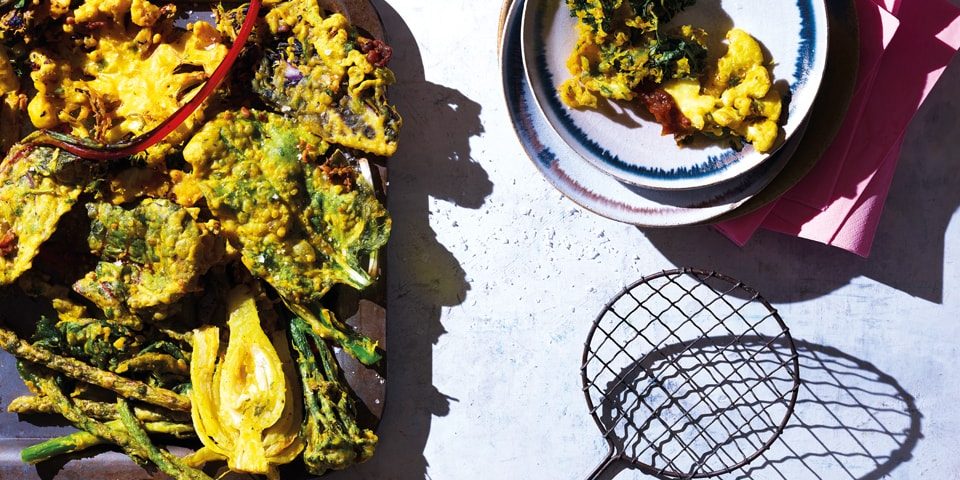 Seasonal Veg Pakora
SERVES 4-6
Traditionally, just gram flour is used but we find adding rice flour and baking powder makes for a crisper batter at home.
Veg oil, for frying, around 1 litre (1.7 pints)

2 tsp ajwain seeds (also called lovage or carom seeds; swap for fennel or nigella (black onion) seeds if you can't find them)

A thumb-sized piece of ginger, grated

1 green chilli, thinly sliced

A small bunch of coriander (stalks included), finely chopped
Spring / summer veg combo ideas:
New potato and watercress
Autumn / winter veg combo ideas
Grated apple and beetroot

Sweet potato and sliced spring onion

Brussels sprout and beetroot
Pour the oil into a large saucepan or wok – it needs to be 5-7cm deep – and place on a high heat.

Put the gram and rice flours into a bowl, along with the rest of the batter ingredients. Slowly pour in 500ml water and whisk until a batter is formed – you're looking for the consistency of a thin pancake batter.
Test the oil to make sure it is the right temperature by dropping a piece of batter into it. It should fizzle and turn golden in around 30 seconds. If you have a thermometer to hand, the oil should be 180°C/355°F

Drop a small handful of your chosen veg (see above) into the batter and make sure it's evenly coated. Allow any excess batter to drip off, then gently drop the veg into the oil. Fry until golden on one side and then turn over, using a slotted spoon (they will take around 1 minute 20 seconds on each side).

When the pakora is golden on both sides, lift it out of the oil and drain it on a piece of kitchen paper. Season with a generous pinch of salt on both sides. Repeat until all your veg is cooked. You can cook two or three pieces at the same time, depending on the size of your pan and the veg.
Recipes extracted from SpiceBox: 100 Fresh, Vegan Curry House Favourites by Grace Regan (Ebury Press £20) photography by Joff Lee and James Lee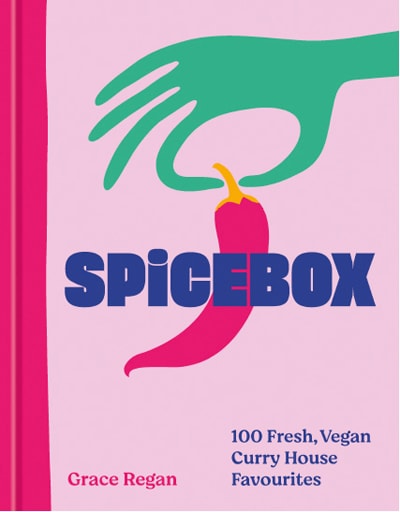 Mauris vitae ultricies leo integer. Mauris pellentesque pulvinar pellentesque habitant. Egestas dui id ornare arcu odio ut sem. Volutpat commodo sed egestas egestas fringilla phasellus faucibus scelerisque.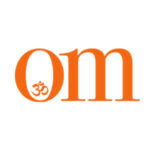 First published in November 2009, OM Yoga magazine has become the most popular yoga title in the UK. Available from all major supermarkets, independents and newsstands across the UK. Also available on all digital platforms.