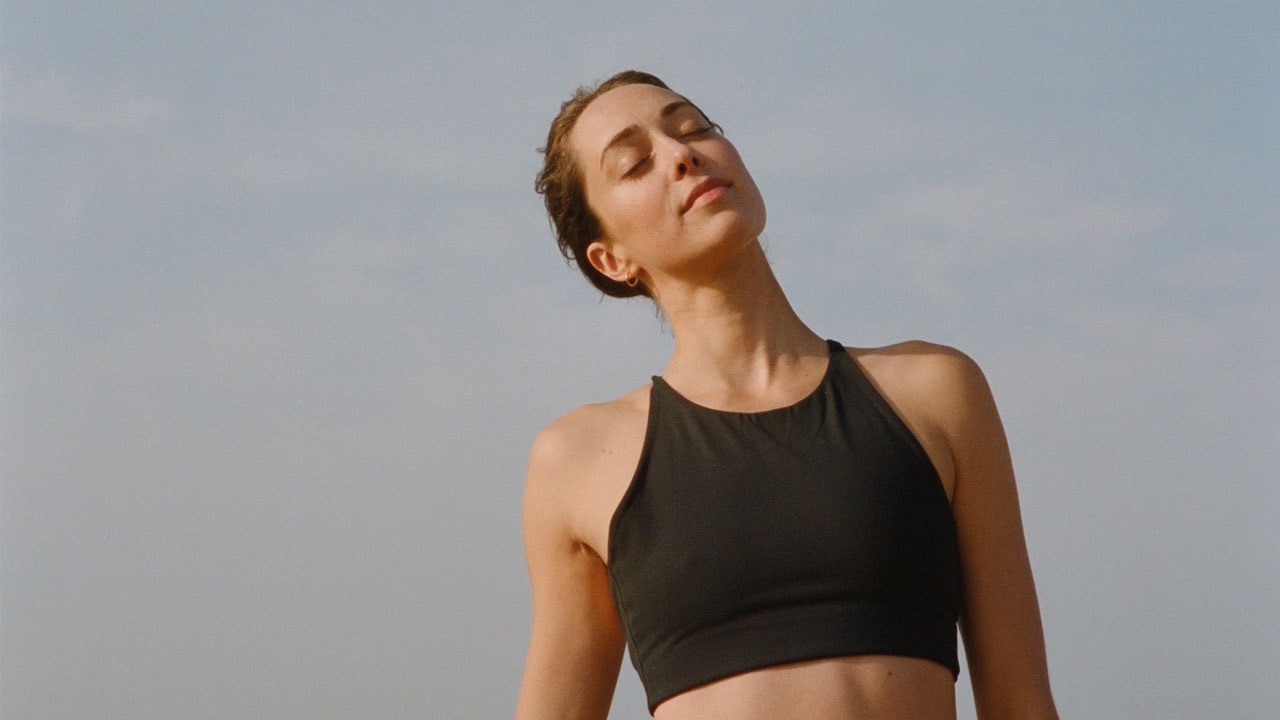 How did you first get into yoga?
I had been meaning to go to a class for a long time. My sister sent me a free pass, so I bit the bullet and went. Even with little experience of yoga or meditation, I had this 'mantra' running through my head constantly during and after the class, 'I am love'. I felt so connected to myself and others, and so full of love. I was instantly hooked.
Yoga came into my life during a particularly difficult and unsettling period of change and trauma.
Yoga helped me so much during this time as it gave me a constant to come back to over and over again, a safe and calm space to still my mind and connect back into me. It made and still makes me feel strong, open and connected in the body and mind.
Although it may sound cliché, yoga helped me pass through this period and come out the other side intact and in a better space emotionally.
Yoga really is a journey and I believe our relationship to it changes as life shifts. Yoga gives you what you need when you need it; as your practice broadens, you are able to utilise the many forms of yoga in many different ways, reflecting your life stage or mood.
Tell us a bit about your yoga practice?
My yoga journey followed quite a traditional path. Initially, I was drawn to the deep backbends, difficult arm balances and the strong practices such as Ashtanga and Rocket. However, like many others I found this practice unsustainable, picked up some injuries and then eased back a little. My practice is much more varied now, reflected in the offering at my digital studio, The Yoga Class: Vinyasa to Yin (Mindful Movement), Meditation to Power. I still love a strong Power class, but movements are more controlled, steadier and balanced with softening stretches and meditative elements.
What does yoga give you personally?
Yoga to me is strength, space and connection, both physically and mentally.
Yoga has changed for me as my life and mindset has changed, moving from a strong and fast-paced practice to a sustainable, steady, breath-led and varied home-based, self-practice.
My practice now includes a variety of yoga styles, so I can shift the approach according to how I feel.
Moving and breathing in my own space and time, at home, has helped me develop a greater awareness of my own thoughts and patterns, and, of course, a stronger and more supple body.
Yoga is the first 'exercise' that I have enjoyed in my adult life. I love the connection of the breath and movement of the body. I love that my body feels strong and open. I love the creativeness and dynamics of sequences. I love how my mind observes yet is calm and still. I love how yoga makes me feel. Yoga makes me a better person, a better mother, sister and daughter.
Yoga is a tool you can use daily to give your body and mind what it craves at any given time: building strength, finding release, moving through a gentler, softening meditation, or finding something in-between.
Any favourite teachers or studios?
I love Amanda Denton's classes at Indaba London and also Caitia Leite's practices for a beautiful breath-led strong Vinyasa Yogasana. Their ethos of a dynamic class, led by self-awareness and the breath, to create a moving meditation is something I feel very aligned with for my yoga practice and teaching.
I also really enjoy keeping movement fresh and varied and love bringing in elements of Pilates and Barre to fuse with yoga. I love how movement in the body can be varied across disciplines to create interesting sequences and a healthy, strong, supple, and mobile body.
How would you describe your own teaching style?
I teach my students to move compassionately with the breath, making their practice a moving meditation and encouraging everyone to listen to their own body. I teach Vinyasa, Power, Beginners, Yin, Meditation and Breathwork across all levels, through creative and informative yet challenging classes, taught with grace and compassion.
I aim for movements that create a healthy, happy body that is strong, lean and supple. My focus is to nourish people through movement to improve strength, tone, mobility and posture, and create a stronger connection between body and mind. I am also a very strong believer that yoga is for everybody, all body types and ages. I always explain any specific terminology or techniques to help others find release, space and connection.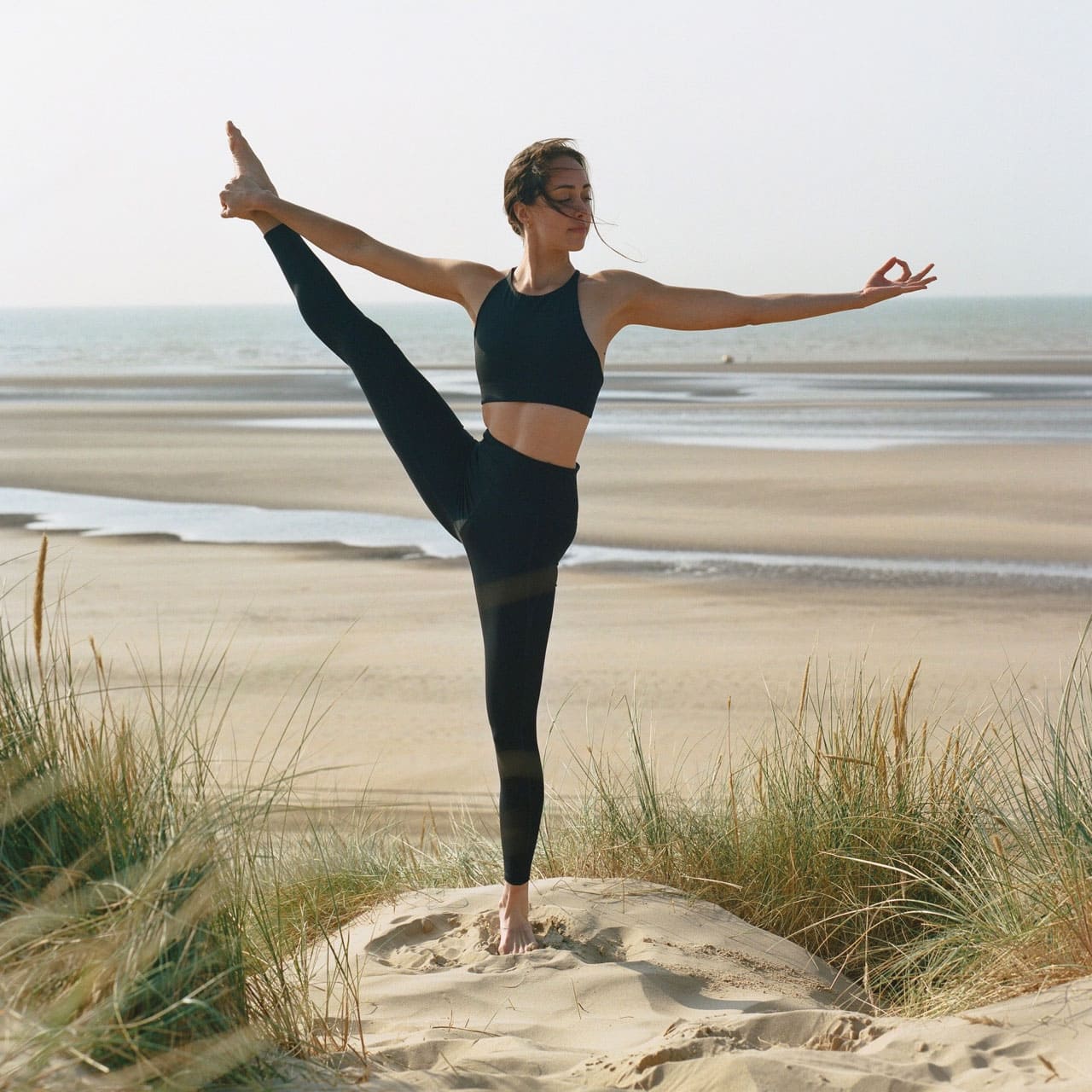 Yoga career highs so far?
Starting my own yoga business, The Yoga Class — a Digital Yoga Studio —has been the best thing. This is an affordable and flexible online space for those with 10, 30 or 60 minutes to move and breathe, create strength in the body and mind, or unwind and de-stress from wherever they are in the world. It has been a dream come true to launch this business encompassing everything that I love. Seeing students sign up to the platform and find its benefits from all over the world has been hugely gratifying. It's been an amazing milestone and honour to be featured in magazines such as OM, Vogue, Country and Townhouse and Sheer luxe. My digital studio is for everybody, all body types, all yoga abilities and executed in a sustainable way for our environment.
What are your plans going forward?
It's important to me that I keep on learning and growing my own practice, both for myself, and to become a better teacher.
However, The Yoga Class currently has my full focus. We have had some amazing features and collaborations so far; things are also evolving all the time with lots of new and exciting elements in the pipeline. It's an incredibly exciting sector, which is changing quickly due to the global climate. I'm also thrilled to announce that I have just signed off the launch of The Yoga Class app to include 'live' classes and I'm also adding some specially selected teachers to cover Pilates, Barre and Pre and Postnatal Yoga.
Any advice for new yoga teachers starting out?
Teaching happened for me because I fell in love with the practice and wanted to share it. It's so important to let your own yoga journey guide your teaching style. This is what makes you unique as a teacher and adds value to your offering. It's so important to keep learning, keep growing and let what motivates you be what you teach. The rest comes with practice.
What do you know now that you wish you'd known when you started out as a teacher?
I am a firm believer that we are always on the right path for ourselves; we are always in the right place. Even if we do things that could seem like the wrong choice at the time, these 'wrong' decisions enable discovery and realisation. In learning to embrace these 'mistakes', we can learn and grow.
My 'ah ha' moment in my yoga practice happened when I stopped chasing the unattainable ideal of being the 'best'. I stopped thinking about how my practice looked to others and concentrated on what I needed and what felt good to me.
This is something I always follow when creating a sequence and something that I always highlight in class.
Any tips for students new to yoga?
Get on your mat as much as you can, breathe, persist and things that feel impossible will start happening for you. You will steadily feel your body and mind changing in lots of ways and it will feel good.
What do you say to people who think they're too inflexible or too old to do yoga?
There is no such thing as being the wrong shape, too old or too inflexible for yoga. For a start, yoga is about balance: a balance between strength and flexibility, rather than just being about flexibility. Secondly, there is no one-size-fits-all for anything, especially yoga, so remember this. Your body will do things at different times and progress in its own way and in its own time, so enjoy the process.
My advice is to find a teacher whose ethos and teachings resonate with you. Set time aside in your week for your practice and try to stick to it. It may feel tough at first, but your reward will be a lifetime of benefits well worth your efforts.
What do you do when you're not doing yoga?
Throughout lockdown in London, fun has mostly meant spending time with my family, including my little boy Jude who is eight, and my new Cocker Spaniel puppy, Leia.
I love travel, different cultures, art, design, film, food and nature. I cannot wait to be able to travel again to see the world and experience these much-missed things. I have an exciting retreat in the pipeline for when we can travel again.
What else inspires you off the mat?
Sustainability is a very important topic for me and I feel it is especially important for business to drive change forward. I commit to using just sustainable products and brands, using green energy, offsetting my business's carbon, planting around 150 trees a year, and funding climate positive projects around the world.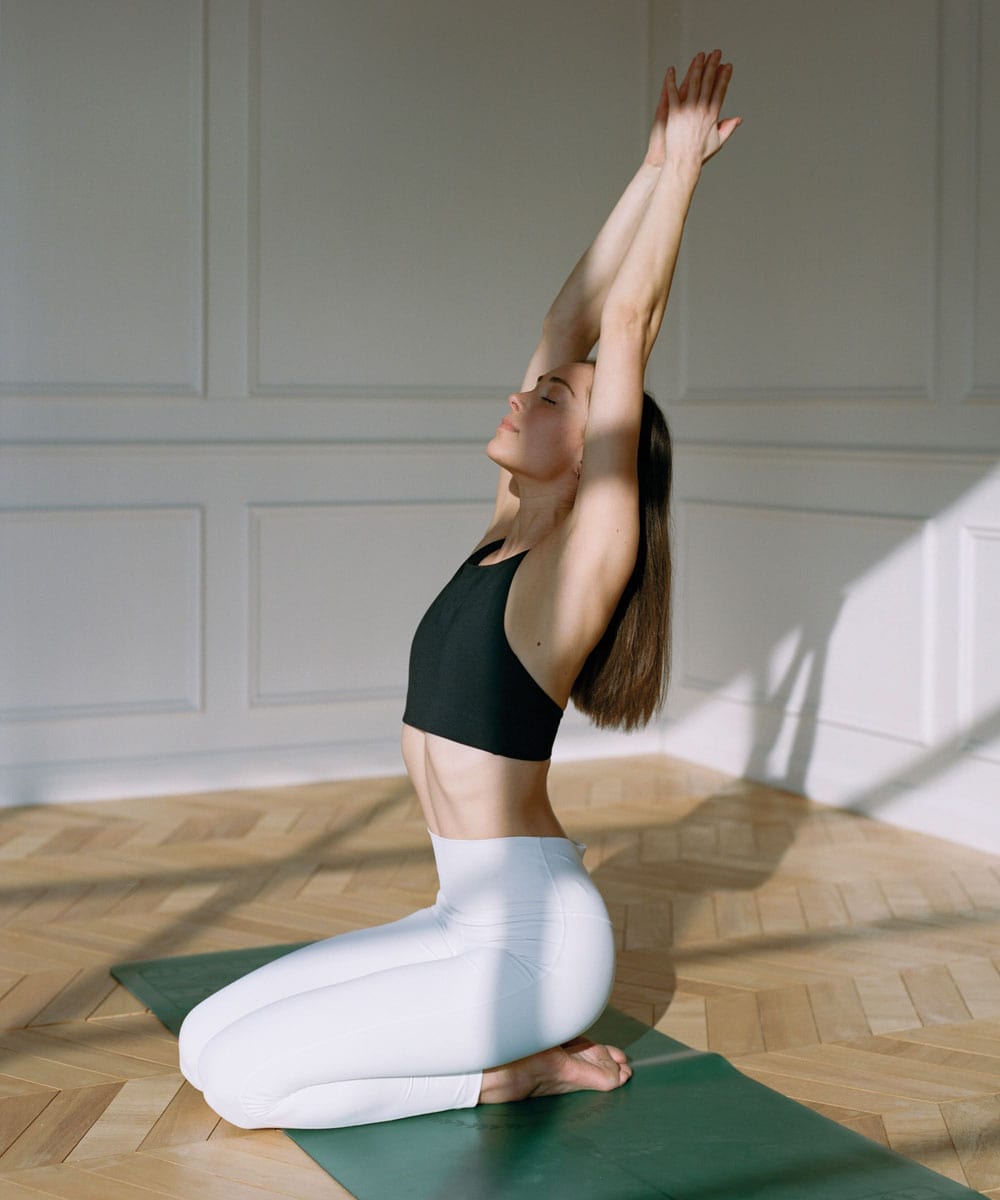 Any tips for incorporating yoga into daily life?
Listen to your body; if you feel tight or stiff in a particular area you can move intuitively as and when you need to find release. Breathwork is something that I find helps me so much. If you feel overwhelmed or anxious you can use breathwork, pranayama techniques, anytime and anywhere to find some space and calm the mind again. Try Cadence breathing — it is so simple and so effective, tapping into the parasympathetic nervous system to induce a more relaxed state.
Any thoughts on diversity in yoga?
The 'idealising' effect of Instagram can be extreme and unhealthy. The poses of advanced yogic asana, for example, are very beautiful, however they can be unachievable for many of us. Due to bone configuration, body proportion and more, some bodies will just never be able to achieve these poses however much yoga we do.
Yoga is for all body types and ages and doesn't have to look a certain way. It's not about being good at yoga, or how the posture looks, it's about getting on your mat, committing to your practice and strengthening, opening and creating awareness of the body and mind. If you are a busy mum and have 30 minutes to connect to your body and breath, then I say this is more 'yoga' than the moment for a posed hollow back Pincha Mayurayasna. As with anything, diversity is needed and is one of the most beautiful elements of life. I hope diversity and inclusion can be reflected in all industries.
Laura Dodd is the founder of The Yoga Class (theyogaclass.co), a digital yoga studio. Sign up today for a free 14-day free trial or connect on Instagram @theyogaclass.co
Favourite yoga book?
I would recommend Yoga: The Spirit and Practice of Moving into Stillness by Erich Schiffmann. This is such a great book to start your yoga journey. A guide to poses (asana) with thorough instructions on the postures and other yogic techniques. This book is filled with the wise words of a guru, yet encourages the reader to trust themselves as their own best teacher. This personally resonates for me. Also, The Alchemist by Paulo Coelho is a simply told, brilliantly spiritual book that makes me want to read and reread.
Go-to health food?
I believe everything in moderation and in listening to your body when it comes to food. I like nutrient dense plant-based foods that sustain my body and mind and it's so important to remember to drink lots of water.
Most inspiring mantra?
My favorite mantras to use are: "I love and accept all that I am and I am connected to the very essence of me" and "I am in the right place."
Favourite yoga pose?
My absolute firm favourite, and always has been, is Anjaneyasana and its variations. It opens through the hip flexors, strengthens the hip extensors, stretches the psoas muscles, opens the shoulders and chest and strengthens the gluteus maximus and hamstrings. It feels grounding at the same time as being uplifting.
If you could take a class as a student with any teacher from anywhere and from any time who would it be with and why?
It would be a Mysore Ashtanga practice with K. Pattabhi Jois. Ashtanga Yoga was the birthplace of all modern Vinyasa yoga and even though a lot of the postures are not suitable for many of us, I love the rhythm, sequence, strength and focus it requires.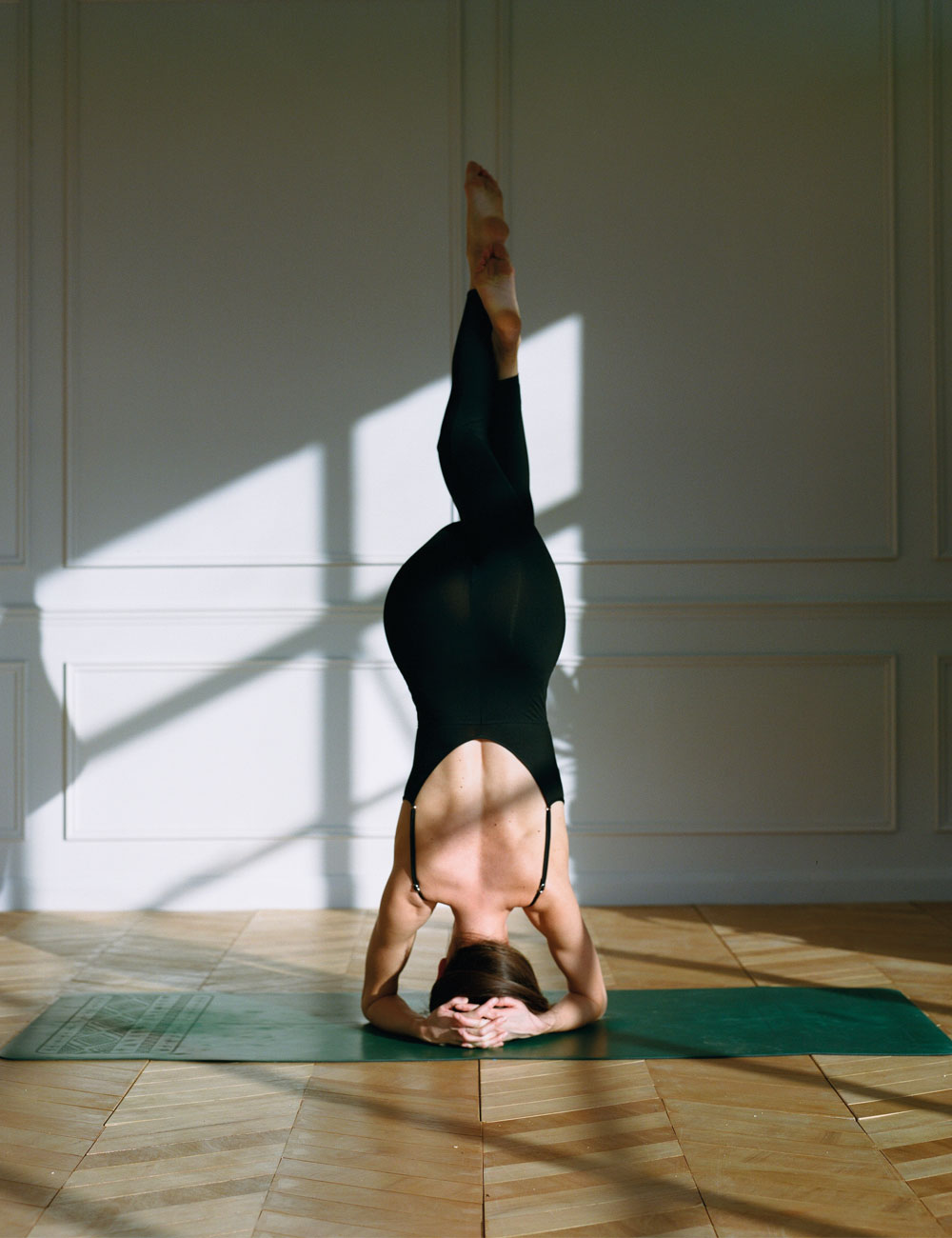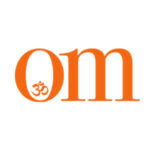 First published in November 2009, OM Yoga magazine has become the most popular yoga title in the UK. Available from all major supermarkets, independents and newsstands across the UK. Also available on all digital platforms.