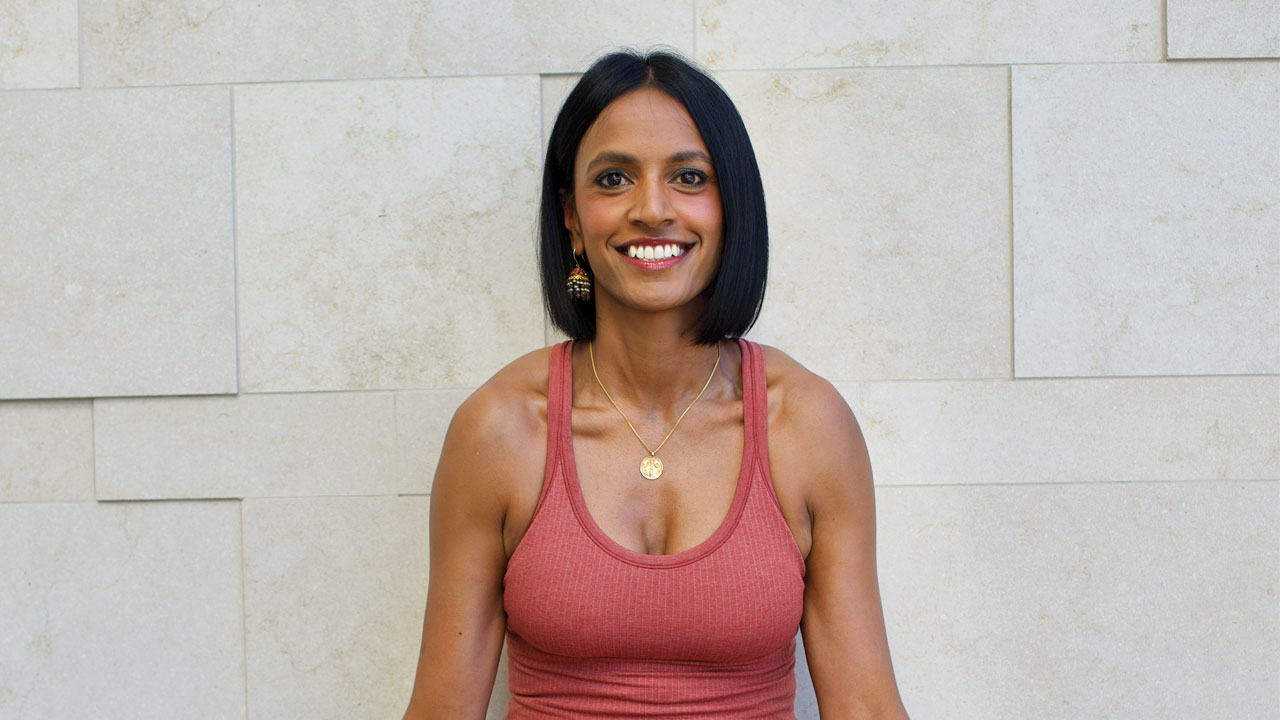 OM meets...
Anusha Wijeyakumar
At one point in our conversation, I ask women's health and social justice campaigner, yoga teacher and author Anusha Wijeyakumar what links everything she does. She says simply, "It's my dharma."
Wijeyakumar who has a raucous laugh, is clearly highly driven. Even through the medium of a Zoom call, her energy is palpable. She's the Wellness Consultant for Hoag Hospital in Orange County, California in the USA. Here she's created a meditation programme and champions mindfulness and meditation practices for maternal health, early risk assessment for breast and ovarian cancer prevention and breast cancer survivor programmes. Wijeyakumar also speaks on the science of mindfulness and meditation around the world to corporate executives and universities. She's a Registered Yoga Teacher with Yoga Alliance and Meditation Practitioner, part of the Faculty at yoga activist collective Off the Mat and a community partner of the Yoga and Body Image Coalition.
Women's health and social justice is at the heart of all that Wijeyakumar's involved with. She's on the Board of Directors for the non-profit MOMS Orange County and works with inner city communities, sharing the power of yoga for a healthy mind and body and to nurture and inspire change from within. An Advisory Board Member with Yoga Ed, an organisation focused on merging science and yoga and introducing these practices to children and teens in educational settings around the world, she also co-founded the movement Womxn of Color + Wellness. Her first book Meditation with Intention: Quick & Easy Ways to Create Lasting Peace was published by Llewellyn in January 2021.
Could you give me an overview of your work?
I merge integrative medicine with clinical practices. Here, my work is about the application of ancient Hindu theories of the body, focusing on the mindfulness and pranayama portion, but yoga is part of my indigenous faith – I'm a South Asian, born in London but with Sri Lankan roots – and the decolonisation work I do is incredibly important in this whitewashed world of yoga. We've seen the issues with the patriarchy, the continual colonisation of yoga, specifically anti-science rhetoric, and the complete spiritual bypassing of racial injustice. There's been a complete spiritual disconnect. Look at the rise of QAnon in yoga.
The rise of anti-science rhetoric in yoga and wellness, which is much broader than people realise, is deeply harmful and highly problematic. An essential oil isn't going to save you from Covid-19, nor is a juice cleanse. If we actually understood yogic philosophy, we wouldn't be doing these things. Yoga is a science of the mind. Ayurveda is a science of the body.
But isn't it understandable that yoga is viewed as non-scientific when you have an interpretation of the body that talks about chakras, gunas, nadis and bandhas? These don't exist. They're a metaphorical way of reading the body.
I would agree that a lot of these are metaphorical, yes. You can't see the chakras in a CT scan or MRI. But I'm working in the areas of meditation and pranayama.
Although the science of meditation is in its infancy, it's now possible to prove through clinical studies that meditation and mindfulness are ways for us to regenerate the brain. The more we study the science of yoga, the more we'll be able to understand the efficacy of these practices.
In the early 1900s, Swami Yogananda talked about the ability of the breath to reset the body. What he was talking about was the impact of taking an inhale which necessitates an exhale which activates the parasympathetic nervous system response in the body, the aspect of our central nervous system that calms us. How does it do that?
Through the medulla oblongata. Yogis knew that without doing MRI scans and science can now verify it. The more we do, the more the ancient wisdom of yoga will be scientifically proven. We just haven't done that work.
Is Hoag Hospital exceptionally enlightened?
I have to say it's one of the greatest blessings of my life to work with Hoag. They are so supportive of everything I do which is taking an aspect of my work and making it suitable for their patients, staff and donors, while honouring the essence and roots of yoga and secularising the practices to make them accessible and inclusive to all.
My work would not be possible without the support of our generous donors at the Hoag Hospital Foundation.
What about the criticism levelled at mindfulness that, divorced from its religious context as part of the Eight Limbs of Yoga or the Buddhist Noble Eightfold Path, it doesn't really have a purpose?
Well, in a clinical setting like the one I work in, it very much has a purpose. It's used to ease pain and suffering. But I take your point and I speak about this in some detail in my work on decolonisation.
Look at the work of Jon Kabat-Zinn, who founded Mindfulness-Based Stress Reduction (MBSR). He detached all the philosophy to make mindfulness more secular. MBSR is the only model that has been clinically tested and it was developed by a white man.
That's very patriarchal. I'm not discrediting Zinn because he has done valuable work in this space and had a realisation through his travel in the 1970s, and clearly believes in Eastern philosophy, and wanted to spread this wisdom. But I saw an interview with him where he acknowledged that when we remove the essence – the Hindu or Buddhist religious context – we're really left without the substance.
What's your approach to teaching meditation and mindfulness?
My way is to ask the question: how do we take the ancient philosophy and make it useful now? The only rule in a meditation practice is that the spinal column has to be in a neutral position. If you want to lie down, go ahead, just don't use a pillow. We have to move away from the patriarchy, as represented by Iyengar, away from ableism, and make meditation and mindfulness simple because that's when people are going to do it.
The programme of very simple breathwork I created at Hoag can be done in five minutes, twice a day. In the morning, it's simple pranayama practice, and in the evening, chakra balancing. The whole premise of my work is that we've all got five minutes to spare. If you meditate for five minutes every day for seven days, you'll notice a difference.
Where does the practice of asana fit in with what you teach? Did you grow up practicing asana?
I practice postural yoga now but as a child I was taught the whole philosophy of yoga which is much more than asana. But it was in my ancestry. My grandfather, a physician in Colombo, Sri Lanka, practiced asana every day. I first did yoga asana at a gym in central London over 20 years ago and absolutely hated it because it was devoid of the essence of what I knew yoga to be.
Later, I went to the Satyananda Yoga Centre and was inducted into Maha Mrityunjaya mantra by Swami Brahmananda who's South Asian. Here I was also taught asana by two South Asian teachers. They gave me the whole spectrum of yoga, even though we were just practicing asana.
This isn't to say that I'm someone who doesn't believe white people shouldn't teach yoga. I've been blessed to meet wonderful white teachers who are honouring the practice and its essence.
Do you practice in a studio?
After the pandemic, I practice at home and have realised that's the only way for me now. In my opinion, 2020 saw a big demarcation between yoga and fitness and what I see happening, specifically in Orange County, California yoga studios, is not yoga.
What is the connection between your work, its rootedness in your faith, the teaching of pranayama, mindfulness and meditation, combating racism and addressing the patriarchy?
That's a great question because I'm doing so many things. The answer is very simple. I'm following my dharma. For those of us raised in Sanatana Dharma or Hinduism, this is only one of many lives. We may have had millions of births. But a human birth is the only opportunity we have to reach samadhi – the state in which we see our soul as spirit – and break the cycle of samara, of death and rebirth. In addition to this, if, as Hindus, we're taught the yogic philosophy in this life, it's an even greater blessing and one we've earned from previous lives.
I have been blessed to be born into Sanatana Dharma, the true, ancient name of Hinduism, which translates roughly as "the natural and eternal way to live", and to have this makeup, fabric and foundation of my life, to understand that in every single thing I do I'm following the path of right conduct. For me, that path is karma yoga, selfless service to divine consciousness, and also bhakti yoga, connection to the divine through devotion.
Everything I do, my work in a clinical setting, being a yoga teacher, activist, author, and professional speaker on mindfulness is done with my dharma in mind. I'm yoking my individual consciousness with the universal consciousness and giving the fruits of my actions back to the divine. Some days those actions are good, some days they're not. But when we're on the path of yoga, every moment of every day we're connecting with the god of our understanding.
My ultimate goal is to do the most that I can to uplift and alleviate the suffering of those around me and achieve unity. How can I do this? Well, everyone can meditate. That's a start.
Find out more about Anusha Wijeyakumar and her work at shantiwithin.com or follow her on Instagram @shantiwithin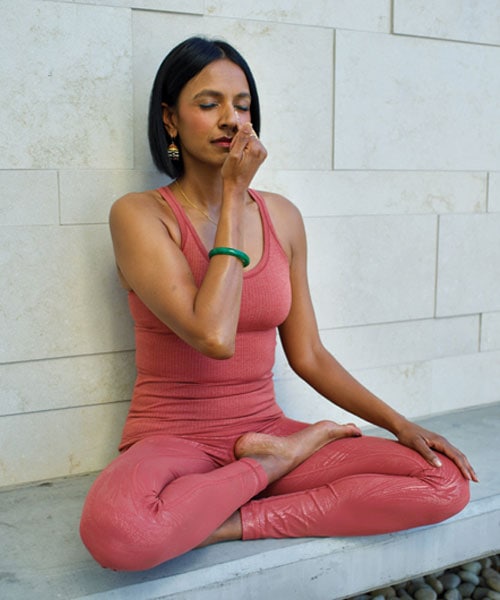 Meditation with Intention by Anusha Wijeyakumar
If you're looking for a simple, lively introduction to meditation and mindfulness that also offers a straightforward explanation of fundamental yogic principles, Meditation with Intention is ideal.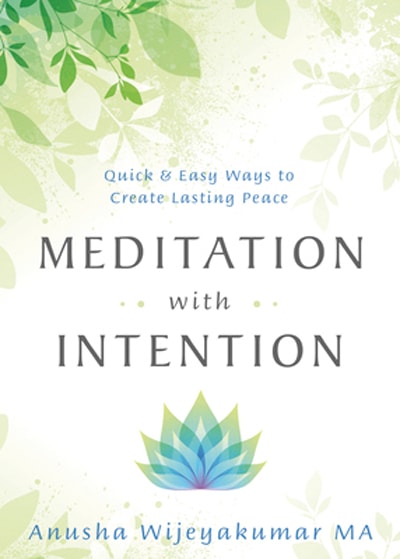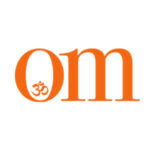 First published in November 2009, OM Yoga magazine has become the most popular yoga title in the UK. Available from all major supermarkets, independents and newsstands across the UK. Also available on all digital platforms.