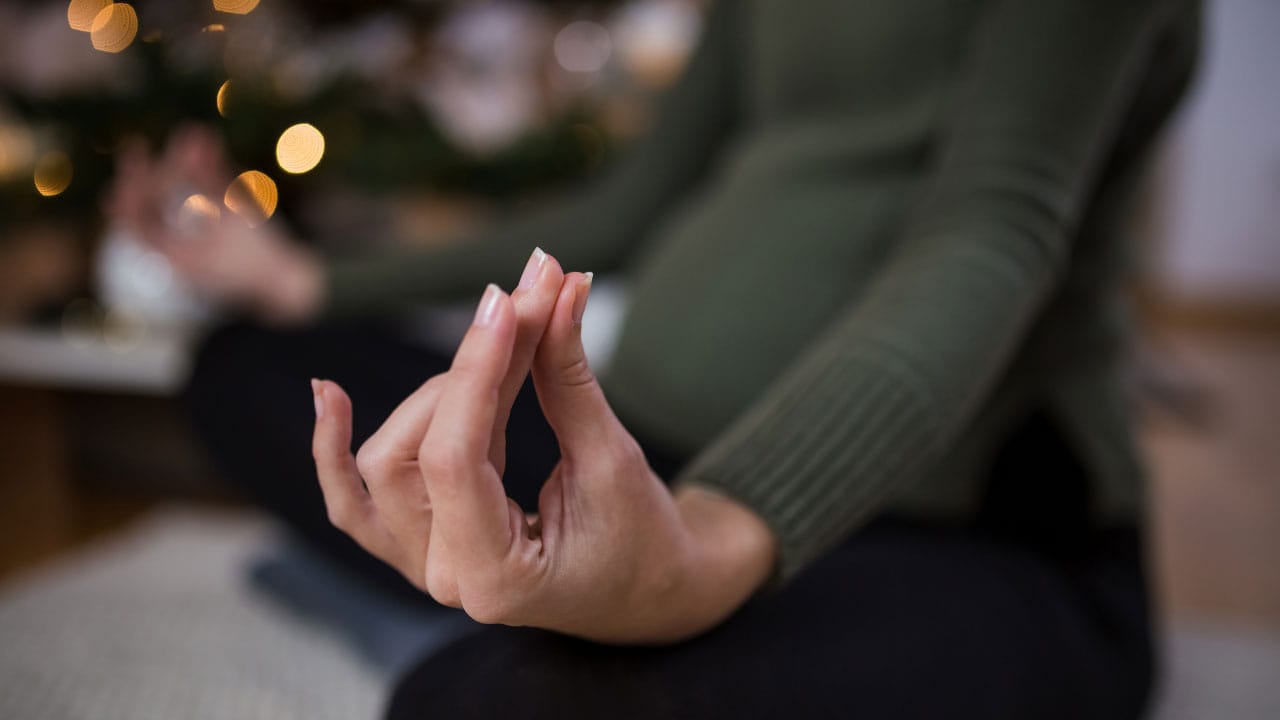 How to have a calmer Christmas
5 ways to a have a calmer festive season this year. By Louisa Mallejacq-Flynn
There's something about midwinter celebrations that can leave even the most grounded yogi feeling a little off-centre. Whether it's the unrelenting consumerism of it all in this modern world, or the increased expectations of others (as well as the expectations we place on ourselves) at this time of year, it is not unusual to feel a rising sense of chaos, as opposed to calm.
So, here are my five tried and tested ways to connect to a calmer yuletide, which will hopefully enable you to enjoy all the beauty and wonder that is around at this time of year.
1. Acknowledging the overwhelm, no matter how subtle, is key to restoring my sense of balance. After all, it's not unusual for our self-care practices to be neglected when our routines are knocked and there seems to be a lot to do. It's usually here that I realise how much I have forgotten myself. Perhaps by prioritising social engagements over my practice. Noticing the wobble tends to be the first step to realising the cause.
2. Readdressing my priorities then becomes top of the agenda. It could mean rescheduling any social events or reducing the time that I will commit to them. It could be doing less of one thing and planning to do more of another. Such as more time spent in solitude, where I can recharge. Ultimately, this is about getting conscious and mindful. It's about taking my yoga 'off the mat', and it really is the only antidote when I've been swept away in mindlessness.
3. Accepting my limits and reminding myself that just because this digital age spins images of how I am supposed to be, think, feel, and look, at this time of year, it doesn't make them true. If I am doing my best, and even when I am not, I am enough.
Christmas doesn't change that. Whether others have unreasonable expectations of me (or not), or if I am placing impossible standards on myself, it doesn't change the fact that I am always enough — and so are you.
4. Coming back to my breath really is my saviour. Despite a long and committed practice, I still forget. Most of us do, at least from time to time. It's only human to get swept up in things, at least momentarily, before realising we have been lost. If I can remain non-judgemental about it, and not put myself down for being 'bad' at staying present, then I can enjoy starting again. As many times as I need to. I can sit. I can roll out my mat. I can breathe in the moment and all that it contains and know that the 'here and now' is all that really matters anyway.
5. Remembering the bigger picture helps me to connect more to not only the energy of the season, but also with my true self and the oneness of it all. This time of year means different things to everybody, but for me, the energies of love, generosity and gratitude are the ones that I try to hold on to. As well as that, the promise of lighter, brighter days to come, and the chance we get to reflect on the year that has passed, in the stillness of the dark, all contribute to a heightened flighty feeling within me. But, by staying with the themes of love, generosity, and gratitude, and by allowing them to guide me; to be my intention, I find I am better able to flow with the season and to stay grounded at the same time.
Which not only makes for a more pleasant time for everybody, but it's also a great way to close the year and make way from the new. Wishing you a happy, calm Christmas!
Find Louisa Mallejacq-Flynn on Instagram @breatheandbeme
If You Enjoyed This, Then You May Also Like...