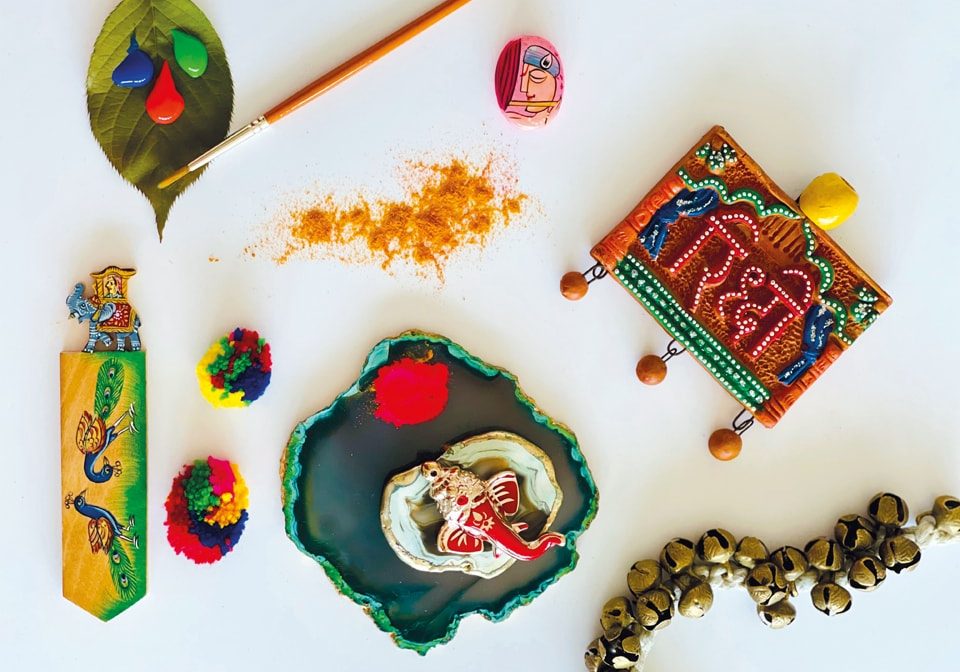 The uniqueness of creativity
Exploring the wonders of creativity and how a few simple pursuits can transform our everyday lives. By Nik Parmar
The most sacred of all spaces is the place of intuition within the human soul. Long ago, our ancestors expressed their intuitive sparks of creativity using the natural world around them, both as a canvas and as a source of inspiration.
Creative workshops are starting to become the new wellbeing trend, whether it be for corporate team bonding, a bespoke hen party or a virtual event: the uniqueness of creativity-themed workshops brings a fun and inspirational experience.
Artistic ability or special talent is not necessary to participate in creativity; it is about focusing on one's inside world of expression, own perceptions, imagination and feelings.
THE WELLBEING APPROACH
Have you ever been so immersed in writing in your journal, painting or dancing to your favourite kirtan that you lost all sense of time? This is an excellent and often euphoric state to be in as we are more mindful, relaxed, and more positive. The release of dopamine from creativity brings a sense of accomplishment, making us more emotionally resilient, which is similar to the benefits of meditation. Creative workshops explore our own intuitive artistic expressions through various mediums:
DANCE
Dancing is not only fun, it is actually really good for you to move with music as it evokes emotional, social, cognitive, and physical integration.
Participating in dance takes focus and activates the brains hippocampus – the part of the brain that's responsible for emotions and memory. Dance it out! Just like Lord Shiva performed the 'Dance of Bliss' in his Nataraja form, which represents all movement, flow, rhythm, creation, manifestation and transformation of life.
PLAY
Play is fun and can trigger the release of endorphins, the body's natural feel-good chemicals. Through storytelling and role play we can act out fascinating history and sacred texts such as Rama - Hanuman from the Ramayana, Krishna - Arjuna from the Bhagvada Gita. By exploring creative imagination through storytelling, roleplay, drama and all kinds of play, we learn expressive communication skills, creative problem solving, develop self-confidence, appreciate diverse ideas and cultures.
DRAWING AND PAINTING
Art media is a creative process of reducing stress and getting in touch with your feelings making it a way of creating time and space that is wordless and restful. Simple doodling is contemplative; purposeful pen strokes lead into a therapeutic, reflective, quiet space. Shapes are the most popular form of doodle and imbued with symbolism. Doodling is actually a spiritual practice originating from the ancient yogis who created repeated patterns of geometry depicting sacred meanings, order and wonderment. These energy patterns are known as Mandala Designs in today's world and featured in the bestselling adult colouring books!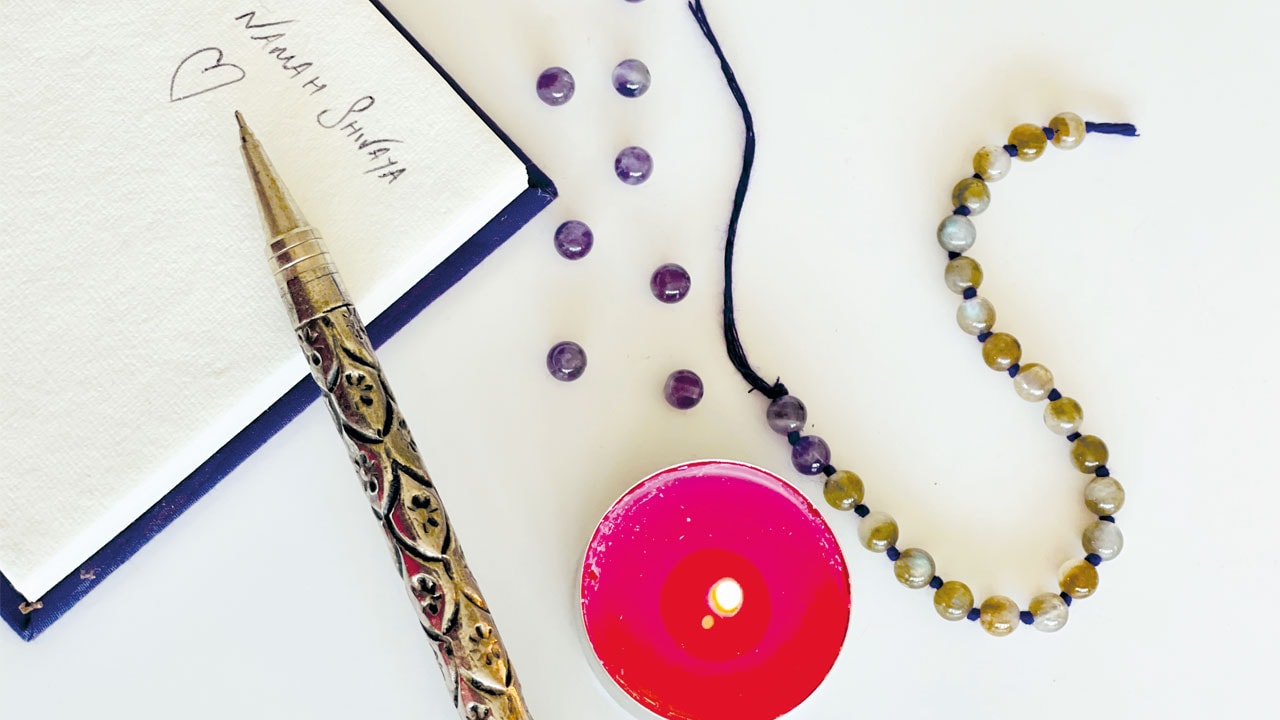 FULL MOON RITUALS
The beauty of the full moon brings an energy of newness and creativity. Gemstones are cleansed and therapeutically energised under the moonlight. It is perfect for personally making one's own intention gemstone bracelet. Writing in a journal what is no longer serving us and burning it away into a candle flame is a liberating full moon release.
INTUITIVE PAINTING
It is amusing how little coaxing adults need to get into the world of make believe: just look at festivals like Holi where both the adults and children enjoy fun with face painting entering into the sacred playful pastimes of Radha and Krishna. Complete strangers will chat away happily from behind the safety of face paint as a sense of relief is experienced giving a break from everyday life.
ART JOURNALING
Visualising life goals and aspirations can be achieved by creating mood boards with fabrics, images and crafts, representing our personal development, uniqueness and individual beauty. Crafting our own personal Tree of Life with visuals of appreciative thought branches (an elephant for strength, a heart for self-love, Om for eternal peace) is a creative approach in strengthening and growing our emotional mapping.
MUSICAL VIBRATION
Music directly impacts oxytocin levels enhancing our ability to trust and socially connect to creating a unique bond. The 'Naad Bhrama' (transcendental sound vibration) is created through sacred music known as 'kirtan'.
The repetition of mantras with instruments like bells and drums can can create a powerful heart-awakening meditation.
SACRED THEMED YOGA FLOWS
In yoga, the 'Saraswati' evocation mantra 'Om Aim Saraswataye Namaha' is chanted for creative endeavour. The Rig Veda reveals a platform of yogic mystical creativity flows, one of them being the Sun Yogini chakra opening involving Surya namaskar, mantra dance with crystals and candle flames. Creativity inspires novel thinking and ideas. Why not give it a try?
Nik Parmar from Spiritual Gypsy conducts bespoke creative workshops based on the arts and crafts heritage of the Vedic traditions. For further information visit: kleem.co.uk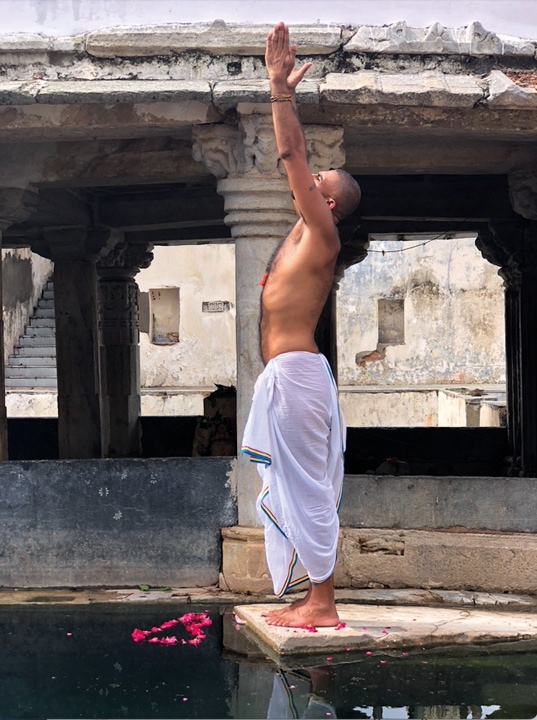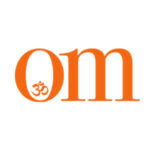 First published in November 2009, OM Yoga magazine has become the most popular yoga title in the UK. Available from all major supermarkets, independents and newsstands across the UK. Also available on all digital platforms.