Subscribe today for £39.99 (12 issues), and receive
a Soupologie gift set worth over £11*
Looking for some healthy yet delicious drinks that complement your yoga routine?
Soupologie prioritise you and your health! It has released the 'Viva La Vinegar' Drinking Vinegar collection as a healthy  alternative to many sugar-laden juices out there.
Containing apple cider vinegar with the 'Mother', the drinks provide incredible health benefits in gut health and digestion and contain over 1 billion live cultures. They come in three delicious and summer flavours: Coconut & Lime, Strawberry & Basil, and Kiwi & Kale, containing between just 19 and 32 calories per 250ml bottle.
Each flavour is guaranteed to tickle a different taste bud.
Additionally, try the Turmeric, Carrot & Coconut soup; full of naturally occurring curcumin which has extremely powerful anti-inflammatory effects as well as being a strong antioxidant. Not only is the soup refreshing and delicious, but your body will also get all the benefits turmeric has to offer.
Have a set of the Drinking Vinegars as well as the Turmeric Soup on Soupologie when you subscribe to OM Yoga & Lifestyle magazine this month.
Find more information, visit www.soupologie.com
Set contains 3 x 250ml vinegars, and 1 x 600g soup, First 150 subscribers. 12 issue print subscription, UK only
Offer expires 17th October 2018.
Telephone numbers will be passed to Soupologie to arrange delivery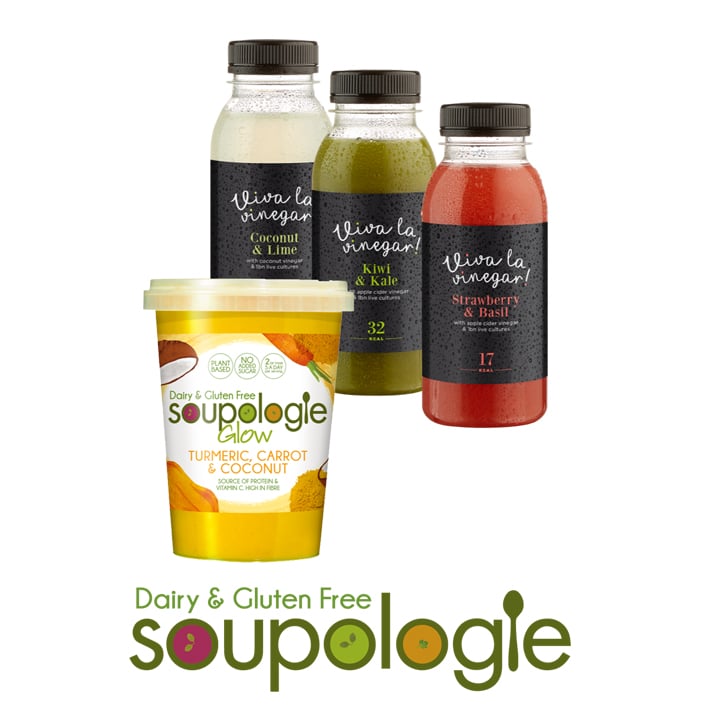 Please contact us on 01787 224040 to subscribe by telephone.