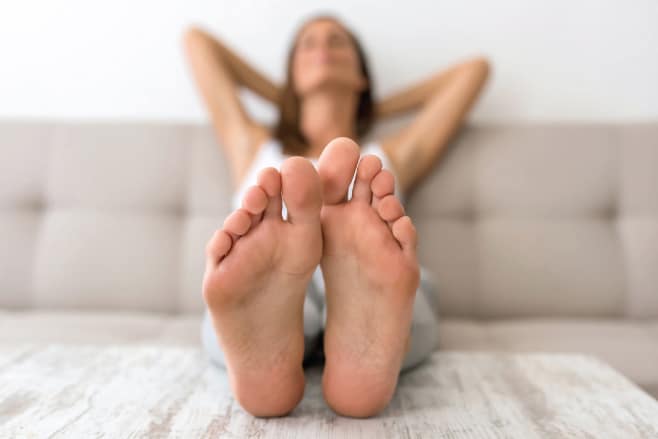 Stretching, and a good snuggle up on the sofa, are all part of the self-care process. By Victoria Jackson
My husband thinks one of my 'yogic superpowers' (definitely his expression, not mine) is getting sick less often or recovering more quickly. I'd like to think this is true, of course, but it's impossible to measure and I'm not about to oversell what yoga can deliver. But there do seem to have been a lot of viruses and icky little illnesses doing the rounds this year and I avoided most of them. So who knows…?
Even so just recently I was knocked down by a throat infection, the event that sparked the 'superpowers' conversation at home, in fact. But even if a regular yoga practice doesn't mean I never get sick, I do think it helps in managing such minor illnesses. Maybe it's learning better self-care habits or overall the more healthy lifestyle that just emerges from a regular yoga practice.
In the past I would have battled through as much as I could, being heroic at work and a martyr at home as I tried to hold everything together come what may. Now there's definitely less 'man-flu' style moaning and groaning and a tiny bit more Buddha-like patience in the face of things not going my way all the time. I'm much more willing to tuck up on the sofa and take some proper time off to allow my body to get better. All those times my teacher says "resting is perfect too" when he gives options in class has finally got into my brain and I no longer feel guilty or pathetic for taking it easy when I need to. I also understand my nutritional needs better and I have a whole range of easy to prepare and wholesome meals that work equally well when I'm poorly and low on energy as much as when I've come home tired and hungry after a late yoga class: my needs are the same – good food, and fast.
But I've also learned that resting on the sofa should, like anything else, be done in moderation. At some point in any illness my body just cries out for a decent stretch. I might be low on energy but I still do my practice – I simply modify the physical aspects to whatever feels good. This is not the time for yoga selfies, flowing through a beautifully creative sequence or executing the deepest backbends ever. It's just about feeling better; it brings yoga right back to a practice of self-care. Yoga in pyjamas has always been one of my favourite things – and a duvet day is the perfect excuse. Keeping it simple and having no expectations can make for the sweetest practice time ever. I just need to ease up on the pranayama and keep the tissues close at hand!
Victoria Jackson lives and practices in Oxford. She is registered with Yoga Alliance as a vinyasa yoga teacher
If you enjoyed this, then you may also like...
About Om Magazine