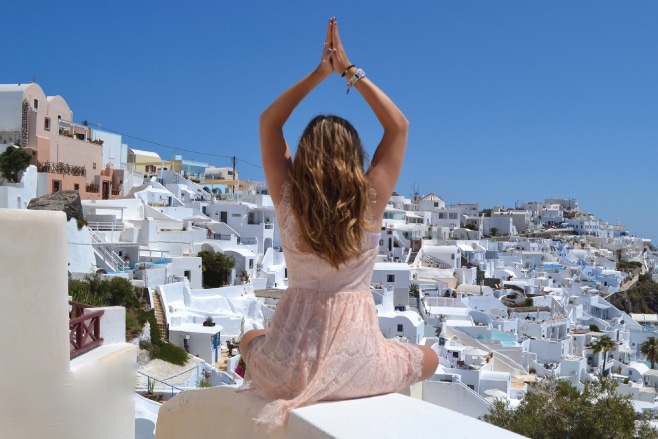 When in Greece, do as the Greeks do…even if you don't understand what's going on. By Victoria Jackson
When I'm travelling I always enjoy paying a visit to the local yoga studio. It can feel like a home from home in a foreign country. The teachers and their styles might be different, but there's some reassuring familiarity in the rituals and the rhythms of attending class. I'm greeted by the smell of incense, then shoes off at the door, a chat at the front desk, before I roll out my mat for class. Plus I often get good tips from fellow students about what to see, where to eat and what's going on locally. Yogis are always friendly types!
Being lucky enough to spend some weeks in Greece recently, I went off eagerly to my nearest studio. They welcomed me as a visitor and the teachers very generously taught a couple of classes in English — just for me! I convinced myself I was on a roll with Greek yoga! So when a local friend invited me along to attend class with her, I didn't give it a second thought. But it turned out that at this studio not all the students were confident being taught in English, so the class was done in Greek as normal.
I immediately started to stress out, wondering how I'd cope if I couldn't understand the teacher. Sure, I do have a bit of Greek, but my vocabulary is quite limited. It doesn't include much in the way of anatomy — and it certainly doesn't stretch to the finer details of the chakras which was the theme of this particular class.
But after my initial panic, I asked myself: what's the worse that could happen? That I'd listen to a dharma talk that I didn't understand much of? That I'd need to pause during the asana sequence to check what we were doing? It's not exactly apocalyptic! So I made a conscious effort to settle down and not anticipate the worst. It wouldn't be the end of the world if my vinyasa was slightly different to what the teacher preferred nor if I missed out on the subtlety of her cuing. Yoga isn't meant to be a test and I knew the teacher wouldn't be judging me, my yoga, or my linguistic skills.
And of course, I found I could follow along better than I feared. Things are rarely as bad as we expect them to be. Maybe the attention I cultivate in my yoga practice helped me understand the instructions on some level or maybe my body just flowed along naturally, finding its way to familiar shapes.
Fortunately the syllable Om sounds the same in any language, so at the end of class I could finish in unison with the other students.
Victoria Jackson lives and practices in Oxford. She is registered with Yoga Alliance as a vinyasa yoga teacher
If you enjoyed this, then you may also like...
About Om Magazine