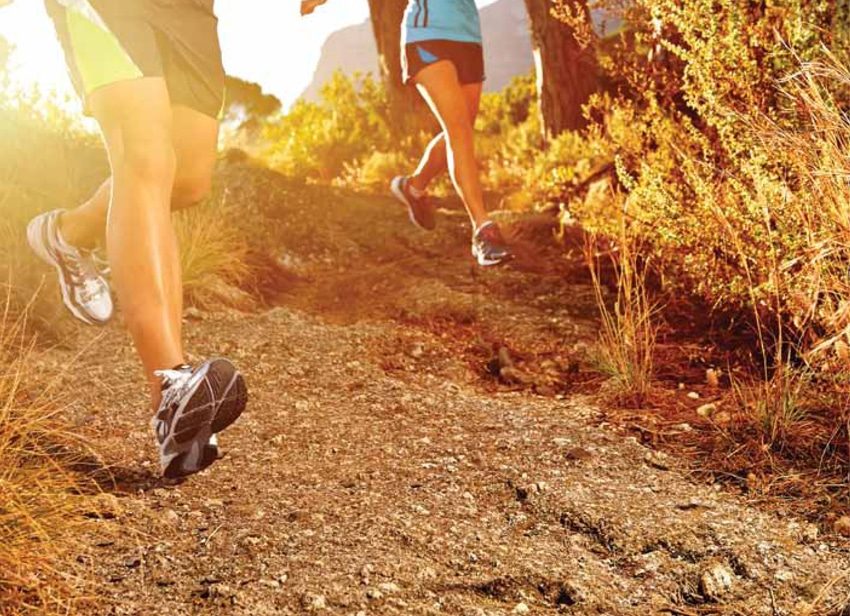 Running cross country is a grueling test of endurance and whole body fitness. What better way than yoga to get your body up for the challenge?
Trail running, adventure running, call it what you will. The truth is any running is tough on your body, whether that's over mountain tops or down the local high street. The impact your body takes as your heels strike the ground, over and over again, takes its toll, for sure – but the rewards you get when you're out there in nature, striding like a gazelle through the forests or along the beach, are worth every step.
Committed trail runners love two things: 1) running and 2) the great outdoors. And, you know, it's hard to argue there's any better way to experience the big wide world than when you're out there with nothing but your trainers on (and hopefully your shorts and vest too). When you're out trail running, you kiss the concrete goodbye, and say hello to wood chips, dirt, grass and pine needles underfoot instead. It makes for a more bumpy and uneven ride, which can present its own hazards, but that may help to prevent the usual overuse syndromes that are prevalent among concrete and asphalt runners.
So make sure you're up to the job with a spot of yoga, a tried and tested, all-purpose way to get your body ready for action. There are no guarantees but yoga has been shown to be a great way to help injury-proof yourself ahead of tough, high-impact sporting activities such as running.
Peak performance
And runners are clearly picking up on the benefits of yoga. Helen Clare (helenclareyoga.com) runs Yoga for Athletes classes in several studios across Cornwall, one of the country's most rugged counties. The classes have gained in popularity among Cornwall's many keen sports people, from runners to surfers.
And given the wild and rugged terrain that Cornwall presents there's no better call for it. She says the yoga classes help to improve the performance of athletes – of all sports, not just running – by increasing flexibility and balance, building strength and improving posture, leading to better form and efficiency. "Yoga helps to prevent injury by bringing an increased awareness to the body, addressing any imbalances and misalignments and through strengthening muscles and joints," she says.
"Learning to breathe more effectively, by practising yogic breathing techniques, will also help to maximise aerobic capacity, whilst developing focus and concentration in challenging poses will give you the tools to stay 'in the zone'."
Once a competitive swimmer, she is now a keen trail runner herself. If you haven't tried it then there's no better time to get outside and head for the hills than September. No matter how bad you are at running, your body and mind will thank you for ditching the high rise apartments and office blocks and immersing yourself in wild, unspoilt nature.
If you enjoyed this, then you may also like...
About Om Magazine