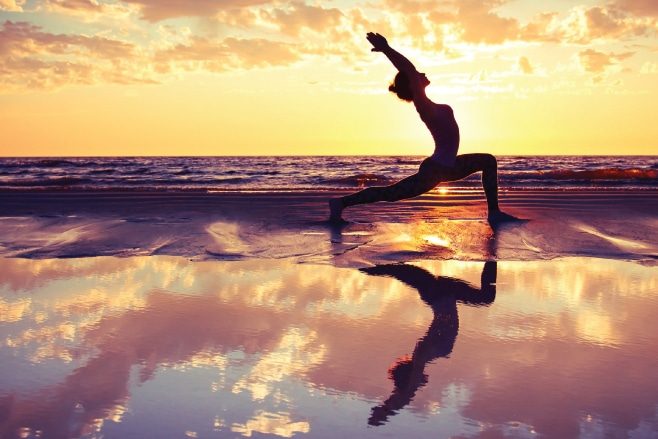 Take your mat away with you this summer but watch out for those pesky mosquitoes. By Victoria Jackson
I'm really looking forward to my summer holiday. Of course I am! I'm looking forward to some lazy days soaking up some Mediterranean sun to supplement whatever the British summer might offer. I'm looking forward to a bit of indulgence in eating and drinking, and to getting out and about exploring my temporary home away from home. And despite all these nice distractions I'm also looking forward to tucking my travel mat into the suitcase and enjoying some yoga while I'm away.
Holiday yoga can be difficult to fit in around other activities and other people, but the lack of regular routine can also be very liberating in getting away from the usual habits. Any activity on holiday, however mundane, is often more enjoyable because of the novelty factor. For example, food shopping can mean swapping the usual supermarket for the local fruit market, picking out delicious fresh produce and doing your best with any language difficulties – rather than just pushing a trolley mindlessly up and down the aisles. In the same way, holiday yoga for me is more light-hearted, fresh, and relaxed. Being away from regular yoga routines means less worry about achieving a perfect Bird of Paradise or finding more depth in Warrior 2 and more simply enjoying whatever my body does. When I'm away from home my practice matches the holiday vibe: I'm somehow more able to go with the flow and let go of all the usual expectations.
A year or two ago my regular yoga studio ran a holiday yoga photo competition to submit a picture of an asana that represented your holiday. New to yoga then and unaware of the world of Instagram challenges and the like, I was totally unprepared for the nature of the entries – mostly yoginis in brightly coloured bikinis performing elegant Tree or Dancer's Poses against the backdrop of a sparkling swimming pool or azure sea. I, on the other hand, had chosen a candid Child's Pose in my pjs on a sunny terrace! Not terribly glamorous, but it summed up my holiday practice: relaxed and casual, and just for me.
And just a small bit of advice from experience: don't be tempted by evening yoga al fresco. The sunset might offer a beautiful backdrop and the temperature might be cooling down nicely, but the mosquitoes won't respect your Savasana and will be merciless when they find your sweaty skin. A sure test of ahimsa (non-violence) for any yogi. While I love holiday yoga, I'd say the Mediterranean evenings are better kept for enjoying a long, cooling drink.
Victoria Jackson will forever be a beginner yogini
If you enjoyed this, then you may also like...
About Om Magazine