Set your yoga free – Issue 71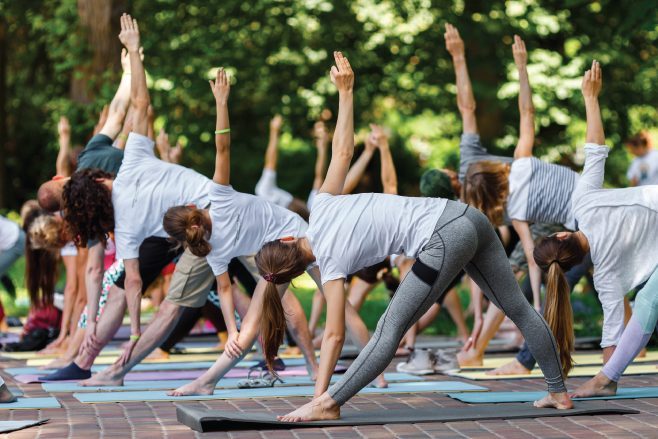 No longer just for the elite, it's possible to find yoga and fitness classes for free 
The days when yoga was the pursuit of the affluent only may be numbered. The free fitness movement, originally from the USA, could be changing perceptions and broadening access to yoga classes.
That's the view of author Kathleen Anderson, who chronicles the movement and her experiences of it in a new book, Sweaty Hugs.
"I first discovered free fitness when I moved to the USA two years ago through the November Project movement – they believe fitness should be free, available to everyone and most of all fun!"
As well as the health benefits, it was also great for community building, socialising, human interaction and positivity, says Anderson.
Fortunately, more free fitness initiatives are making their way to the UK, most famously, Parkrun, a global free
running group.
In the yoga world, she says, sports brands like lululemon, Nike and Sweaty Betty run free group classes that are open to anyone.
"Yoga is becoming more accessible and there are free yoga classes all over the UK, you just need to look," she says. "Stores like lululemon provide weekly free yoga sessions and all are welcome. I personally started to participate in yoga because I was training for a half marathon and yoga was the only time I properly stretched and gave my body time to heal. Without practicing yoga I would have injured myself and wouldn't have managed to achieve what I did in terms of finish time and distance. Now yoga has become an activity I do for myself and that helps me be a better 'athlete'."
Best of all is the community aspect to the free fitness movement – which means breaking away from the gym stereotypes.
"So many people believe fitness is something you do alone, where you put your headphones in, jump on a treadmill and speak to no-one. That doesn't sound like much fun to me but this is not how it has to be. Finding a free fitness group I made friends, had a support network and an escape when my studies were getting too much. I gained a community of my very own. It's now an integral part of my life."
Kathleen Anderson's new book Sweaty Hugs is priced £8.99 and available on Amazon.co.uk and MyBookSource.com Find out more at: sweatyhugsthebook.com
If you enjoyed this, then you may also like...
About Om Magazine