Picture perfect? – Issue 71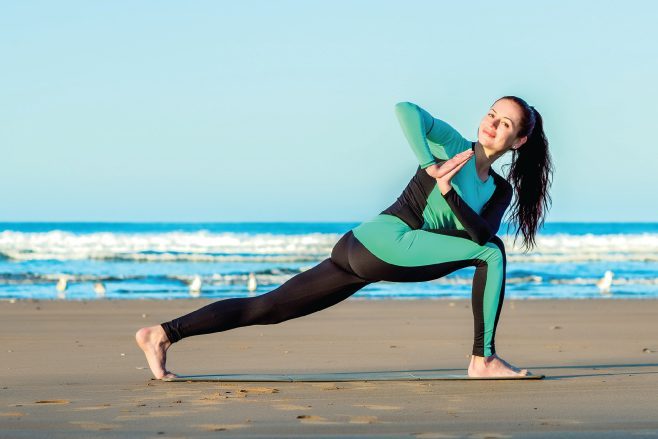 Victoria Jackson says 'no thanks' to the glam world of Instagram yoga holiday snaps
I was lucky enough to holiday earlier this year on a tropical island, a bit of sun to lighten the wintry gloom in England. Before I left, one of my students joked that she was looking forward to seeing my Facebook feed full of graceful yoga poses set against beautiful seascapes. We laughed: she knows this isn't really my way of yoga. I prefer to keep things quieter and personal, seeking peace within rather than fixating on the outward aesthetics. Such high principles do I have in my yoga!
But of course as soon as I was there, briefly experiencing my share of an island paradise, my perfect yoga principles wavered a little. I began to be seduced by the exotic beauty of the place, so different to my home environment. I became filled with all the possibilities that a holiday offers, far away from my usual way of being and the self-imposed limitations of everyday life. I started to have visions of myself performing a beautifully open and uplifted Tree Pose alongside the palm trees that shaded my morning swim; I would sway in the warm breezes and it would look amazing! Or in my mind's eye I imagined executing a perfect Warrior 3 on the beach, aligning my body with the horizon behind, so that it would look almost as though I was floating on the sea — or even levitating just above it. Sunrise and sunset also beckoned to me, full of creative potential. The glowing ball of light poised over the ocean at dawn and dusk suggested endless photographic compositions with an artistic interplay of asana and the sun. I could line things up to cup it in my hands, bend my body around it, or perhaps radiate a fiery halo as I sat in a tranquil cross-legged posture suggestive of some seriously deep meditation…
But in the end I didn't even try to strike a pose and I didn't need to cajole my patient husband into playing the photographer. I kept my yoga on our private balcony where I could enjoy the sunlight and the warmth of an outdoor practice, but without turning my Sadhana into a spectacle. Maybe I missed out on some nice pics, maybe I would have made some new yogi friends down on the beach, and probably I would have had a giggle as we tried to set things up just so for the perfect photo. But really my balcony yoga gave me everything I needed.
Or almost everything… I did use the soft-landing of the sandy beach to practice my Handstand. Given that I'm a novice Handstander, any photo here would have needed a fast shutter speed indeed to show anything more than a blur of colours as I toppled over time after time. I don't think I'll be putting my hand up to be the cover model any time soon!
Victoria Jackson lives and practices in Oxford. She is registered with Yoga Alliance as a vinyasa yoga teacher.
If you enjoyed this, then you may also like...
About Om Magazine