Hashtag – I Love Yoga – Issue 82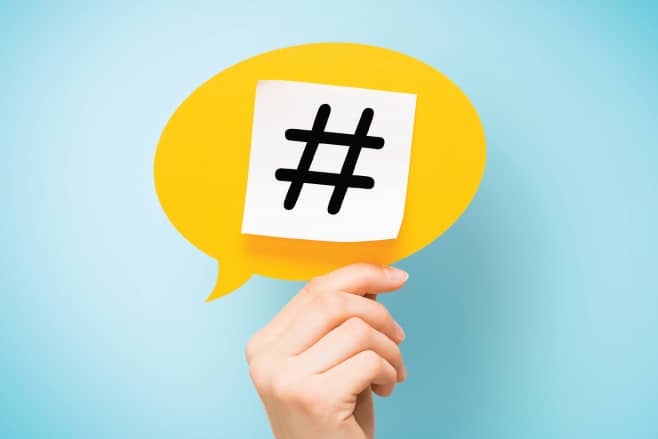 What's in a hashtag? Actually, quite a lot, according to Victoria Jackson
My husband keeps threatening to buy me a yoga-themed tee-shirt with the slogan 'namaste bitches' on it. He's just teasing; he knows I hate this kind of thing. But the popularity of yoga makes it a marketing dream and puns on yoga terms or Sanskrit words are common on all sorts of yoga paraphernalia. Some of them I think are really fun, some of them not so much… I tread a line between wanting to demonstrate my love for the practice and a belief that I should also protect it in some way, to keep it elevated above the mundane. Shouldn't we show yoga a certain amount of respect? While it might not be a spiritual practice for everyone, especially in the west, undeniably it has deep spiritual (if not religious) roots in origin.
Putting aside the tee-shirt that never was (thankfully!), I was talking recently with an American yogi friend about yoga-themed hashtags in social media and I was surprised at how upset he was by the use of #yogaeverydamnday. Although I'm less offended by the possible profanity here, I tend to avoid this hashtag for other reasons. In my ears it either has an air of weary resignation at the need for daily practice or a triumphalist tone of conquering the practice every damn day. Either way it suggests getting yoga practice out of the way, ticking it off the list of daily chores, and then getting on with the rest of life.
Perhaps I should go for the plainer version #yogaeveryday? But actually I quite like #yogaeverywhere, with the suggestion that yoga can happen anywhere, not just on the mat. I try to embrace the idea that yoga is more than just fancy poses, not forgetting the other 'limbs' — encompassing ethical concerns, relationships with others and the natural world, or engaging in study to further one's yoga knowledge and understanding. These ideas might not make such appealing instagram photos (not another pile of books or plate of organic veg!). But I practice vinyasa (a non-traditional style known for its creativity), so I should be happy to embrace the challenge of how to present my ideas of yoga! Plus using #yogaeverywhere means I can gracefully side-step my other bete noire #stopanddropyoga, used to tag the performance of yoga poses in everyday situations like serving food at the family dining table, crossing a footbridge, or commuting on the tube. These often look really beautiful, I must say, but the pictures do make me wonder about the number of #yogafail outtakes and those YouTube videos of home practice handstands involving glass coffee tables or a door opening unexpectedly. Ouch! But even if I'm no #asanajunkie or #armbalanceaddict, I definitely wouldn't prefer to #namastayinbed. After all #iloveyoga!
Victoria Jackson lives and practices in Oxford. She is registered with Yoga Alliance as a vinyasa yoga teacher
If you enjoyed this, then you may also like...
About Om Magazine