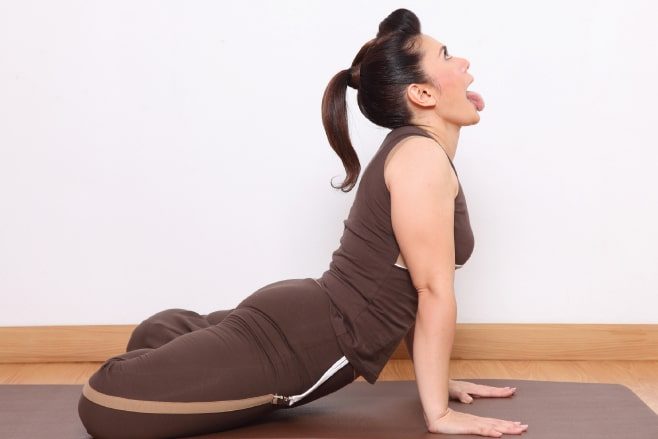 Why limit yourself when it comes to yoga postures. By Lexie Williamson 
When was the last time you broke into Lolasana (pendant pose), Pasasana (noose pose) or Simhasana (lion pose)? Serious brownie points if the answer is 'yesterday'. You obviously have a rich, creative and boundary-pushing practice. This is something I am currently lacking. A quick flick through recent lesson plans reveals that I am wheeling out maybe 10 tried and tested postures (dog, cat stretch, plank, seated twist) in varying order and frequency week-after-week. This is a shame as, according to the teacher Bob Insley, there are literally hundreds of asana to choose from. Precisely how many is hard to say. BKS Iyengar lists 200 in his book Light on Yoga. Another legendary teacher Dharma Mittra talks of 608.
Of course, new postures evolve all the time. I'm pretty sure that 'Bananasana' is not on Iyengar's list but the supine, curved yin posture is one of my favourites. I must also resurrect 'Cowboy Negotiation Pose,' a kind of low slung, leaning squat with attitude. Essentially, Insley, who ran a British Wheel of Yoga workshop called 'Where Have All The Postures Gone?' wants teachers and practitioners to be 'a little braver.' It's easy to pull out the safe handful of poses and run through them on automatic pilot. His theory is that, with a little planning, even beginner students can get at least a feel of an advanced posture. Part of the fun is also trying to get there. "I wanted to encourage the idea that the journey towards a challenging asana is for everyone," he explains.
One such pose that Insley teaches is Astavrksasana (or eight-angle pose). I looked up Astavrksanasa and it's not for the faint hearted. Think 'advanced side crow' with a bit of leg squeezing. The model
in the photo was smiling at the camera, or was she grimacing? I wasn't sure.
The instinctive reaction of many teachers and students would be to back away slowly but Insley insists that this challenging asana is for all students albeit with some forethought.
He has created 16 steps to get all his students in the pose. "I feel I have failed if each student, no matter what their ability cannot reach level 11," he states.
Fantastic. This month's motto then is 'Go for it'. There are hundreds of weird and wonderful yoga poses out there just waiting to be re-discovered. Or just make up your own. This year, let's all explore the wonderful world of yoga together.
Lexie Williamson is a yoga teacher and health and fitness writer (pulseyoga.co.uk)
If you enjoyed this, then you may also like...
About Om Magazine