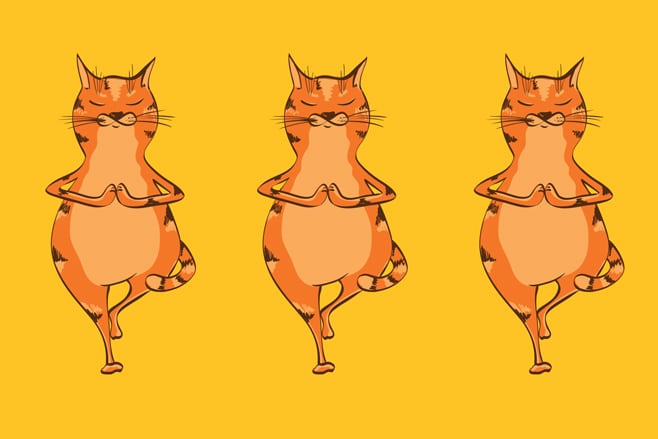 If comparison is the thief of joy, sometimes it's best to go in blind. By Victoria Jackson
What was the best thing about class the other day? It was when my teacher dropped into Crow variations, showing effortless strength and precision, his breath leading the movement, where everything was measured and unhurried. And he offered commentary all the way through. Talking and demonstrating simultaneously — how is this even possible? I was in awe.
This got me thinking about my first experiences of class. My teacher doesn't usually demonstrate much; he's more a roam-around-the-room type offering verbal cues and adjustments where needed. I used to wish that he would model the full practice at the front. If a picture speaks a thousand words, why, oh why, didn't he just show each pose to us? The very translation of asana commonly as 'pose' confirmed to me that outward appearance was everything. Right? So for a long time in class I used to twist my neck trying to watch the bodies moving in front of me, and outside of class I pored over picture books and online videos. I was so anxious to get it 'right'.
These forms of copying helped me get the basics sorted, and tell my Warrior 1 from my Warrior 2. Now a bit further on in my practice I'm finally starting to grasp that it's not about looking like the picture in the book and that perhaps there isn't any such thing as the perfect asana anyway. When I look around now, I see as many different expressions of a pose as there are mats in the room. When I think about it more, I wonder if asanas are in fact more fluid than static. They seem to take shape within each body and the longer I stay in an asana the more I notice that my body moves to fill the shape, to expand into its edges. So I'm gradually learning to find the essence of each pose, feeling it from the inside, rather than simply emulating its outward form.
I'm now grateful that my teacher doesn't demonstrate the full practice with the class. This has prevented me from mimicking his way of being in an asana, that would have been everything about his body, and nothing to do with mine. Yoga would have been a frustrating exercise of imperfect copy, where I compared my own form unfavourably with his more practiced movements. And we all know that "comparison is the thief of joy" – as well as being the antithesis of a personal yoga practice.
So sometimes in class now I close my eyes. I don't want to watch anyone else, I want to feel my way into my own pose, whatever that might look like. It's the transformation from his words to my body that creates my unique experience of yoga. This must be good yoga, to explore the inner landscape, I tell myself. Unless, of course, my teacher drops into a pose — then I'm all eyes again!
Except that now it feels more like inspiration than emulation.
Victoria Jackson lives and teaches in Oxford. She is registered with Yoga Alliance Professionals as a vinyasa yoga teacher. Read more of Victoria's OM Lite columns.
If you enjoyed this, then you may also like...
About Om Magazine