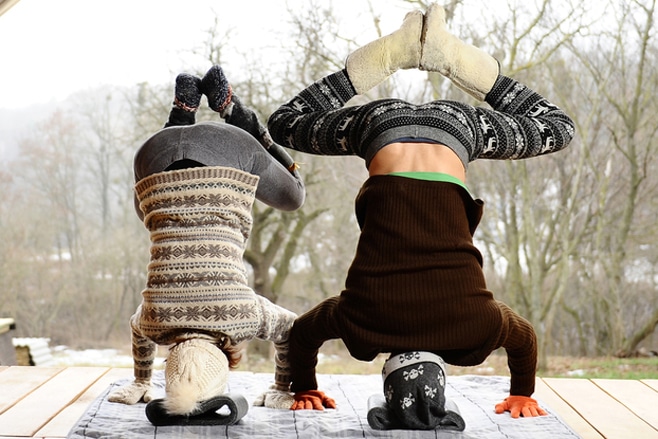 5 motivational tips to get you to class this winter
You know the feeling: it's dark and freezing outside, and your enthusiasm for Tuesday evening's Hatha class is waning rapidly as the time for tonight's episode of Eastenders nears. We've all been there, times when it's a little too tempting to stay at home. Especially so in winter.
But don't even think about not going, you lil' devil (unless, of course, you're genuinely feeling poorly). Think what your mother used to tell you: "You'll regret it in the morning." So grab your mitts and coat and head for the door. There's a warm studio waiting for you, packed with friends, good vibes, and the incredible, unique cold-busting warmth of yoga's universal love. If you're really struggling, here are some tips to get you out the door:
It's stating the obvious but dress up warm. There's no such thing as the wrong weather, only the wrong clothing. Wrap a scarf around your neck and over your mouth so your breath helps keep your face warm.
Think how amazing you'll feel afterwards. You'll benefit not only from your yoga stretching but can take pride in yourself for making it to class when your motivation was being challenged.
It's okay to drive sometimes. You won't be destroying the planet with a quick five-minute drive to the studio now and then. Walking and cycling might be more 'yogic' but let's get real here.
Think of it as an investment in you. Sure it's cold outside, but you'll boost your self-esteem – and your waistline – more by exercising than by eating Maltesers on the sofa watching telly.
And you can be oh-so-amazingly pleased with yourself when you get back. Put the kettle on for a hot chocolate or a herbal tea, sit back and feel as smug as you like for overcoming the odds. Sir Ranulph Fiennes has got nothing on you, kid.
If you enjoyed this, then you may also like...
About Om Magazine