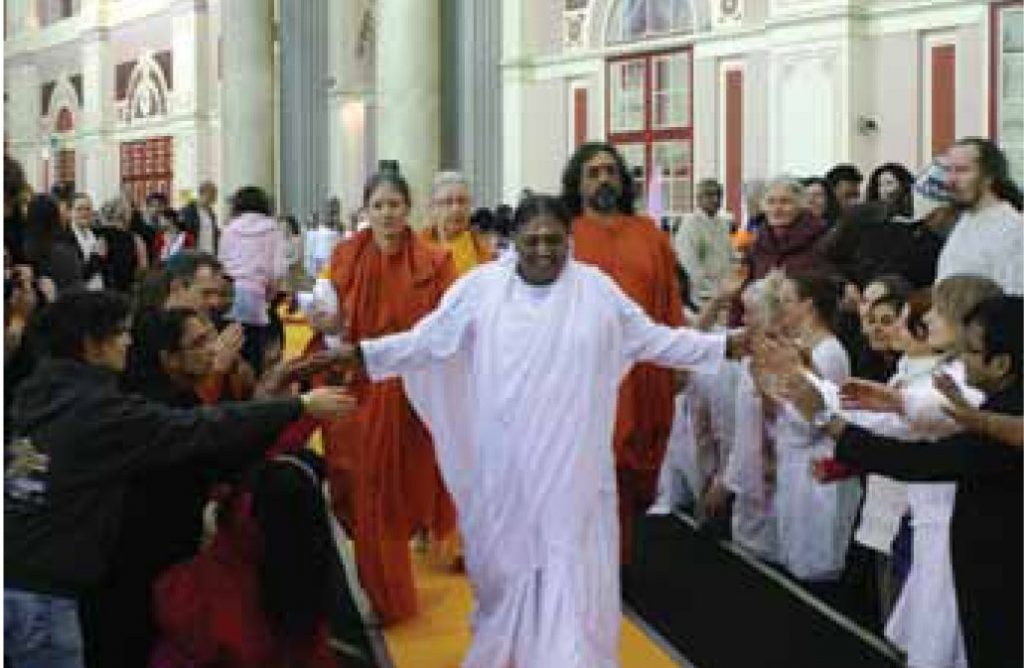 Healing the world one hug at a time
Sri Mata Amritanandamayi, known to millions around the world simply as 'Amma' (meaning 'Mother'), is a renowned spiritual and humanitarian leader from Kerala in South India, who visits the UK every year as part of her world tour. Amma has travelled the world for the past 30 years offering darshan – a hug, to whoever comes to see her regardless of gender, race, background or belief. To date, she has hugged over 30 million people. With her simple and universal message that love is the foundation of all religions, she never asks anyone to give up their own faith, but to enquire deeper into their true nature. In India she is considered to be a Mahatma, a 'great soul' whose sole purpose is to uplift humanity.
Born into a poor fishing community, she was from a very young age sensitive to the suffering in her community. In her teens she disregarded all social conventions by spontaneously hugging people, including men, who had come to her for solace, a shocking act in a highly conservative culture. Overcoming extreme hardship, she persevered with her mission and as more and more seekers heard of Amma, an ashram grew up in her home village.
Amma says: 'Enlightenment means the ability to recognise oneself in all living creatures. We should be able to help others and love them as if we see ourselves in them. That is the goal of spiritual practices." Under the banner of 'Embracing the World' (embracingtheworld.org), Amma's international humanitarian activities comprise leading edge, technology-enhanced programmes across every spectrum of social reform: healthcare, education, disaster and poverty relief.
In the UK, Friends of Amma offers regional satsangs, 'GreenFriends' activities and Amma's meditation technique IAM (Integrated Amma Meditation). There is also a long-running project for the homeless in Oxford, offering a shower and lunch on Saturdays.
Her teachings stem from the ancient scriptures of India, emphasising the jnana (knowledge), bhakti (devotion) and karma (service) aspects of yoga. Programmes are free and in the mornings start with a short meditation before Amma gives darshan. In the evenings, she gives a talk followed by devotional hymns before once again giving darshan through to the early hours of the morning. Programmes are free, and queues start early – please arrive at least one hour before the programme start to ensure you receive a token. Priority is given to those meeting Amma for the first time.
If you enjoyed this, then you may also like...
About Om Magazine