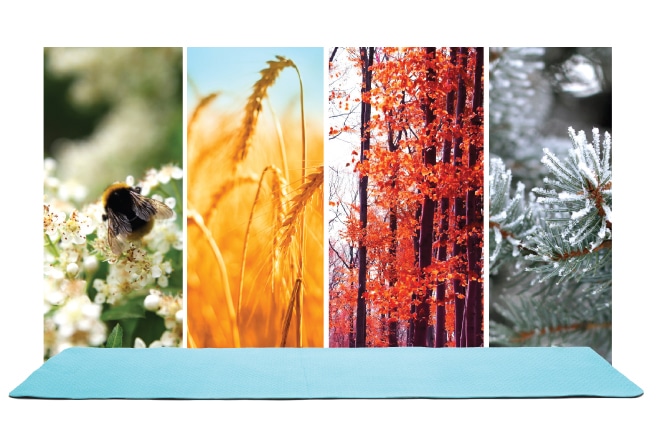 Victoria Jackson explains her growing yoga mat collection
When I first started yoga I was happy practicing on any old mat at all. Until I started thinking about who'd been using it before me, that is! Suddenly resting my face on a surface that someone else had sweated over in the previous class didn't seem so nice. So I rejected the mats supplied at the local class and I bought my own. It only cost a few quid and was no particular brand anyone had ever heard of, but I'll admit I felt quite something as I carried it around town on my way to class. Now that I had some gear, I imagined myself quite the budding yoga expert!
But still, I'd hear enthusiastic comments about 'professional' mats and I wondered about the declarations that this or that mat had totally transformed someone's practice. Provided my hands didn't slip away too embarrassingly in downward facing dog, one mat was much the same as another to me. But then I got my first fancy mat as a Christmas present and I haven't looked back since. A good mat really is worth the price if you find the one that suits you. For me that means just the right balance of grip and slide – it keeps me steady and balanced no matter how sweaty I am, as well as allowing me to glide through the smooth footwork of a flowing vinyasa sequence.
It's not quite true to say that I now have a mat for every day of the week, but I am certainly accumulating a small collection and I seem unable to throw a mat away, no matter how worn it's got nor how much I try to practice aparigraha (non-hoarding)! They are all my favourites in different ways, representing different phases of my yoga journey or offering a different feel for my practice. There's the one with the grid lines that I use when I'm feeling pedantic and focusing on alignment, the one I wrote Sanskrit mantras on that is curiously comforting and helps me feel connected with the deeper traditions of yoga, or the super-thin travel mat that fits neatly in my hand luggage.
Ironically, when I'm practicing at home I often reject any mat at all and prefer just the plain floor. It's a little unforgiving on the toes during roll-overs between upward and downward facing dog, but without the boundary of a rubber rectangle my body feels more creative and my movements can spill out in any direction. I know that's not what people mean when they talk grandly about 'taking yoga off the mat' but maybe my sense of physical liberation is a small step in the right direction!
Victoria Jackson lives and practices in Oxford. She is registered with Yoga Alliance as a vinyasa yoga teacher
If you enjoyed this, then you may also like...
About Om Magazine